È stato uno dei personaggi più iconici di The Sopranos, malgrado la sua apparizione in un solo episodio, l'undicesimo della terza stagione. Valery Il Russo è uno di quei personaggi che sono entrati più in profondità nell'immaginario collettivo creato da David Chase. Come Pussy Bonpensiero, associato per sempre alle visioni oniriche di Tony Soprano; come The Man In Members Only Jacket, collegato inevitabilmente alla scena finale della Serie.
Va detto che l'episodio non è solamente mitico, nel senso letterale del termine, per il grande alone di curiosità che si porta dietro, ma è uno dei picchi più alti raggiunti da The Sopranos nelle sue sette stagioni. Non a caso Winter e Tim Van Patten hanno vinto il premio Writers Guild of America nel 2002, per aver scritto il miglior episodio televisivo dell'anno. Caccia al Russo (Pine Barrens in lingua originale) è un magistrale ritratto di introspezione dei vari personaggi, una volta di più messi a confronto con il loro super-io. Beneficia, inoltre, di una prova attoriale abnorme, oltre che del solito Gandolfini, del duo composto da Tony Sirico (Paulie Gualtieri) e Michael Imperioli (Chris Moltisanti), veri protagonisti della storia.
In breve, ecco la trama della puntata per chi non la ricordasse:
Silvio, influenzato, non può andare a riscuotere una somma prestata al russo Valery, sicchè Tony incarica Paulie e Chris. Una volta sul posto, Paulie inizia a provocarlo, lasciandosi andare senza ritegno a epiteti razzisti, ma Valery è in realtà un ex militare che aveva combattuto in Cecenia: ne segue una colluttazione in cui Chris e Paulie hanno la meglio. I due portano Il Russo nei boschi innevati di Pine Barrens, con l'intenzione di seppellirlo, ma l'uomo risulta essere ancora vivo e riesce a fuggire. Il resto dell'episodio è tutto basato sulla ricerca di Valery, che sembra essersi dileguato nel nulla, nel mentre Chris e Paulie si perdono tra i boschi, prima di ricongiungersi con Tony.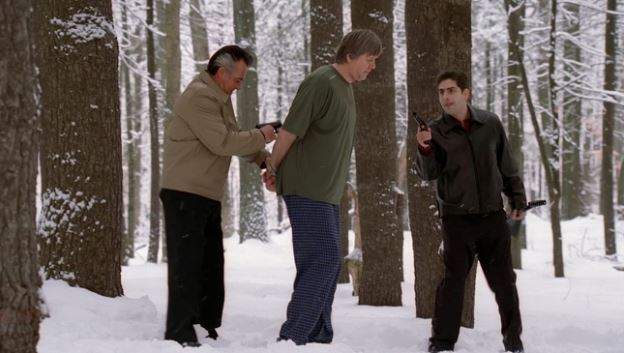 Che fine ha fatto Valery Il Russo?
La sua è tra le storie maggiormente amate dai fan, non a caso nota anche come "la storia del russo". Per anni l'autore dell'episodio, Terence Winter e ovviamente lo stesso Chase, hanno dovuto rispondere a continue domande sulla sorte di Valery, rifiutando ogni sorta di soluzione. Qualche tempo fa, tuttavia, grazie al libro di Alan Sepinwall, Telerivoluzione, una vera guida per gli appassionati delle Serie Tv che hanno fatto la storia, abbiamo quanto meno una sorta di risposta. Ecco quanto viene riportato tra le righe del libro, nel capitolo dedicato a The Sopranos, a pag. 106:
Chase non ha mai capito l'ossessione del pubblico per il russo volatilizzato, Valery. A lui pareva una storia a sè che non aveva bisogno di un epilogo. «Chissenefrega del russo?» – ricorda di aver pensato – «Quello è un episodio chiuso! Non lo so dov'è! Perchè continuare a pensarci?». Terrence Winter, autore dell'episodio Caccia al russo e di molti altri momenti memorabili della serie, concordava con i fan e insisteva perchè il suo capo aggiungesse una coda alla vicenda nell'ultima stagione. Escogitarono un'idea che sembrava accontentare tutti: Tony e Christopher fanno visita al capo locale della mafia russa e ci trovano Valery che spazza il pavimento; lui non riconosce Chris a causa di una lesione cerebrale riportata dopo che Chris e Paulie gli avevano sparato (un boyscout lo aveva trovato con parte del cranio in poltiglia e gli aveva salvato la vita). All'ultimo momento, però, Chase cambiò idea, e ancora oggi uno sconfortato Winter ricorda: «Dio! Stai facendo un grandissimo errore a lasciar perdere quella storia!».
Quindi mistero risolto, oppure no. Valery Il Russo è diventato uno di quei personaggi ideali per alimentare il mito di The Sopranos, proprio come gli elementi che citavamo all'inizio dell'articolo (e, se vogliamo, anche il film prequel in programma, è funzionale a questo). Possiamo aggrapparci a questo aneddoto che Sepinwall ha riportato nel suo libro, magari come se fosse una scena off-screen. Oppure possiamo continuare a fantasticare speculando all'infinito su quale sia il suo significato all'interno della narrazione. Contribuendo, pertanto, ad arricchire l'aurea mitologica di questo mastodontico capolavoro. In tal senso Chase, omettendo quella scena, ci ha fatto un bel regalo.