Nei teen drama l'adolescenza è molto spesso stereotipata. Ogni teenager incarna personalità già viste, tuffandosi in quel vortice di incertezza e ribellione che sfocia quasi sempre in qualche disastro. Ma in I Am Not Okay With This i luoghi comuni assumono delle nuove sfaccettature, diventando espressione di un'età tragicamente infelice.
Sin dal pilot si sfata infatti il famoso aforisma "da grandi poteri derivano grandi responsabilità", del quale se ne dimostra la superficialità. Perché le abilità della protagonista di questo show degli orrori, Sydney Novak, non sono una benedizione, un dono o la via più semplice per diventare una persona migliore. Sono soltanto uno sfiancante peso.
Questa serie tv si priva di supereroi sul nascere, raccontando la breve storia di una teenager incompresa avente come unica valvola di sfogo un diario. Esso diventa il canale attraverso cui le vicende prendono forma e nel quale la protagonista ammette il suo disagio esistenziale. Sydney si presenta infatti come una disadattata, una ragazza "strana" e incompatibile con la tipica concezione dell'eroe.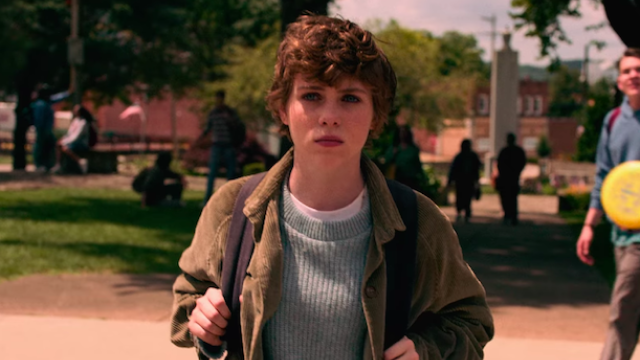 In pochi, brevi episodi conosciamo le sue angosce, il suo tragico passato e le sue sconfitte. Nei suoi fallimenti scorgiamo la classica frustrazione adolescenziale che si mischia a un'ira innaturale, incontrollabile, causata dalle abilità che ancora non controlla. E più che un supereroe, Sydney Novak ci appare soprattutto come una vinta verghiana: sconfitta dall'indifferenza familiare, dai superpoteri che stravolgono la sua normalità e dagli stessi sentimenti che rinnega. Confusa ed esasperata, Sydney commette di continuo dei disastri, annichilendosi affinché possa mantenere la maschera da brava ragazza.
In questo show finalmente non ci vengono proposti dei protagonisti già consapevoli delle proprie responsabilità, pronti a incarnare il prototipo del supereroe senza macchia e senza paura. Al contrario, la ragazza che si racconta tra le pagine di un diario tragicomico è a un passo dal trasformarsi in una supernova.
Incapace di controllare i propri poteri e le proprie emozioni, Sydney diventa l'antieroina dei teen drama contemporanei.
Se dalla prospettiva del suo migliore amico Stanley Barber la ragazza possiede delle abilità straordinarie, da quella della protagonista ci rendiamo conto che non sempre questi "doni" sono apprezzati. Sydney cerca così di convivere con il peso di un tale segreto e i tipici disagi causati dall'adolescenza.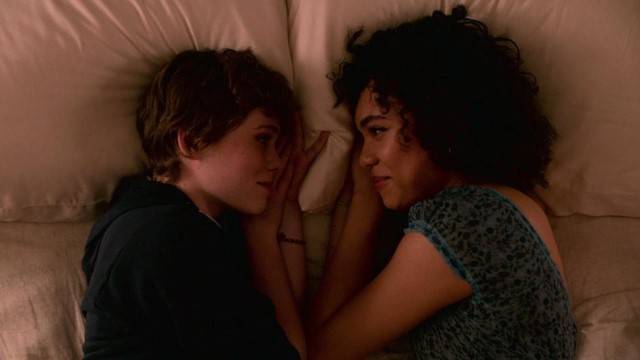 Sotto pressione e insicura, la ragazza cerca di rifuggire alla rabbia e al disagio che la sembrano inseguirla. Le sue emozioni divengono così pericolose e persino le più banali situazioni appaiono ingestibili. Durante ogni episodio il diario diviene un aiutante, nonché un utile strumento per superare i traumi. La protagonista della serie tv vi annota i pensieri, i dubbi, le paure, e in quel piccolo oggetto sicuro cerca di canalizzare i suoi forti sentimenti.
I Am Not Okay With This è il manifesto di un'adolescente frastornata dal rumore della vita.
Il trauma e il dolore avvolgono la protagonista della commedia nera. Syd si perde nell'incertezza profonda, alienandosi dal mondo che la reputa un mostro e da quella concezione di eroe alla quale non si paragonerà mai. Circondati da un'atmosfera vintage che riesuma gli anni '70, si ha così l'impressione di vivere un'era che non riesce a incastrarsi nel mondo e che rende ancora più soffocante l'adolescenza della ragazza: troppo indietro per il futuro, troppo avanti per il passato.
In quella cittadina di campagna in cui ogni cosa sembra nascere per morire, Syd affronta i propri tormenti con l'invincibile arma della scrittura. Il diario, letto dalla voce narrante della protagonista, invita il pubblico a compatire quel disastro di ragazza, emotivamente instabile. Diventiamo spettatori scomodi di una storia dark e tragicamente dolorosa, scoprendo i più oscuri segreti di Syd e le sue logoranti debolezze.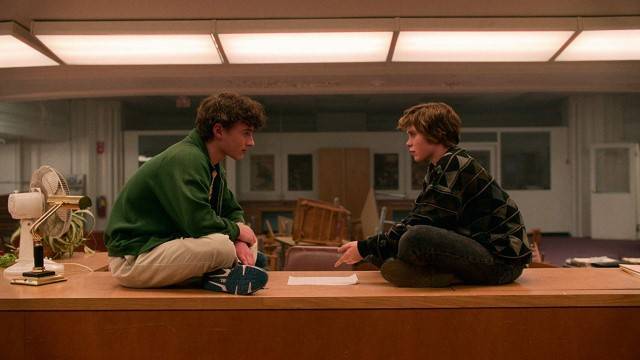 Il volto della ragazza non combacia con quello dell'eroe. Vulcano di rabbia e frustrazione, lei esplode e risponde alle violente ingiustizie della vita con maggiore violenza. Calma e controllo non fanno per lei, soprattutto quando le provocazioni tirano fuori la sua parte peggiore.
Il mostro più temibile lo affronta infatti ogni giorno, guardandolo nel riflesso dello specchio e rileggendo tra le pagine del suo diario degli insuccessi le difficoltà e la fatica che prova sforzandosi di essere normale. Tuttavia, quella lotta con se stessa non riesce a vincerla. Nel momento in cui subisce l'ennesima ingiustizia, disillusa e adirata, Syd cede al suo lato più oscuro e dimostra quanto in I Am Not Okay With This l'eroismo sia sopravvalutato.
Esistono serie tv che propongono l'immagine di un eroe abitudinario e pacifista, la cui quotidiana gentilezza può realmente cambiare mondo. Altre, invece, raccontano di quegli eroi che di eroico non hanno nulla, meno che i poteri. Ci sono persino quegli show che descrivono protagonisti con fantastiche abilità eppure imbranati, privi di una morale che li possa condurre sulla retta via. E poi?
Poi c'è I Am Not Okay With This, in cui i supereroi non esistono.