Una delle ultime arrivate nel catalogo Netflix si chiama I Am Not Okay With This e ha già conquistato tutti. Breve, diretta e coinvolgente, essa racconta le vicende della teenager Sydney, alle prese con i duri anni dell'adolescenza e dei super-poteri di troppo. Basato sul romanzo grafico di Charles "Chuck" Forsman, lo show gode di un cast giovanissimo e talentuoso guidato dalla regia di Jonathan Entwistle. Dopo il successo ottenuto con The End of the F***ing World, quest'ultimo ritorna così con un nuovo ambizioso progetto il cui destino è ancora incerto. Per il momento.
Durante un'intervista rilasciata a Collider il regista ha infatti dichiarato di credere ampiamente nel futuro della serie tv. Dopo aver raccontato le difficoltà riscontrate nel gestire gli effetti speciali utilizzati e descritto le influenze artistiche che hanno reso possibile la nascita dello show, Entwistle si è espresso sulla natura di quest'ultimo:
Non si tratta necessariamente della versione indie di una serie tv sui supereroi. È principalmente uno show sui supereroi realizzato in modo diverso. Per me questa è la cosa più importante. Chuck ha scritto una storia sui disturbi mentali e il suicidio. Noi non abbiamo fatto altro che prendere tutte le cose che hanno condotto il personaggio a quel punto e costruirne il passato.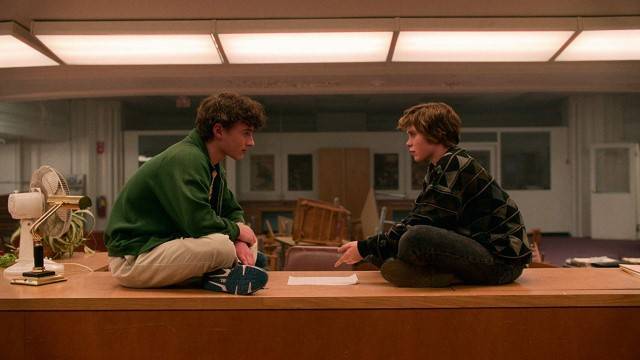 Lo showrunner ha poi risposto a un quesito riguardante il futuro di I Am Not Okay With This, confermando che la serie tv non nasce come una miniserie. L'inaspettato finale di stagione si conclude infatti con un importante cliffhanger che ha lasciato gli spettatori senza parole e che meriterebbe una degna risoluzione. Quando a Entwistle viene quindi chiesto perché abbia deciso di non concludere lo show con la prima stagione, il regista risponde di voler sfruttare la natura episodica della serie tv per utilizzare tutte quelle idee che Chuck Forsman non ha inserito nel libro.
Credo che mi sarebbe piaciuto eliminare la protagonista alla fine dello show, ma lavorando nel piccolo schermo il mio obiettivo è essenzialmente fare l'opposto di tutto ciò. (…) Parlando con Chuck, lui aveva queste grandi idee che non ha mai inserito nel libro, riguardanti il legame con il padre e tutti quegli elementi che vorremmo sfruttare per costruire qualcosa.
La storia di Sydney Novak e dei suoi amici è quasi tragicomica, poiché racconta con originalità il tipico struggimento adolescenziale ma in chiave sci-fi. In sette episodi, della durata di circa venti minuti ciascuno, Entwistle ha così dato vita all'omonimo graphic novel rendendogli giustizia. Proseguendo l'intervista si è poi lasciato sfuggire forse qualche informazione di troppo circa la presunta trama del prossimo capitolo.
C'è in profondità, senza entrare troppo nel dettaglio, una cospirazione molto più grande che precede di gran lunga la storia dei superpoteri, e che verrà fuori nelle successive stagioni, dove lei (Syd) e le sue abilità saranno sfruttate da qualcuno, oppure no, dipende come si procederà.
I Am Not Okay With This gode già di un grandissimo seguito e queste interessanti dichiarazioni potrebbero anticiparne un possibile ritorno. Ovviamente l'ultima parola spetterà a Netflix, che dovrà decidere se rinnovare o meno lo show. Considerando l'entusiasmo generale legato alla distribuzione della serie tv e le premesse fatte da Entwistle, non possiamo che essere ottimisti e attendere fiduciosi l'eventuale rinnovo.