È finita. Game of Thrones 8 ha rappresentato un viaggio pieno di emozioni. Senza ombra di dubbio la serie tv HBO in questi anni è riuscita meglio di ogni altra a far parlare di sé scatenando dibattiti e teorie. La sesta puntata di Game of Thrones 8 ha soddisfatto e deluso, commosso e irritato, ha stupito e annoiato. Chi si aspettava di vedere Cersei emergere dalle macerie della Fortezza Rossa con tre cuccioli di elefante sarà rimasto contrariato, ma l'episodio ci ha dato comunque notevoli spunti su cui ricamare meme.
Per risollevare il morale ai fan che già sentono forte la mancanza del DUN DUN DUDUDUN DUN DUDUDUN DUN TAAAA RAAAA TARARARA TARARARA della sigla, iniziamo subito con i migliori commenti dal Web all'episodio 8×06 di Game of Thrones:
1) SPOILER SENZA CONTESTO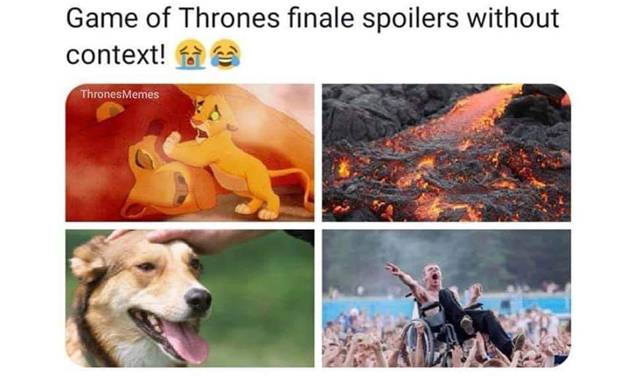 Cominciamo con i famigerati spoiler senza contesto di Game of Thrones 8, forse una delle cose che rimarranno più impresse nella mente degli spettatori di questa stagione evento.
2) JAIME LO STERMINATORE DI RE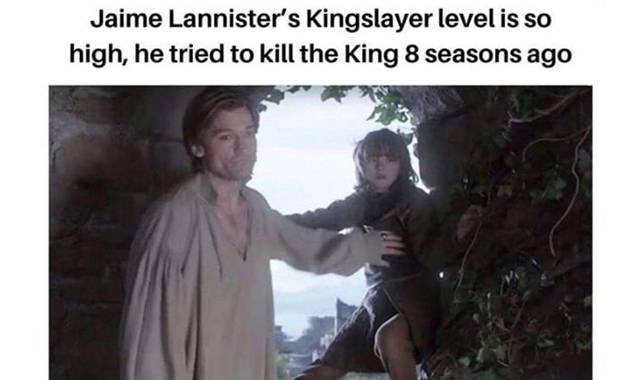 Se c'è una cosa che il finale di serie ci ha fatto capire è che Jaime Lannister è talmente tanto "Lo sterminatore di Re", che nell'episodio pilota di Game of Thrones ha provato ad assassinare anche il futuro sovrano.
3) HODOR È CONTRARIATO?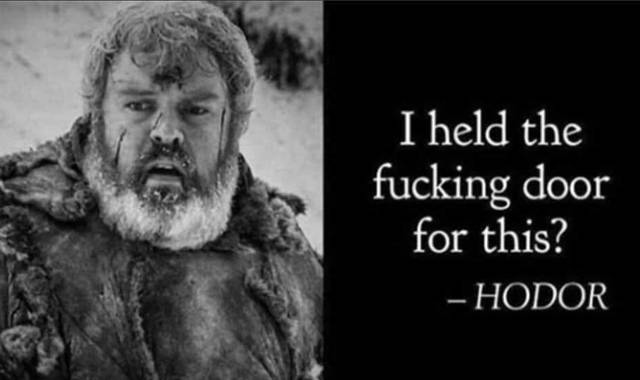 Cosa ne penserebbe il gigante buono del finale di Game of Thrones 8? Secondo alcuni sarebbe parecchio contrariato. In realtà, per quanto sia buffa questa immagine, è indiscutibile l'affetto di Hodor nei confronti del nuovo Re dei Sei Regni. Dunque è probabile che sarebbe ben lieto di sapere che ha "tenuto la porta" per questo.
4) VERME GRIGIO A NAATH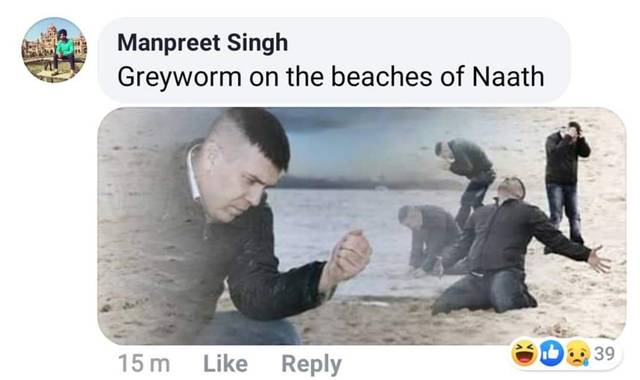 Questo è davvero un commento epico. Verme Grigio avrebbe dovuto visitare Naath con la sua amata Missandei. Dopo la sua morte è lecito immaginare che il suo arrivo sulle coste dell'isola sia stato esattamente così.
5) BRAN VS JON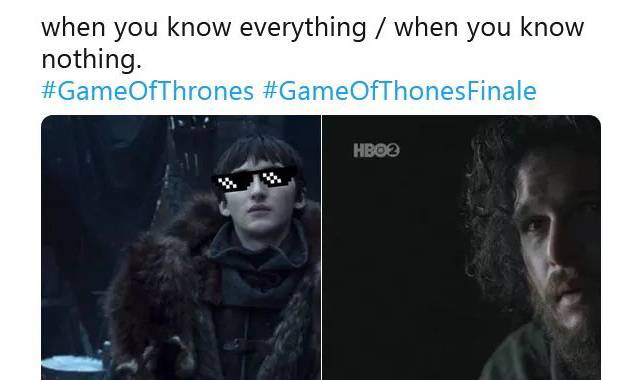 L'assunto secondo il quale la conoscenza è potere trova nel finale di Game of Thrones 8 la sua massima espressione. Jon che è famoso per non sapere nulla dovrebbe averlo capito.
6) TORMUND E JON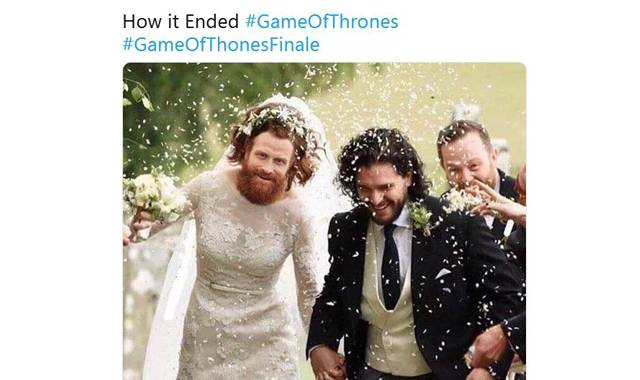 Questa immagine gira sul web da un po' di tempo. Guardandola oggi però, dopo il finale di serie, sembra una premonizione davvero esilarante.
7) "YOU KNOW NOTHING GREY WORM!"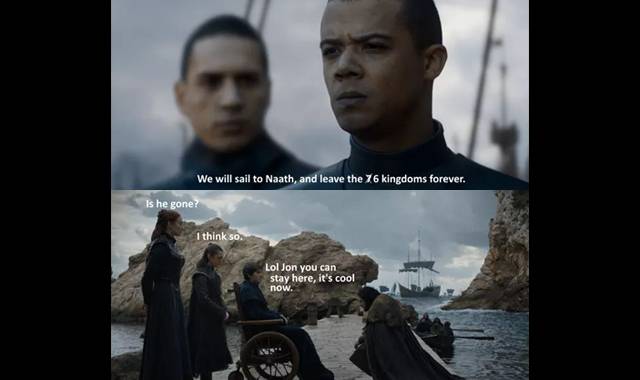 Alzino la mano tutti quelli che hanno pensato per una frazione di secondo che sarebbe andata così! Dopo aver visto gli Immacolati salpare per Naath, Bran avrebbe potuto permettere a Jon di rimanere a King's Landing o tornare a Winterfell. Sarebbe stato davvero divertente vedere Verme Grigio fatto fesso così!
8) BRIENNE E IL LIBRO DEI PRIMI CAVALIERI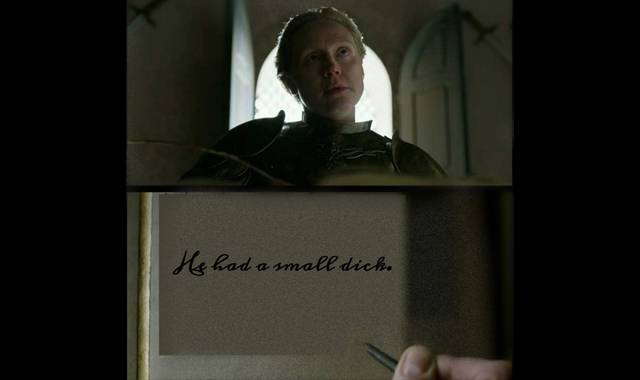 Una persona ferita nei sentimenti sarebbe capace di tutto! In questa immagine vediamo Ser Brienne intenta ad arricchire la parte del Libro dei Primi Cavalieri riservata a Jaime con un commento poco signorile ma davvero, davvero spassoso.
9) PROVACI ANCORA SAMWELL!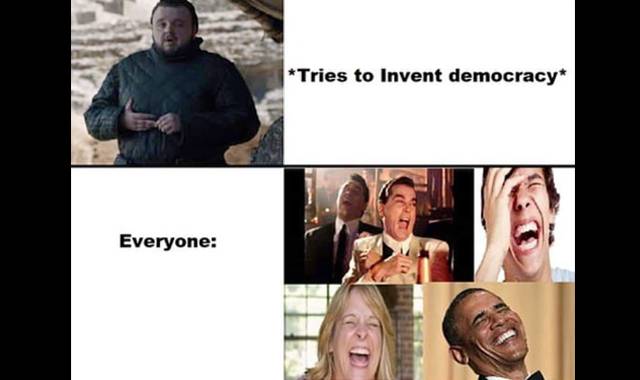 Durante la scelta del nuovo re, Samwell ha provato a buttarla lì: Democrazia. Un'idea rivoluzionaria per la quale si è creato il gelo intorno a lui. È bastato però un discorso ben assestato dell'allora prigioniero Tyrion per modificare in tre minuti una forma di Stato che persisteva da secoli. Povero Sam!
È il momento di passare ai Tweet migliori sull'ultimo episodio di Game of Thrones 8:
Ognuno di noi ha quello zio che durante i pranzi/cene si alza dignitosamente brillo ed inizia a raccontare storie a sfondo sessuale in presenza di minori #GamesOfThrones #got pic.twitter.com/IyfTTje1rW

— ❌AciDho!❌ (@ImpiccioneL) 22 maggio 2019
Questa scena ha spezzato la tensione durante uno dei momenti più importanti della serie. Davvero buffo!
Festival di Sanremo, 2016.

Nel backstage dell'Ariston, Valerio Scanu si diverte a truccare le colleghe Annalisa, Arisa e Noemi. #fotografiesegnanti #GameOfThrones #GameOfThronesFinale #GamesOfThrones #GOT #IlTronoDiSpade #JonSnow #AryaStark #BranStark #Sansa @noemiofficial pic.twitter.com/2sxNzw8pv3

— Fotografie Segnanti (@segnanti) 23 maggio 2019
Fotografie Segnanti ha fatto centro anche questa volta!
metalupo….con metaorecchio.#GamesOfThrones #GamesOfThronesFinale #GamesOfThronesfinal #tronodispade #iltronodispade pic.twitter.com/JwoHVmqqJu

— mirddyn (@mirddyn_rm) 21 maggio 2019
Spettro rimane una delle creature più belle di Game of Thrones 8 anche così.
Gendry mentre segue Arya sulla sua barchetta #GamesOfThronesFinale #GameOfThornes #gendrya pic.twitter.com/BwLHHkCB3K

— caam🦕 (@c_inwinterfell) 20 maggio 2019
Gendry ha ricominciato a remare! Questa volta per riunirsi alla sua amata Arya l'esploratrice.
The unsullied trying to figure out to start a bloodline#GameOfThornes #DemThrones #GOTSeasonFinale pic.twitter.com/0Cnf049yoU

— Owen 🍋 (@GormanOwen) 20 maggio 2019
La scena in cui Ser Davos ha consigliato a Verme Grigio di creare una sua casata mi ha davvero uccisa! Comeeeeee? Come potrebbe riuscire a dare vita a una sua discendenza, Cavaliere delle cipò?
THAT'S ALL FOLKS!
È stato un viaggio indimenticabile, con tutti i suoi pro e contro. Comunque la pensiate sul finale, dobbiamo riconoscere a Game of Thrones 8 il fatto che ci ha regalato (volontariamente e involontariamente) un sacco di risate.