Introduzione
Alla fine è successo davvero. Dopo anni di voci contrastanti, speculazioni, progetti, sogni, speranze e incubi di protagonisti, addetti ai lavori e, soprattutto, fan, la reunion di Friends è diventata realtà. A 16 anni di distanza dall'iconico finale andato in onda il 6 maggio del 2004, una delle serie tv più famose di tutti i tempi, una sitcom che ha segnato un'epoca e ha fatto da spartiacque tra più ere seriali, sta per tornare. Lo farà con un episodio speciale voluto fortemente da Warner Bros e HBO Max, il neonato servizio di streaming dell'emittente televisiva statunitense via cavo, e rivedrà davanti allo schermo tutti i vecchi protagonisti in un evento atteso spasmodicamente da un esercito di milioni di fan.
Ritroveremo quindi presto i fratelli Ross e Monica Geller (David Schwimmer e Courteney Cox), l'ammaliante Rachel Green (Jennifer Aniston), la stralunata Phoebe Buffay (Lisa Kudrow), l'imprevedibile Chandler Bing (Matthew Perry) e il playboy Joey Tribbiani (Matt LeBlanc), riuniti con l'entusiasmo di sempre in un'avventura dai contorni ancora piuttosto indefiniti. Convinti dopo lunghe e complesse trattative con contratti che definire record sarebbe persino riduttivo, i membri storici del cast di Friends rivestiranno quindi i panni delle personalità che li hanno fatti grandi in tutto il mondo. E a prescindere dall'aspetto economico, oggettivamente decisivo, saranno ben felici di farlo. Come testimoniato, se necessario, anche dalle ultime dichiarazioni di Courteney Cox, elettrizzata all'idea di lavorare una volta ancora con i "friends" di una vita:
La cosa migliore è che per la prima volta saremo tutti insieme, nella stessa stanza, a parlare dello show, sarà su HBO Max e sono entusiasta. Ci divertiremo un casino, sarà fantastico. Non abbiamo mai parlato tutti insieme dell'esperienza fantastica che abbiamo avuto, sarà grandioso. C'è voluto moltissimo tempo, sono passati tanti anni, non so tipo 15, e finalmente ci siamo ritrovati e abbiamo fatto una cena insieme. Ogni volta che stiamo insieme, e non è successo molto spesso dopo la fine di Friends tipo due volte, ridiamo tantissimo, è molto divertente.
Fin qui tutto bene, ma ci sono un'infinità di ma. E di questioni sospese che rischiano seriamente di trasformare uno dei principali appuntamenti seriali degli ultimi dieci anni in un boomerang dalle conseguenze catastrofiche. Perché Friends è Friends, e riaprire le porte del Central Perk e di due tra gli appartamenti famosi della storia delle serie tv è in ogni caso un rischio gigantesco. Sarà davvero un evento solido? Oppure non sarà altro che l'ennesima operazione nostalgia di cui avremmo fatto volentieri a meno e che lascerà qualcosa esclusivamente a chiunque abbia qualcosa da guadagnarci? A cavallo tra le suggestioni e la realtà, ora a parlare saranno i fatti.
2. Dove eravamo rimasti?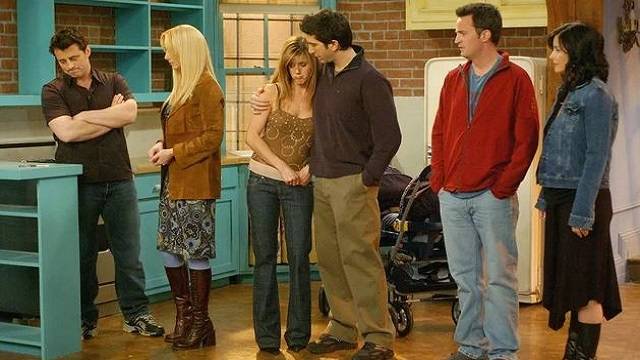 Il finale di Friends
Le note stranote di I'll Be There for You ci riporteranno nella New York di Friends. Sedici anni dopo la conclusione della decima e ultima stagione della comedy, sicuramente molto molto diversa da come l'avevamo lasciata nel doppio episodio The Last one (Arrivi e Partenze). Nel finale della serie avevamo assistito a cavallo tra tante risate e un fiume di lacrime al trasloco imminente di Monica e Chandler, finalmente divenuti genitori di due splendidi gemelli (Erica, in omaggio alla madre naturale dei bambini, e Jack, lo stesso nome del padre di Monica).
La chiusura della lunga storia all'interno dell'appartamento coinvolge emotivamente tutti, ormai instradati verso una nuova fase delle rispettive vite. Monica e Chandler sono sposati con due figli, Phoebe è convolata a nozze con Mike Hannigan, Rachel e Ross, archetipi della coppia tormentata divenuta canonica nella stragrande maggioranza delle comedy contemporanee e successive a Friends, sono tornati insieme dopo un lungo inseguimento del ragazzo, fermatosi nell'aeroporto JFK a seguito di svariate incomprensioni, e della decisione della ragazza di rinunciare al sogno lavorativo parigino (era diretta verso la capitale transalpina per avviare una collaborazione con la prestigiosissima Louis Vitton) in nome dell'amore. E Joey…
… Joey?
Una bella domanda, perché a proposito del personaggio interpretato da Matt LeBlanc sorge una questione fondamentale per capire che direzione prenderà lo special: Joey, lo spin-off, "continuerà" a esistere? Come molti di voi di ben sanno, infatti, alla serie madre si affiancò dal 2004 al 2006 una nuova sitcom con protagonista Joey Tribbiani. Il ragazzo, alla ricerca di una svolta per la propria carriera da attore, si trasferisce da New York a Los Angeles per inseguire il suo sogno. Lo spin-off, tuttavia, fu un fiasco colossale e la NBC decise di chiuderlo dopo sole due stagioni. Quel che è successo nella serie, in ogni caso, è successo. E non solo a Joey, perché tutti gli altri protagonisti di Friends, seppure assenti, sono stati menzionati più volte.
Quindi cosa succederà? Si ripartirà tenendo in considerazione anche gli eventi narrati in Joey, ufficialmente parte integrata del canon di Friends? Oppure si dimenticherà il triste capitolo (per chi l'ha prodotta e chi l'ha vista) e si azzereranno quelle vicende ripartendo esclusivamente da The Last One? Non escludiamo affatto la prima ipotesi, anche perché a eccezione ovviamente dello stesso Joey per tutti gli altri personaggi non si è venuti a conoscenza di sconvolgimenti particolari. Potremmo ritrovare quindi un Joey più maturo sul piano sentimentale, forse sposato con la bella Alex, coprotagonista dello spin-off interpretata da Alex Garrett.
3. Le dichiarazioni dei protagonisti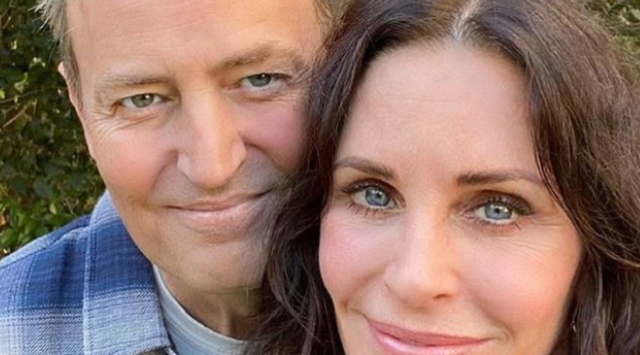 A proposito dell'evento imminente molte sono state le dichiarazioni di attori e addetti ai lavori.
Guess you could call this the one where they all got back together — we are reuniting with David, Jennifer, Courteney, Matt, Lisa, and Matthew for an HBO Max special that will be programmed alongside the entire Friends library. I became aware of Friends when it was in the very early stages of development and then had the opportunity to work on the series many years later and have delighted in seeing it catch on with viewers generation after generation. It taps into an era when friends – and audiences – gathered together in real time and we think this reunion special will capture that spirit, uniting original and new fans.



In sintesi:
Potrebbe intitolarsi "Quella volta in cui tutti si sono riuniti". Stiamo rimettendo insieme David, Jennifer, Courteney, Matt, Lisa e Matthew per uno special che accompagnerà tutti gli episodi della serie tv. Sono eccitato nel vedere come riesca ancora a catturare spettatori generazione dopo generazione. Fa riferimento a un'era in cui amici e pubblico si riunivano per davvero in real time, e penso che questa reunion ne catturerà lo spirito mettendo assieme nuovi e vecchi fan.
Su Instagram
David Schwimmer, Jennifer Aniston, Courteney Cox, Matt LeBlanc, Lisa Kudrow e Matthew Perry, dal canto loro, hanno invece unito le voci con sei post su Instagram e pochissime parole, per tutti uguali, capaci in ogni caso di mandare in visibilio i fan:
Sta succedendo davvero.
4. Il cast
Il cast originario di Friends si è quindi riunito totalmente. Riassumiamolo:
Jennifer Aniston – Rachel Green
Courteney Cox – Monica Geller
David Schwimmer – Ross Geller
Matt LeBlanc – Joey Tribbiani
Matthew Perry – Chandler Bing
Lisa Kudrow – Phoebe Buffay
5. La reunion di Friends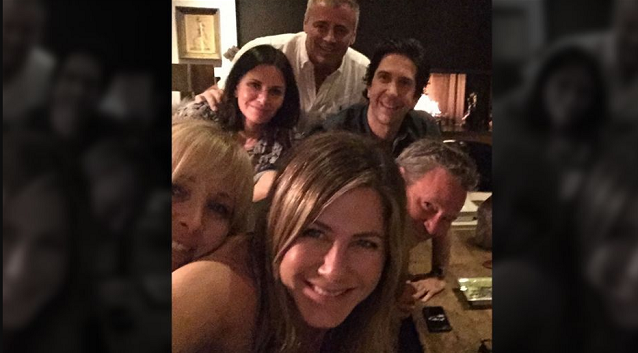 In streaming
L'episodio singolo della serie tv, l'unico attualmente previsto, andrà in onda nel maggio del 2020, in occasione del lancio della piattaforma di HBO Max, detentrice negli Stati Uniti anche dei diritti dei 236 episodi di cui è composta la serie tv. Sarà prodotto da WarnerMedia, verrà diretto da Ben Winston e rivedrà all'opera nello storico palco dello Stage 24 degli studi di Burbank (California) gli autori storici di Friends, David Crane e Marta Kauffman.
Da sottolineare in particolare la presenza di quest'ultima, che non più tardi di qualche mese fa, lo scorso settembre, aveva dichiarato categoricamente in un'intervista rilasciata a Rolling Stone di non volere la reunion:
Ci sono diverse motivazioni. Innanzitutto lo show riguarda un periodo della vita in cui gli amici sono la tua famiglia, e quel momento è finito. Tutto quello che faremmo sarebbe rimettere insieme i sei attori, ma il cuore della serie sarebbe sparito. Poi non so quanto bene farebbe. Lo show continua ad andare alla grande, la gente lo ama. La reunion potrebbe solo deludere.
Cosa succederà
In ogni caso non sarà un episodio tradizionale, ma una sorta di intervista ai sei protagonisti, ingaggiati con grande determinazione a suon di milioni.
Cosa verrà fuori? Gli interrogativi sono parecchi e le ipotesi non mancano. Già detto di Joey Tribbiani, che alla prevedibile domanda "How you doin'?" potrebbe rispondere un secco "bene" affermando magari di essersi sposato, avere avuto dei figli ed essere diventato un grande attore come troppo spesso aveva sognato vanamente da giovane, i dubbi principali riguardano gli altri. Monica Geller e Chandler Bing stanno ancora insieme? Hanno avuto altri figli? Hanno ripreso le rispettive occupazioni lavorative? Phoebe Buffay, dopo averci preso in giro per dieci anni, ha trovato davvero la felicità tra le braccia di Mike ed è una donna diversa, meno stralunata di un tempo?
E che dire di Rachel Green e Ross Geller, arrivati al traguardo del finale di Friends dopo una sequela infinita di tira e molla? Hanno ribaltato i pronostici e hanno resistito insieme per la bellezza di sedici anni? Come sta Emma, la loro figlia ormai adolescente? E Ben? Per non parlare di Gunther, lo storico barman del Central Perk segretamente innamorato di Rachel fino alla rivelazione nel finale? Sentiremo ancora la fastidiosa e simpaticissima risata dell'ex di Chandler, Janice Litman? La lista è infinita e le menzioni saranno innumerevoli, c'è da starne certi. Con la speranza che Friends stia tornando per essere ancora la vera Friends, non una triste marketta con le rughe.