ATTENZIONE, NELL'ARTICOLO SONO PRESENTI SPOILER SU DESPERATE HOUSEWIVES
Sono passati quasi sette anni dalla fine di Desperate Housewives e non ho mai più visto niente di simile in tivù. Certo ho visto serie tv più curate sotto il profilo tecnico da allora; serie tv più divertenti, più drammatiche, più paurose e più noir. Sì, ne ho viste molte. Ma mai più nulla come quella nata da un colpo di genio di Marc Cherry. Questo perché Desperate Housewives è unica nell'essere tante cose insieme. È una comedy quando Susan rimane chiusa fuori casa completamente nuda nella prima stagione, è un thriller quando un serial killer semina il panico tra le giovani donne di Wisteria Lane, un drama quando Mike viene ucciso e un horror con cadaveri sepolti nel bosco, di notte.
Desperate Housewives è tutte queste cose e tante altre
Tutto è iniziato nel 2004, quando Marc Cherry si è ritrovato a parlare con sua madre di una donna che in preda a un raptus aveva ucciso i propri figli. Un dramma che ha acceso una lampadina e dato allo sceneggiatore l'idea di creare uno show che raccontasse storie di disperazione al femminile. L'intuizione di Cherry è giunta nel momento giusto. Da anni ormai, quando si parlava di serie tv al femminile, si parlava di Sex and the City e proprio in quel 2004 la serie tv cult si apprestava a chiudere i battenti.
Serviva una serie tv che raccontasse le donne con un diverso appeal, meno frivolo e più mystery. Ecco che le sfavillanti luci di New York, cornice di nuove passioni, diventavano le rassicuranti villette a schiera di un quartiere residenziale in cui nulla è come sembra. Ecco che quattro indipendenti donne in carriera, sicure di se e spensierate, diventavano quattro (più o meno) casalinghe con segreti e turbamenti.
Desperate Housewives dunque è stata un punto di rottura e oggi, a quasi quindici anni dalla sua uscita, posso affermare che la sua mancanza si sente eccome.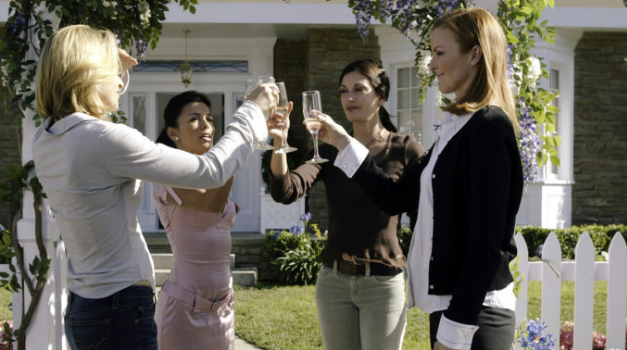 La sua peculiare impostazione narrativa faceva di Wisteria Lane un luogo trascendentale sul quale, in ogni stagione, si abbattevano tragedie o catastrofi naturali che cambiavano per sempre la vita dei residenti. Tra quelle rassicuranti villette a schiera qualche vecchio amico andava via lasciando il posto a nuovi inquilini, rigorosamente misteriosi e accompagnati da torbidi segreti. In un susseguirsi di eventi che hanno conferito alla serie tv un ritmo incalzante.
Tra i meriti di Desperate Housewives c'è quello di averci mostrato una sostanziosa fetta della vita dei personaggi. Benché la serie sia composta di otto stagioni, infatti, l'arco temporale entro il quale queste si svolgono copre all'incirca tredici anni. Tredici anni di vita durante i quali abbiamo visto Bree abbandonare la donna-automa che era e Gabrielle crescere, maturare e diventare una grande donna, madre e moglie.
Ma Desperate Housewives è un capitolo definitivamente chiuso. Il suo finale, unito alle parole di Cherry, non ha lasciato spazio a fraintendimenti: la serie finisce con la 8×23. Niente revival, niente final movie, niente di niente. In effetti è cosa singolare per l'ideatore e produttore di una serie tv una così netta chiusura con lo show che lo ha reso celebre. Le ragioni di tale chiusura sono tutt'ora ignote, ma sembra che l'aria sul set fosse diventata irrespirabile a causa delle continue liti tra le quattro star.
In particolar modo, si dice che Teri Hatcher fosse la pietra dello scandalo, per via delle sue pretese e dei capricci da prima donna.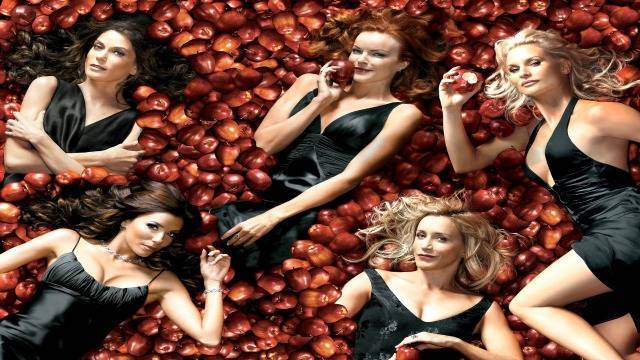 Recentemente si è parlato di una possibile reunion per Desperate Housewives. Felicity Huffman (Lynette) ha infatti dichiarato che le piacerebbe tornare a recitare nella serie di Marc Cherry, ma la cosa è quantomeno inverosimile. L'ultimo episodio, infatti, si conclude con la voce fuori campo di Mary Alice, che durante una tradizionale partita a poker delle sue quattro migliori amiche, afferma che:
Quella fu l'ultima volta che le mie amiche si riunirono tutte insieme
Chiaramente, dunque, un revival della serie in cui Susan, Bree, Lynette e Gabi tornino a vedersi è poco fattibile. La serie tv targata ABC resterà comunque indimenticabile per chi come me l'ha vista e amata sin da subito. Nei suoi quarantacinque minuti di episodio riusciva a far ridere a crepapelle e poi sobbalzare dalla poltrona dallo stupore e non è cosa facile. L'innovazione principale portata dalle casalinghe disperate è stata senza dubbio questa: aver saputo coniugare una vasta gamma di generi senza che questi cozzassero o si escludessero e senza creare "compartimenti stagni".
Un cocktail composto da elementi diversi perfettamente miscelati, dal sapore dolce e il retrogusto amaro. Perché, in fondo, la vita è così: un susseguirsi di emozioni diverse, imprevisti, arrivi, partenze e colpi di scena.
I LOVE YOU ONCE, I LOVE YOU TWICE, I LOVE YOU MORE THAN BEANS AND RICE