Signore e signori, tenetevi forte. Forse. Dipende. Ecco, è complicato, dipende dai gusti. Vi spiego cosa è successo. È stato rinvenuto uno script particolarissimo. Lo script di un episodio di How I Met Your Mother mai andato in onda. Questo episodio, di cui siamo stati ingiustamente privati, vedeva How I Met Your Mother intrecciarsi non con una, ma ben altre due serie tv. E non due serie qualsiasi. Stiamo parlando di due colossi: Breaking Bad e Game of Thrones.
Come potrete immaginare, la scoperta era troppo ghiotta per tenerla tutta per noi. Quindi abbiamo deciso che, in esclusiva per voi Irrecuperabili di Hall of Series, pubblicheremo lo script di questo insolito crossover tra How I Met Your Mother, Game of Thrones e Breaking Bad. Enjoy!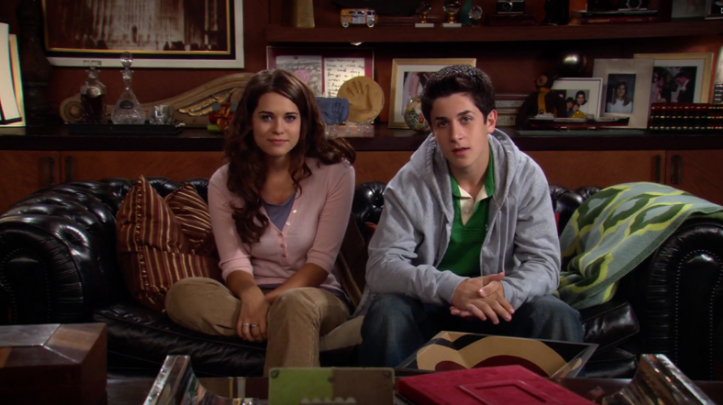 2030. Ted Mosby siede nello studio di fronte ai suoi figli.
"Ragazzi, oggi vi racconterò una storia. La storia di come ho conosciuto vostra madre."
Panoramica: deserti del New Mexico, balle di fieno e cactus ovunque.
"Era un'estate del 2012, mi trovavo ad Albuquerque. La scusa ufficiale era una importante riunione di lavoro per un nuovo progetto in procinto di partire. Ma il vero motivo era un altro."
WOOSH. Immagine swisha di lato: flashback. New York, appartamento di Ted.
Marshall, irrompe in casa: TEEEEEED!!!!
Ted, trafelato, correndo in salotto dalla cucina: Cosa?
Marshall: TANTRUM!
[Marshall apre il computer di Ted e digita freneticamente sulla tastiera.]
Vedete, vostro zio Marshall aveva scoperto che qualcuno, ad Albuquerque, aveva riavviato la produzione di Tantrum.
[Ted e Marshall saltano e gridano TANTRUUUUM e si battono il petto.]
Fine flashback. Immagine swisha di lato. WOOSH. 2012, esterno aeroporto di Albuquerque, Ted ferma un taxi.
"Quindi partii alla volta del New Mexico, deciso non solo a entrare in possesso di una buona dose di Tantrum, ma anche a mettermi d'accordo con il produttore per riceverne una fornitura annuale. Prima di andare in albergo decisi di fermarmi a mangiare da qualche parte. Trovai un simpatico fast food. Non era Gazzola's, ma si mangiava molto bene."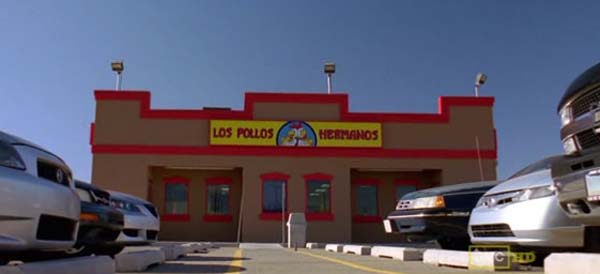 WOOSH. Los Pollos Hermanos, interno.
Commessa: Benvenuto a Los Pollos Hermanos. Cosa desidera?
Ted, consulta il menù con un bollino raffigurante l'entusiastico faccione di un certo Alessandro Borghese: Prendo del pollo fritto.
[La commessa serve Ted. Lui fa per andarsene, poi ci ripensa.]
Ted: Le chiedo scusa. Per caso sa indicarmi dove si trova lo stabilimento Tantrum? So che dovrebbe essere da queste parti.
La commessa lo squadra sospettosa: Se vuole posso farla parlare col mio capo. Possiede lui lo stabilimento di Tantrum.
Ted: Oh, sì sì, certo! Grazie!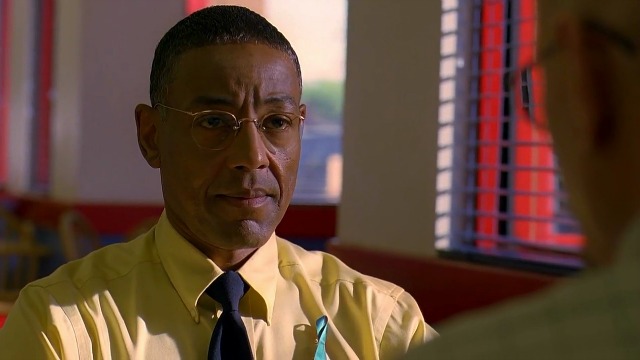 [Ted si siede e inizia a mangiare, tutto contento. Poco dopo lo raggiunge il proprietario, tale Gus Fring. I due si presentano.]
Fring: Signor Mosby, mi pare di capire che lei sia interessato al mio prodotto?
Ted: Certamente! Sono venuto appositamente fin da New York.
Fring: Sono lusingato. Possiamo discuterne. Certamente New York è un'attrattiva interessante.
Ted, entusiasta: Grandioso! Poter rifornire tutta New York sarebbe un'idea eccezionale!
[Fring studia Ted, poi i due si accordano per incontrarsi più tardi e discutere i dettagli e si stringono la mano.]
WOOSH. Esterno, stabilimento Tantrum. Ted scende da un taxi. Rumore di macchinari in funzione e viavai di gente e camion e scatoloni. Una giovane dai capelli d'argento vestita interamente d'azzurro gli si avvicina.
Daenerys: Vi siete perso, Ser?
Ted: Come, prego?
Daenerys: Non sembrate il tipo di persona che frequenterebbe questo posto. Cosa ci fate qui?
Ted: Sono venuto qui per trattare l'acquisto di un rifornimento di Tantrum.
Daenerys: La bibita?
Ted: La bibita.
Daenerys: Sicuro di sapere in cosa vi siete cacciato?
"Vedete, come scoprii poco dopo, il prodotto di cui parlava il signor Fring non era la Tantrum. Quella era solo una copertura per… Avete presente i sandwich che mangiavamo io, la zia Lily e lo zio Marshall? Ecco, qualcosa del genere…"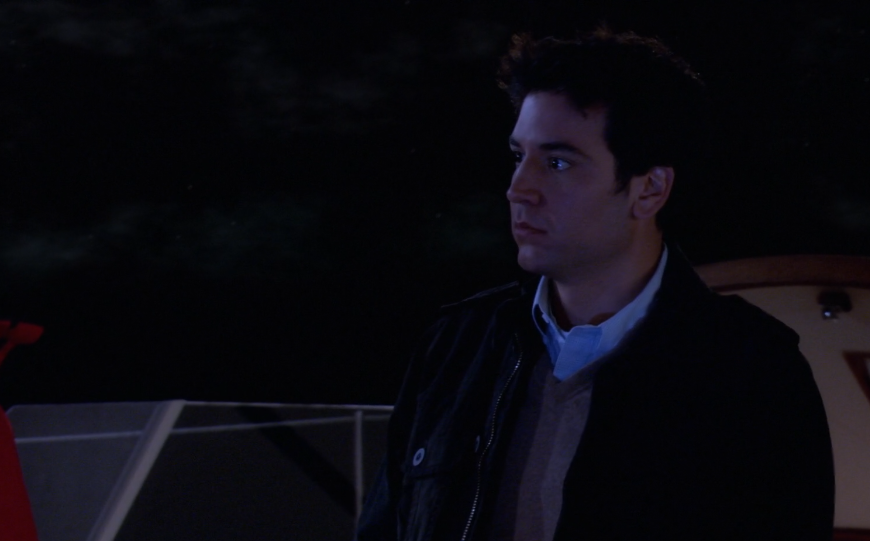 Ted deglutisce ed esita quando un uomo, che la fanciulla saluta chiamandolo Ser Heisenberg, passa loro accanto. L'uomo risponde con un cenno della testa, ostentando superiorità ma visibilmente compiaciuto dal "Ser" con cui la ragazza gli si rivolge. Lancia un'occhiata carica di sdegno a Ted e poi se ne va. Ted si fa coraggio e parla.
Ted: Ma se questo posto è così pericoloso, tu che ci fai qui…?
Daenerys: Il mio nome è Daenerys della casa Targaryen, Ser. Non lasciatevi ingannare dal mio aspetto. I miei uomini sono temporaneamente al servizio di Ser Fring, garantiscono protezione a lui e ai suoi affari. In cambio lui mi ha giurato fedeltà e mi fornirà il suo appoggio quando conquisterò il Continente Occidentale.
Ted: I tuoi uomini?
Daenerys, indicando una serie di grosse motociclette parcheggiate lì davanti: Esattamente, Ser. I Dothraki. Una schiera di valorosi guerrieri che cavalcano questi nobili destrieri. Qual è il vostro nome, Ser?
Ted, con gli occhi a cuoricino: Ted. Ted Mosby.
Daenerys: Bene, Ser Ted della casata Mosby, se desiderate vi riaccompagnerò a casa.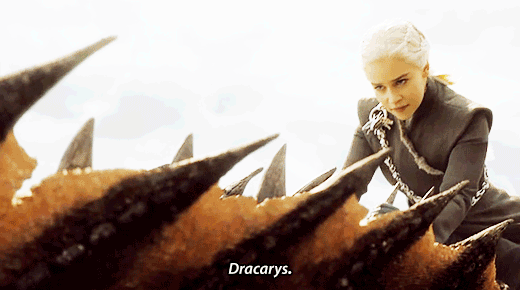 [Ted segue Daenerys verso le moto. All'improvviso lei si ferma]
Daenerys: Ted, vi presento Drogon, il mio drago. Ne ho tre, ma questo è quello che preferisco cavalcare per i miei viaggi.
Ted, ridendo: Divertente, non avevo mai sentito paragonare una moto a un drago.
Daenerys, mortalmente seria: Non è una moto. È un drago, ed è mio figlio. Chiaro?
Ted: Cristallino.
[I due montano in sella.]
Daenerys, accendendo il motore, a gran voce: DRACARYS!
Panoramica autostrade e skyline di New York.
"E così Daenerys mi riaccompagnò a New York. Non vi mentirò, era davvero strana. Conversava con la sua moto e continuava a parlare di conquistare i Sette Regni e cose del genere, ma ero tremendamente affascinato."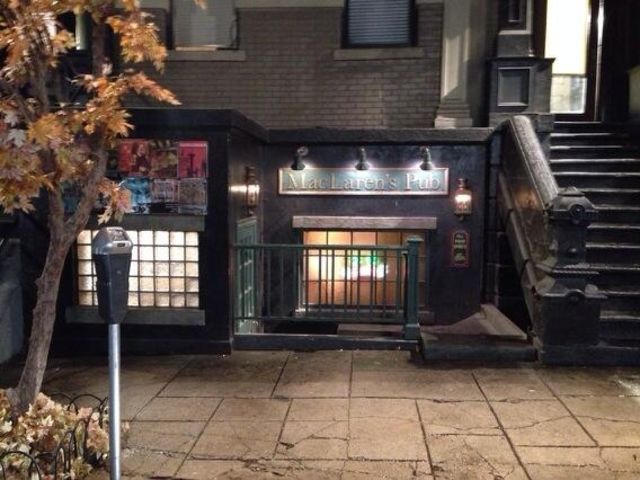 WOOSH. Esterno MacLaren's Pub (qui per la recensione di Borghese sul pub di How I Met Your Mother!).
Ted: Grazie infinite, Daenerys. Cosa posso fare per ringraziarti?
Daenerys: Non c'è bisogno che mi ringraziate, Ted. Ma se proprio desiderate sdebitarvi, inginocchiatevi a me. Giuratemi fedeltà e aiutatemi a conquistare i Sette Regni.
[Ted, travisando le parole di Daenerys per una richiesta romantica e ovviamente già innamorato di lei da "Vi siete perso, Ser?" Si inginocchia, le professa amore eterno e le chiede di sposarlo.]
WOOSH. 2030. Ted Mosby siede nello studio di fronte ai suoi figli, vagamente traumatizzati.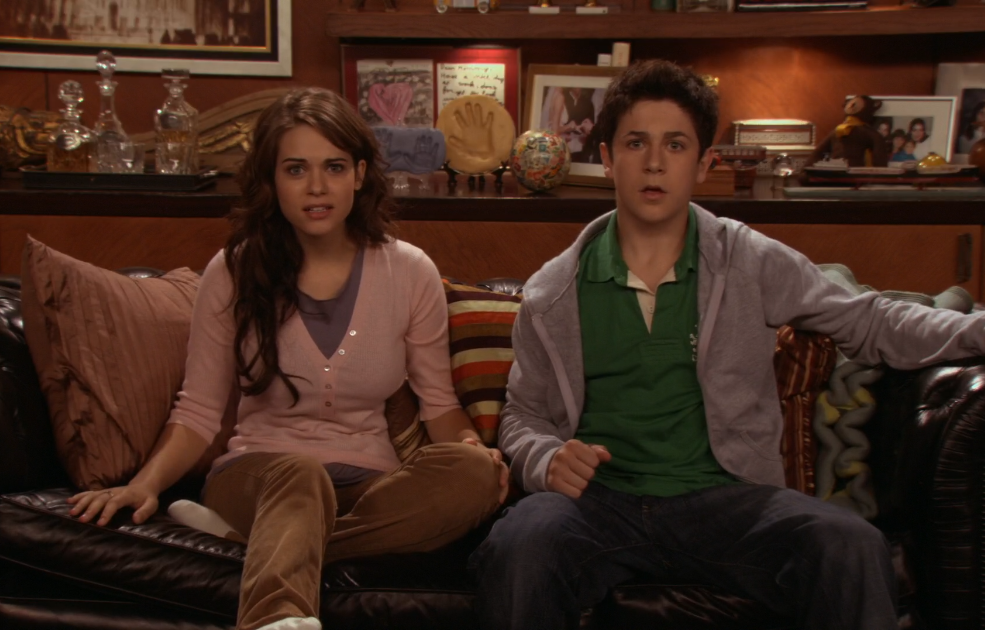 "E questa, ragazzi, è la storia di come ho conosciuto vostra madre. O, come la chiamavano al tempo i suoi Dothraki, la Madre dei Draghi."
Così finisce lo strambissimo script del crossover più sgangherato della storia delle serie tv. Dato il finale e l'assurdità del tutto, per quanto ingiusto, non è difficile capire perché questo episodio di How I Met Your Mother non abbia mai visto la luce. In ogni caso, chiunque lo abbia scritto doveva essersi mangiato parecchi sandwich.
N.B.: Nessuno dei produttori, scrittori, attori, registi, avvocati, doppelgänger, Dothraki o cuochi di How I Met Your Mother, Breaking Bad o Game of Thrones è a conoscenza di questa pubblicazione. Vi preghiamo di mantenere il più assoluto riserbo. Ci becchiamo al prossimo delirio.