Il pubblico, in attesa dell'uscita della nuova serie tv Chernobyl, è carico di aspettative. Soprattutto dopo la notizia del suo successo strabiliante sul database IMDb, che l'ha portata a una valutazione più alta di quelle di mostri sacri quali Breaking Bad e Game of Thrones.
Grazie a Sky, noi di Hall of Series abbiamo avuto l'opportunità di assistere alla proiezione esclusiva del primo episodio. Vi raccontiamo com'è andata in questa recensione SENZA SPOILER della 1×01 di Chernobyl, che ricordiamo verrà trasmessa da Sky Atlantic a partire dal 10 giugno.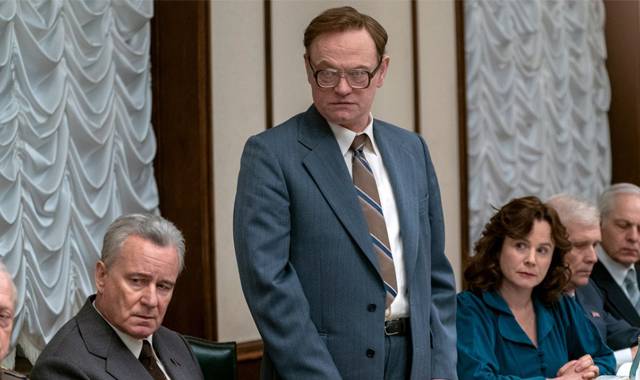 Partiamo da una premessa: il primo episodio di Chernobyl non ha anticamere. È un accesso diretto e immediato agli eventi che non lascia nulla di sottinteso. Durante i primi minuti di proiezione lo spettatore è immediatamente trasportato in un'atmosfera cupa e in grado di trasmettere chiaramente un imminente senso di pericolo.
Nessun indugio o formalità: Chernobyl trascina chi la guarda direttamente nella storia, senza premesse o giri di parole.
Del resto alcune parti del racconto perfettamente scritto da Craig Mazin sono storia nota. Altre implicazioni degli eventi del 26 aprile 1986 però non erano mai state approfondite e Chernobyl lo fa senza lasciare nulla al caso.
I toni più freddi del grigio e del blu fanno da sfondo ai movimenti lenti e accurati della macchina da presa nella descrizione degli esterni della centrale e dei grandi palazzi di Pryp'jať, mentre all'interno dello stabilimento nucleare i passaggi più concitati sono incalzanti e frenetici. È facile percepire una suggestione di precarietà durante la visione del primo episodio di Chernobyl, in alternanza a un senso di allarme.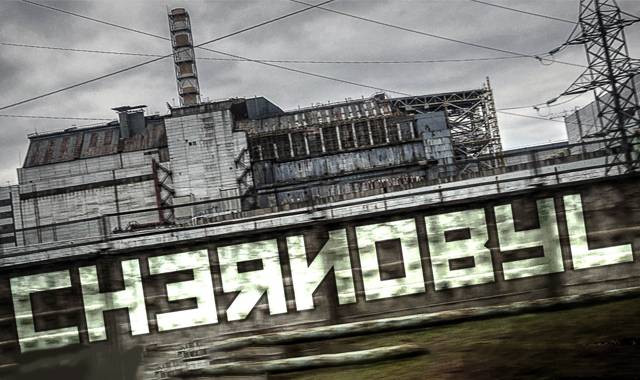 Assistiamo agli ultimi respiri di vita di una città che da lì in poi sarebbe rimasta immobilizzata nel tempo, come lancette di un orologio fermo. In poco meno di un'ora di episodio, Chernobyl fornisce agli spettatori il riflesso dell'eterno dualismo di un fattore umano imprescindibile che da un lato crea mentre dall'altro distrugge. Da un lato rimedia, dall'altro condanna.
Tra i suoni metallici e gravi delle musiche di Chernobyl, si insinua nella testa degli spettatori un ronzio di sirene.
Ogni personaggio presentato nel primo episodio assiste insieme a noi agli sviluppi della storia e lo fa a modo suo, presentandoci cioè una serie di diversi punti di vista sull'accaduto. In questo modo la linea di demarcazione tra l'essere spettatore e l'essere protagonista della storia si assottiglia sempre di più. Anche questo elemento contribuisce a far crescere un profondo senso di inquietudine durante la visione.
Un sentimento che aumenta minuto dopo minuto.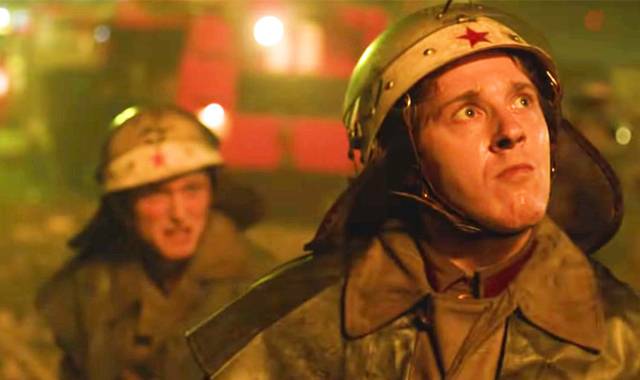 La serie tv co-prodotta da Sky si presenta al mondo con un incedere deciso, valorizzando ogni scena con pragmatismo ma senza lesinare l'elemento emotivo di un dramma con implicazioni che si declinano in ogni ambito umano, scientifico, agricolo e ambientale della vita. L'episodio 1×01 di Chernobyl ci presenta una miniserie cruda e di forte impatto. Con una fotografia in grado di trasmettere la presenza forte di un pericolo invisibile com'è la radioattività.
Lo spettatore non può non percepire l'angoscia descritta dagli occhi terrorizzati dei personaggi che hanno subito compreso la gravità dell'accaduto. La prima parte dell'episodio vede come sfondo la notte, e solitamente l'alba di un nuovo giorno infonde sempre tranquillità. Ma la sensazione di un pericolo scampato non è presente in Chernobyl.
Il mantello nero del buio può far sembrare tutto più spaventoso e irrisolvibile, ma nel caso di questo primo episodio l'alba porta con sé un crescente senso di impotenza. La seconda parte infatti è come una raffica di pugni allo stomaco. A tratti si ha l'impressione di una calma apparente durante il suo sviluppo, ed è questa la sensazione incredibilmente più pregna di affanno.
Perché guardare il primo episodio di Chernobyl destabilizza chiunque si approcci allo show. Chiunque pensi di sapere a cosa sta andando incontro si sbaglia di grosso…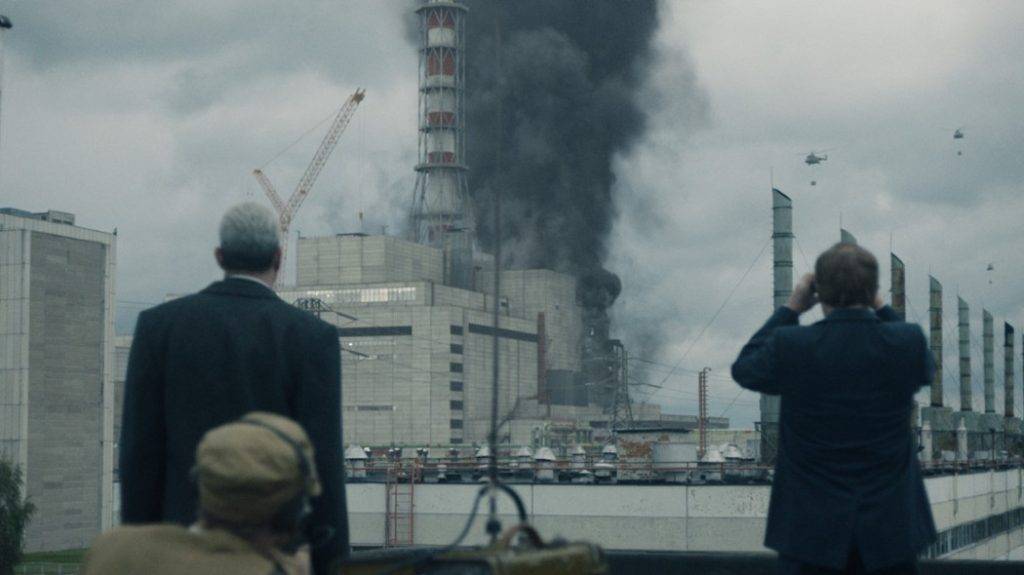 Si assiste infatti a cinquanta minuti di eventi carichi di significato, senza scene filler o non perfettamente contestualizzate. Il tutto conduce a una curiosità crescente. Con grande mestiere la regia di Chernobyl utilizza gli occhi dei protagonisti come termometro della paura e del dolore, mentre silenzi sapientemente impiegati fanno da sinfonia dell'orrore di alcune scene in cui sembra di vivere ciò che i protagonisti provano.
La 1×01 sembra durare pochi minuti: il ritmo di narrazione non cala mai e ogni cosa che viene mostrata sembra essere il pezzo di un mosaico. L'impressione è che al termine dei cinque episodi di Chernobyl si dipingerà il ritratto puntuale e fedele di una ferita nella storia dell'umanità che non smette di sanguinare.