La serie HBO e Sky Atlantic Chernobyl sta letteralmente conquistando il mondo. Dopo aver incantato gli Stati Uniti (in cui le cinque puntate sono andate in onda a maggio), adesso sta sconvolgendo l'Italia per la crudezza e il realismo con cui riesce a dipingere i tragici eventi del 1986 in Ucraina (all'epoca URSS). Il realismo, appunto (forse è per questo che i russi sono impazziti e stanno pianificando di salvarsi la faccia, qui ve ne parliamo).
Sembra che fin dal casting si sia cercato di ottenere un risultato di grande verosimiglianza.
La responsabile del casting è Nina Gold che in questo campo non è proprio l'ultima arrivata. È nota, infatti, per il suo lavoro al cast di Game of Thrones e The Crown per la tv, e ne Il Discorso del Re e La Teoria del Tutto per il cinema. Ad ogni modo, è riuscita nell'impresa di trovare attori che potessero, con un buon lavoro di trucco (ma non necessariamente), assomigliare ai disgraziati protagonisti (politici e non) che hanno cercato di gestire e arginare il disastro nucleare di Pryp'jat'.
1) Jared Harris è Valery Legasov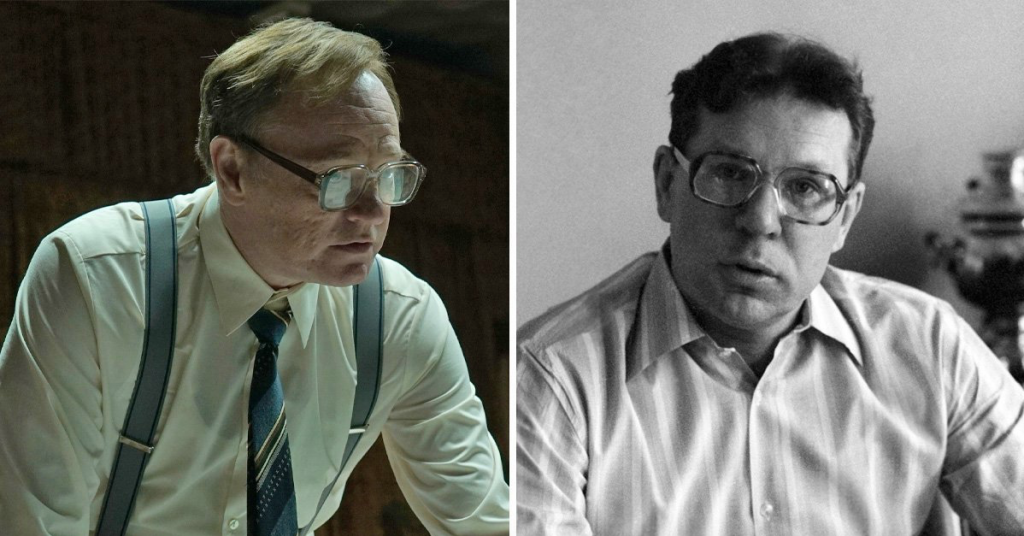 Il noto attore britannico interpreta uno degli scienziati che furono convocati dal governo per dare consulenza in merito al disastro di Chernobyl. Ignorati i suoi consigli in merito all'evacuazione e soprattutto in seguito alle critiche al programma nucleare dell'Unione Sovietica, ben presto fu estromesso da qualsiasi ruolo di rilevanza fino a giungere a un tentato suicidio nel 1987 e uno riuscito nel 1988.