La serie HBO e Sky Atlantic Chernobyl ha letteralmente conquistato il mondo. Dopo aver incantato gli Stati Uniti, ha sconvolto l'Italia per la crudezza e il realismo con cui riesce a dipingere i tragici eventi del 1986 in Ucraina (all'epoca URSS). Il realismo, appunto.
Sembra che fin dal casting si sia cercato di ottenere un risultato di grande verosimiglianza.
La responsabile del casting è Nina Gold che in questo campo non è proprio l'ultima arrivata. È nota, infatti, per il suo lavoro al cast di Game of Thrones e The Crown per la tv, e ne Il Discorso del Re e La Teoria del Tutto per il cinema. Ad ogni modo, è riuscita nell'impresa di trovare attori che potessero, con un buon lavoro di trucco (ma non necessariamente), assomigliare ai disgraziati protagonisti (politici e non) che hanno cercato di gestire e arginare il disastro nucleare di Pryp'jat'.
1) Jared Harris è Valery Legasov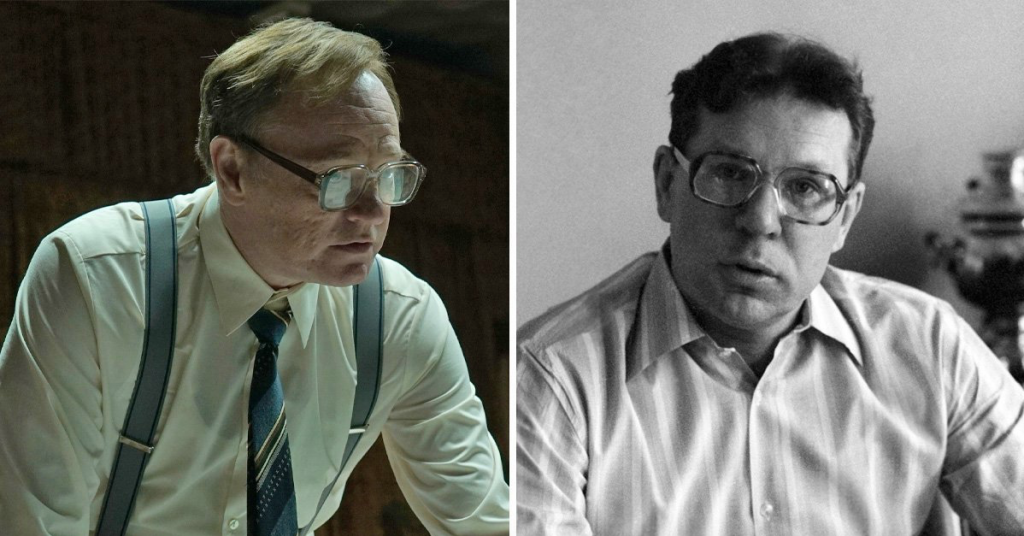 Il noto attore britannico interpreta uno degli scienziati che furono convocati dal governo per dare consulenza in merito al disastro di Chernobyl. Ignorati i suoi consigli in merito all'evacuazione e soprattutto in seguito alle critiche al programma nucleare dell'Unione Sovietica, ben presto fu estromesso da qualsiasi ruolo di rilevanza fino a giungere a un tentato suicidio nel 1987 e uno riuscito nel 1988.
2) Stellan Skarsgård è Boris Shcherbina
Il Vice Primo Ministro dell'epoca è interpretato dall'attore svedese, che gli conferisce un inquietante mix di freddezza e impreparazione. Il politico morì nel 1990 e ancora oggi non sono state rivelate la cause della morte.
3) Paul Ritter è Anatoly Dyatlov
Dyatlov era il supervisore dell'esperimento al Reattore 4 che portò all'incidente. Figura sgradevole anche nella serie, fu condannato ai lavori forzati per 10 anni nel 1987, ma fu liberato anticipatamente per problemi di salute. Morì nel 1995 per attacco di cuore.
4) Con O'Neill è Viktor Bryukhanov
O'Neill interpreta il direttore dell'impianto ed è considerato uno dei principali responsabili: fu lui, infatti, a decidere che le radiazioni non erano così pericolose e a inviare quindi a Mosca una relazione rassicurante in merito. Fu condannato a 10 anni di prigione. La somiglianza in questo caso è impressionante.
5) Adrian Rawlins è Nikolai Fomin
Il direttore tecnico fu condannato a 10 anni di prigione, durante i quali tentò il suicidio. Nella serie viene fedelmente riportato il fatto che su un suo consiglio lo staff fu costretto ad alimentare il reattore con l'acqua, causando cortocircuiti nelle teleferiche.
6) Sam Troughton è Aleksandr Akimov
Il capoturno di quella maledetta notte a Chernobyl si era opposto all'esperimento condotto da Dyatlov ma, come mostrato anche nella serie, il supervisore minacciò di licenziarlo. Akimov pagò con la vita la sua diligenza nel seguire gli ordini: due settimane dopo, infatti, morì in seguito all'esposizione alle radiazioni.
7) Adam Nagaitis è Vasily Ignatenko
Nagaitis interpreta il giovane pompiere che vediamo, nel primo episodio, svegliarsi nella notte per rispondere alla chiamata dalla centrale. Infatti, inizialmente il disastro fu trattato come un semplice incendio, perciò possiamo facilmente immaginare che tutti i pompieri che si recarono sul posto morirono.
8) Jessie Buckley è Lyudmila Ignatenko
La Buckley interpreta la moglie di Vasily. Inizialmente le fu detto che il marito e gli altri pompieri erano ridotto in quello stato a causa dell'intossicazione da alcuni gas, senza rivelare che invece era per l'esposizione alle radiazioni. Si occupò del marito e di alcuni suoi colleghi perché le infermiere erano spaventate dalle condizioni in cui gli uomini si trovavano. La Ignatenko racconta che il corpo del marito era letteralmente sciolto (non poteva ad esempio indossare scarpe nella tomba perché non aveva più piedi). La loro figlia morì di attacco cardiaco 4 ore dopo la sua nascita.
9) Ralph Ineson è il Generale Nikolai Tarakanov
Ineson interpreta il comandante dei cosiddetti liquidatori, il gruppo di lavoratori che si occupò della decontaminazione della zona e soprattutto della costruzione del sarcofago sulla centrale. È famoso per il discorso motivazionale che fece per quelli che avrebbero dovuto ripulire il tetto. 28 liquidatori morirono per le radiazioni, e più di 4000 negli anni seguenti a causa del cancro.
10) David Dencik è Mikhail Gorbachev
Gorbachev fu aspramente criticato per la quasi assente reazione al disastro di Chernobyl. L'ultimo leader dell'URSS, ad ogni modo, vinse nel 1990 il Nobel per la Pace per aver contribuito a porre fine alla Guerra Fredda…