L'attesa per la nuova stagione di The Handmaid's Tale sta per concludersi ed è legittimo chiedersi cosa ci attenda. Noi di Hall of Series abbiamo avuto l'onore, grazie a TIMvision, di visionare in anteprima i primi tre episodi della nuova stagione. E abbiamo deciso di raccontarvi senza alcuno spoiler le nostre impressioni.
Ci eravamo lasciati con la rinuncia di June. La rinuncia alla libertà e alla pace in nome dell'amore e della lotta. Lì la ritroviamo in questo avvio di stagione, in quella disperata, ostinata e incessante battaglia contro l'autoritarismo di Gilead.
Se finora, però, si era trattato di resistenza, questa nuova stagione di The Handmaid's Tale inizia a introdurre anche un'offensiva precedentemente soltanto accennata. I personaggi proseguono nel loro attentissimo sviluppo psicologico, nell'evoluzione caratteriale coerente e impeccabile a cui abbiamo assistito finora.
E, ancora una volta, i veri protagonisti sono le figure femminili.
Sempre più in secondo piano le autorità di Gilead che diventano eco sbiadita di un'idea di oppressione più universalmente concepita, ecco che Serena, June e le altre riguadagnano quella preminenza scenica che il regime vorrebbe negargli. In continui avvicendamenti, tragica sofferenza e rabbiosa rivalsa, si delinea un quadro che non manca di un simbolismo fortissimo.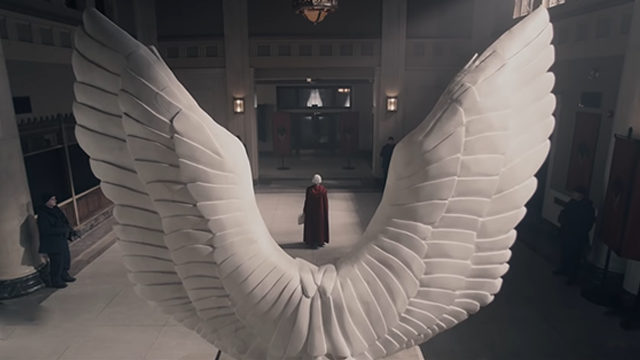 Quello stesso simbolismo che abbiamo avuto modo di apprezzare nelle prime due stagioni. In The Handmaid's Tale vedremo in tutta la loro potenza queste rappresentazioni estetiche che diverrano diretta e lampante espressione del nuovo corso degli eventi. Come detto, non più la mera sopravvivenza ma l'avvio di quella seconda fase di ribellione che non sappiamo a cosa porterà.
Il racconto si dipanerà lungo differenti direttive seguendo ora una, ora l'altra eccezionale donna di questo racconto. L'evoluzione di Serena, una sempre più straordinaria e ingiustamente ignorata dall'Academy Yvonne Strahovski, è forse la più intrigante dell'avvio di stagione. Una donna che ha creduto veramente nella sua idea di cambiamento, in una necessaria svolta autarchica che, come abbiamo visto, le si è però ritorta contro.
Ora, di fronte all'amore, apre gli occhi e vede con più chiarezza.
Davanti a lei si spalancherà l'immagine di una furia iconoclasta che ha come obiettivi le opprimenti figure di quel mondo distopico. Serena si fa vittima tra le vittime scendendo dal suo piedistallo e dall'immagine edulcorata del suo mondo per accogliere la realtà nella sua tragica concretezza.
Ma, come è inevitabile che avvenga, The Handmaid's Tale è anche e soprattutto il racconto dell'ancella, di June, della sua caparbietà. Da quel barlume di luce che sempre ha delicatamente tenuto in vita adesso nasce un fuoco costantemente più grande, sempre più violento che si alimenta di tutto ciò che incontra.
Non sappiamo quale sarà l'evoluzione della serie ma di sicuro The Handmaid's Tale mostra di aver raggiunto quella maturità espressiva che viene dall'evoluzione dei suoi personaggi e dall'ormai impeccabile padronanza delle trame. Il risultato è un racconto sempre più avvincente e carico di significati che non smette di sorprenderci e affascinarci episodio dopo episodio.