Noi telefilm addicted siamo spesso considerate persone strane, dato il nostro attaccamento alla visione di Serie Tv. Questo vale praticamente con i fan di qualsiasi telefilm, quindi… Perché dovremmo lasciare fuori i fan di Arrow?
La Serie Tv DC è una delle più viste degli ultimi anni, in tema di supereroi, ed è lei che ha dato origine a due spin-off che si sono rivelati estremamente redditizi: The Flash e Legends of Tomorrow.
Arrow si è dimostrata essere da subito una Serie Tv avvincente, pur con i suoi alti e bassi. Ma mantiene ancora un pubblico stabile, quindi mi chiedo: come si comporteranno i fan di Arrow, in tema di ossessioni?
Ammetto di essere io stessa una grande fan della Serie Tv, e qualche volta, specie dopo aver guardato un buon numero di puntate di fila, mi sono ritrovata a fare, o anche solo a pensare di poter fare, determinate cose che nella vita reale, inevitabilmente, non sono per nulla fattibili.
Mi spiego meglio: noi fan a volte guardiamo Serie Tv così a lungo che ci sentiamo parte integrante di quel mondo. I fan di Glee potrebbero cominciare a cantare in mezzo alla strada, mentre quelli di The Vampire Diaries potrebbero non voler andare in giro senza un anello che li protegga dalla luce solare.
E i fan di Arrow? Beh, è esattamente su questo che ho improntato la mia riflessione di oggi, e consultandomi con altri fan della mia cerchia ho trovato le dieci cose che si rischia di fare nel momento in cui si è troppo a contatto con la Serie Tv. 
Spero che questo elenco possa essere utile, ai fan di Arrow e anche a coloro che invece non hanno ancora cominciato questo telefilm. Da una parte potete trovare supporto, e sapere che non siete soli nelle vostre stranezze, mentre dall'altra parte… Beh, prendete coscienza dei rischi in cui potreste incappare, cominciando la Serie Tv!
1) Quando vi arrabbierete con una persona, finirete per apostrofarla con un "You have failed this city!"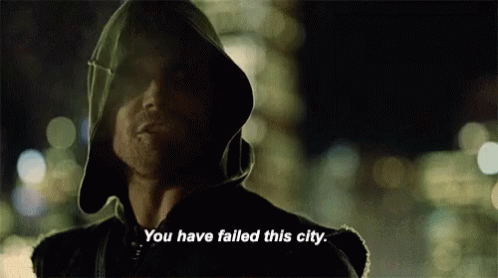 Questa è probabilmente una delle prime frasi che un fan di Arrow ricorda. Nella prima stagione veniamo messi al corrente abbastanza in fretta degli obiettivi di Oliver Queen, e dunque, avendo lui l'obiettivo di salvare la città, è più che normale che pensi che i suoi nemici, o meglio, i nemici di suo padre l'abbiano fatta fallire.
Quindi, se doveste trovarvi ad apostrofare le persone in un modo così inusuale, magari usando la giusta rabbia e una buona dose di sufficienza, non spaventatevi, è tutto normale! E se dovessero spaventarsi loro, beh… Ditegli che siete dei drogati di Arrow, magari capiranno.