Mai affezionarsi a un personaggio, questo dovrebbe essere il primo comandamento per chi decide di guardare una serie tv. Lo sappiamo fin troppo bene, le morti dei nostri personaggi preferiti sono sempre in agguato. Nessuna eccezione per quanto riguarda l'Arrowverse: in Arrow, The Flash e Legends of Tomorrow, tra lotte contro nemici diabolici, trappole e inganni, è facile che ci scappi il morto e spesso succede proprio quando meno ce lo aspettiamo. Quali sono, dunque, le 10 morti più scioccanti dell'Arrowverse? Eccole in ordine cronologico.
1) Tommy Merlyn – Arrow 1×23
Chi si ricorda ancora del migliore amico di Oliver ai tempi della prima stagione? Magari è sbiadito nella memoria di qualcuno, ma Tommy è stato un personaggio importante nella vita di Oliver Queen (a proposito, meglio Oliver Queen o Barry Allen? Ne parliamo qui). Non che i due non abbiano avuto complicazioni: infatti, nel periodo che Oliver ha trascorso sull'isola, Tommy si è avvicinato a Laurel più di quanto avrebbe dovuto. Al termine della prima stagione, Tommy mette la sua vita in pericolo proprio per via di Laurel. Malcolm Merlyn, infatti, aveva ideato un dispositivo in grado di creare un vero e proprio terremoto ai danni del quartiere. Con l'intento di salvare Laurel dal crollo del suo ufficio, Tommy viene trafitto da un palo. Oliver arriva troppo tardi, anche se per qualche secondo i due vecchi amici riescono a parlare: è il momento di riappacificarsi, ma poco dopo Tommy chiude gli occhi.
2) Moira Queen – Arrow 2×20
Le dinamiche della famiglia Queen rendevano molto interessanti le prime stagioni di Arrow, questo è uno dei motivi per cui nessuno avrebbe mai pensato di poter vedere Moira Queen morire. La madre di Oliver e Thea era un personaggio rilevante e complicato. Eppure, la morte non guarda in faccia nessuno. Deathstroke, meglio conosciuto come Slade, causa un incidente d'auto in cui restano coinvolti Oliver, Thea e Moira. Il nemico intima a Oliver di compiere una scelta: Thea o Moria, una delle due resterà in vita, l'altra no. Oliver non è in grado di decidere, ma Moira Queen sceglie di sacrificarsi. Un gesto inaspettato, visto che la donna era spesso stata guidata da egoismo e profitto personale. Ma una mamma è sempre una mamma. Per un attimo si pensa che Deathstroke desisterà dall'omicidio, ma dopo aver riposto la propria pistola, Slade trafigge Moira Queen con la sua katana.
3) Sara Lance – Arrow 3×1
Creduta morta all'inizio della prima stagione, Sara torna a sorpresa nella vita di Oliver Queen, anche se non sembra destinata a restare a lungo nel regno dei vivi. Nel primo episodio della terza stagione, Sara Lance viene uccisa proprio da chi l'avrebbe dovuta proteggere: la Lega degli Assassini, di cui faceva parte. Non solo è una tragedia per Oliver, ma lo è (soprattutto) per Laurel Lance, che per la seconda volta piange la morte della sorella. L'artefice dell'omicidio è qualcuno di incappucciato che resta ignoto per molto tempo. Si scoprirà in seguito che a commettere l'omicidio è stata Thea Queen, sotto l'effetto di alcune droghe somministratele da Malcolm Merlyn. Come sappiamo, però, Sara è tornata nuovamente in vita grazie al Pozzo di Lazzaro, nella quarta stagione.
4) Eddie Thawne – The Flash 1×23
Una cosa è certa, Eddie Thawne è morto da eroe. Uno dei protagonisti della prima stagione di The Flash, Eddie lavorava con Joe West e, soprattutto, era il fidanzato di Iris. Se non fosse morto, ci saremmo risparmiati tutta la noia della relazione tra Barry e Iris. E invece no. A rovinare tutto è stato Eobard, un discendente di Eddie venuto dal futuro per avvertire Barry che in una linea temporale sarà proprio lui a ucciderlo. Modificare il destino non è cosa da poco, però. E infatti Eobard, a un certo punto, cercherà di uccidere Barry proprio nella linea temporale in cui ha cercato di avvertirlo. Eddie decide di sacrificarsi: uccidendosi, impedisce a Eobard di esistere. Eddie muore tra la braccia di Iris, così facendo salva Barry e tutti i danni che Eobard avrebbe arrecato alle linee temporali.
5) Ronnie – The Flash 2×1
Dopo la morte di Eddie e la scomparsa di Eobard, si genera una singolarità temporale che Barry non riesce a chiudere. Ronnie, un altro personaggio che era stato creduto morto ma che poi era tornato sulla scena, e Stein si uniscono in Firestorm per chiudere la singolarità e salvare il mondo. I due riescono nel loro intento, ma soltanto Stein sopravvive. Il sogno d'amore di Caitlin si infrange nuovamente e la ragazza prova un profondo senso di colpa. Ronnie, infatti, poco tempo prima le aveva proposto di scappare via da Central City con lui e Caitlin non aveva accettato. Se lo avesse fatto, Ronnie sarebbe certamente rimasto in vita.
6) Leonard Snart – DC's Legends of Tomorrow 1×15
Arriviamo alla morte di uno dei personaggi più amati dell'Arrowverse. Leonard Snart, conosciuto anche come Captain Cold dal soprannome datogli da Cisco, un tempo ladro e dalla parte del male, è diventato uno dei protagonisti della prima stagione di Legends of Tomorrow. Al termine della prima stagione, però, il pubblico ha dovuto salutare il sarcastico e tagliente Snart. Leonard e compagni, infatti, si sono ritrovati a dover combattere contro i Time Masters. L'arma vincente dei Time Masters? L'Oculus, ossia un computer temporale alimentato da una supernova. L'unico modo per sconfiggere i nemici sarebbe stato distruggere l'Oculus, impresa che però sarebbe costata la vita di qualcuno. Snart decide di sacrificarsi al posto del suo amico Mick. Qualche istante prima, Sara bacia Snart regalando una piccola gioia ai sostenitori della ship. Gioia effimera, visto che poco dopo viene spazzata via dalla tristezza per la morte di Snart.
7) Malcolm Meryln – Arrow 5×23
Non c'è dubbio, Malcolm Merlyn è sempre stato un personaggio controverso, uno di quei personaggi che il pubblico ama odiare (come questi qui). Spregiudicato, senza scrupoli, egoista, ha messo i bastoni tra le ruote ad Arrow innumerevoli volte. Gli unici momenti in cui ha messo da parte sé stesso per un altra persona sono quelli passati con Thea: il legame padre-figlia ha dato a Merlyn dei motivi per non essere totalmente un personaggio negativo. Il gesto più estremo in favore della figlia è proprio quello che porta alla morte di Malcolm: Thea Queen innesca involontariamente una mina nell'Isola di Lian-Yu durante un'esplosione, Malcolm decide di prendere il posto della figlia, sacrificandosi. E così è giunto il momento dell'addio a uno dei personaggi più interessanti dell'Arrowverse.
8) H. R. Wells – The Flash 3×23
H.R. Wells, il doppleganger di Harrison Wells di Terra-19, entra in scena all'inizio della terza stagione ed è probabilmente la versione più simpatica di Wells, tra quelle che si sono viste fino a quel momento. Bisognerà però dire addio a H.R. Wells fin troppo presto. Il velocista Savitar, l'antagonista della stagione, è intenzionato a uccidere Iris. Wells commette l'errore di rivelare per sbaglio al nemico dove si trova la ragazza. H.R. cerca disperatamente di rimediare al proprio sbaglio per salvare Iris, ma viene scoperto. Decide quindi di giocare l'ultima carta: si sostituisce ad Iris prendendo le sue sembianze e muore al posto suo, diventando un vero eroe.
9) Martin Stein – DC's Legends of Tomorrow 3×8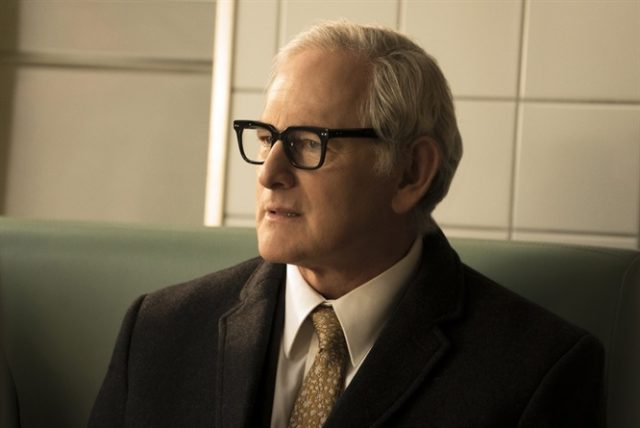 Martin Stein è uno di quei personaggi a cui ci si affeziona piano piano, episodio dopo episodio. E ovviamente, dopo essersi affezionati a lui, arriva il momento di dirgli addio. Succede nella quarta parte del crossover Crisi su Terra X. Dopo esser stato ferito a morte, Stein decide di farsi somministrare il siero per separare la matrice di Firestorm che lo lega a Jefferson, altrimenti anche il ragazzo rischierebbe la vita. L'effetto collaterale, però, è proprio l'indebolimento di Stein che non riesce a riprendersi e muore. Jefferson, disperato, comunica alla moglie e alla figlia di Stein quello che è successo, rendendo la scena ancor più commovente. Ormai il pubblico dovrebbe essere abituato alle morti dell'Arrowverse, eppure non si è mai pronti a dire addio a un personaggio.
10) Quentin Lance – Arrow 6×23
Quentin Lance è uno dei personaggi che hanno avuto l'evoluzione maggiore nel corso delle varie stagioni. Inizialmente nemico di Oliver è poi diventato un elemento fondamentale nella lotta contro il male. Un padre che ha dovuto affrontare il lutto più di una volta, ma che non ha mai perso la forza di combattere. Alla fine della sesta stagione, è arrivato il momento di salutare anche lui. Ricardo Diaz rapisce Laurel e Quentin Lance. Quest'ultimo, per salvare la figlia prende una pallottola al posto suo, ritrovandosi in fin di vita. Come nel caso di Merlyn e di Moira, abbiamo un genitore che si sacrifica per il figlio. Una morte che sciocca il pubblico, ormai abituato a tifare per Lance.
Non sarà questa carrellata di morti a far desistere il pubblico dalla visione dei prossimi episodi delle serie dell'Arrowverse, quando ci si appassiona a una serie, si va avanti a prescindere da tutto. E sicuramente avremo presto altre morti scioccanti per cui piangere.