Avevamo chiesto proprio nella scorsa recensione di dedicare una storyline alla divertente Missy e finalmente siamo stati accontentati. Inoltre la nuova puntata di Young Sheldon ci ha finalmente svelato come il ragazzino è diventato fan di una delle saghe più amate di tutti i tempi.
Nell'episodio intitolato Hobbitses, Physicses and a Ball with Zip i due fratelli Cooper hanno, infatti, scoperto delle nuove passioni.
Il protagonista di The Big Bang Theory oltre a nutrire un grande amore per la scienza, è sempre stato un grande fan del mondo fantasy e ora abbiamo scoperto come è nata la sua passione (leggi qui quali sono 10 sue T-shirt che vorremmo assolutamente avere). In questa nuova puntata di Young Sheldon il ragazzo ha affrontato un momento di crisi durante il quale la scienza lo ossessionava. Per noi fan della serie madre questi atteggiamenti non sono stati affatto una novità: quante volte il fisico ha passato notti insonni tediato dalle equazioni che non riusciva a risolvere?
Sua madre e sua nonna, preoccupate per lui, lo hanno esortato a prendersi una pausa dalle domande che lo stavano stressando e a dedicarsi a un nuovo hobby. Connie ha proposto al ragazzino un gran numero di possibilità (come il bingo e il bowling) ma nessuna sembrava essere quella giusta. Alla fine Sheldon è riuscito a trovare una lettura perfetta per lui grazie alla bibliotecaria della scuola. La donna gli ha consigliato di dedicarsi a ciò che è più lontano dalle discipline scientifiche: la fantascienza.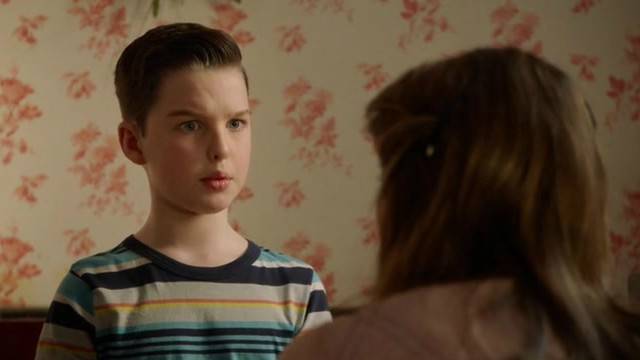 Così il ragazzino ha cominciato a leggere la trilogia de Il Signore degli Anelli e ne è rimasto affascinato, ma ben presto anche questa interessante lettura lo ha fatto impazzire. Ha trovato diversi buchi di trama nei romanzi e ha cercato di aggiustarli, redigendo lui stesso una cronologia degli avvenimenti narrati. Anche questa operazione però lo ha stressato ed è arrivato persino a fare un incubo nel quale lui nei panni di Gollum doveva scegliere tra la scienza e la fantascienza.
Proprio grazie a questo sogno ha capito che doveva continuare a dedicarsi alla scienza che, anche se lo stressava, lo divertiva.
In questa puntata inoltre Missy e George hanno avuto modo di approfondire il loro legame. La ragazzina ha chiesto a suo padre di insegnarle a giocare a baseball, perché voleva conquistare un suo compagno che amava quello sport. Il padre allora le ha dato qualche dritta sui giocatori e le squadre da citare per fare colpo su di lui e le ha insegnato a lanciare la palla. Alla fine però quando la povera ragazzina ha scoperto di non avere chance con lui, George è riuscito a consolarla e a guarire il suo cuore spezzato. E Missy ha scoperto che saper tirare una palla è molto utile per punire un ragazzo che l'ha fatta soffrire…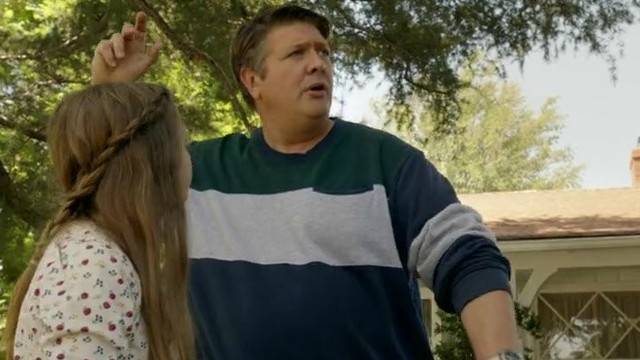 Questo momento padre-figlia è stato davvero tenero e a tratti emozionante. Per fortuna Young Sheldon ha deciso di non ricorrere a quello stantio cliché del padre geloso della sua piccolina che abbiamo già visto in tante comedy. George, quando ha scoperto che sua figlia aveva una cotta per un ragazzo, non si è arrabbiato nè ingelosito, ma al contrario l'ha aiutata e incoraggiata. È stato molto tenero vedere con quanta delicatezza abbia affrontato la situazione e con quanta tenerezza sia riuscito a consolarla, quando il suo cuore è andato in frantumi.
Missy poi è uno dei personaggi più sottovalutati delle serie tv (scopri qui quali sono gli altri): questa giovane interprete è capace di farci emozionare e ridere a seconda della scena. L'attrice Raegan Revord ha una straordinaria mimica facciale e riesce a risultare adorabile e malefica a suo piacimento. Grazie a questa puntata dedicata unicamente a lei siamo riusciti ad apprezzare tutto il potenziale di questo personaggio che era sprecato, quando era usata solo come spalla comica di Sheldon.
Quest'aria un po' da maschiaccio secondo me le si addice molto e ci sta mostrando come Missy stia crescendo.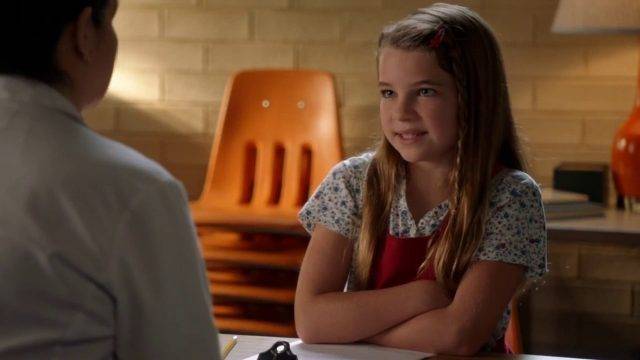 Adoro poi la coppia formata da George e Mary: i due sono affiatati e molto uniti. Mi piace vedere la complicità che li lega e come si punzecchiano continuamente l'uno con l'altro, ma anche come si dividono la cura dei figli. Per la prima volta Mary è stata esclusa dalla vita della sua giovane figlia ed è stato divertente vederla gelosa di suo marito George. Sarà sicuramente brutto vedere come finirà il loro matrimonio.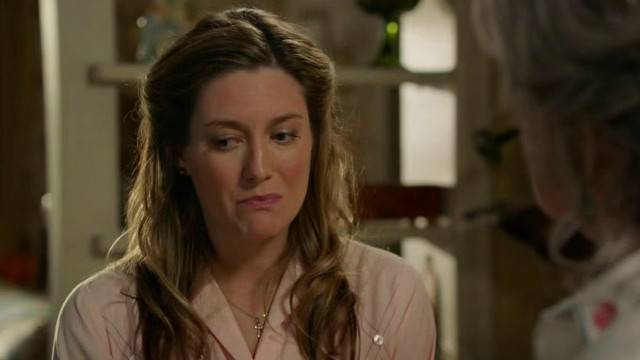 Anche la storyline dedicata a Sheldon è stata molto interessante e l'ultima scena, nella quale il piccolo è apparso con le sembianze di Gollum, è stata esilarante. Anche se il trucco del giovane attore ha lasciato un po' a desiderare, la recitazione di Iain Armitage è stata molto convincente nei panni di un personaggio così iconico. Molto divertenti sono state le scene nelle quali ha cercato senza successo di dedicarsi a nuovi hobby con sua nonna. È bello inoltre pensare che, come sappiamo, da grande sia riuscito a trovare qualcuno disposto a parlare per ore ed eroe dei buchi di trama de Il Signore degli Anelli o di qualsiasi altro romanzo o film.
Questa puntata di Young Sheldon è stata quindi davvero piacevole e divertente e può essere sicuramente annoverata tra le migliori della stagione.