È giunto il momento. Prima o poi sarebbe dovuto succedere. Lo dico ora così che poi nessuno mi possa recriminare alcunché: questo articolo è una gran sciocchezza. Ma che dico: un'immensa sciocchezza. Solo che ci sono delle cose che uno si tiene dentro per una vita intera e – che ci vuoi fare? – a una certa devono pure uscire. C'è stato un momento dell'esistenza di tutti noi (se non c'è stato siete moooolto piccoli, perché dacché ho memoria questa serie esiste) in cui abbiamo iniziato a guardare Baywatch. Ora, potete andare in giro a raccontarla come volete, ma nel vostro profondo lo sapete anche voi: TUTTI ABBIAMO GUARDATO BAYWATCH. Su questa storia ci sarebbero miriadi di cose da raccontare, ma qui il punto è un altro.
Come dimostra un recente studio scientifico dell'Università di Hall of Series, a seconda che il tratto principale della vostra personalità fosse di tipo masochista piuttosto che narcisista avreste avuto due reazioni differenti. Nel primo caso, avreste sviluppato l'immenso desiderio di trovarvi nei pressi di Los Angeles e di rischiare l'annegamento pronti a farvi salvare da (se siete uomini eterosessuali o donne omosessuali) Pamela Anderson e i suoi salvagenti (per le altre combinazioni genere-sessualità metteteci Mitch Buchannon, con un salvagente vero). Nel secondo caso, eravate già pronti ad iscrivervi al corso per bagnini di Cesenatico e via di costumino sgambato che se non hai fatto la totale pari una scimmia.
E fino a che i deliri erano questi, uno poteva anche conviverci. Il problema è che qualche anno dopo, è arrivato Pacific Blue e lì è nato il dramma. Non a caso Pacific Blue viene definito "Baywatch in bicicletta".
Sempre secondo un recente studio dell'università di Hall of Series, anche in questo caso le reazioni/desideri si diversificavano in base al tratto preponderante della personalità: se eri masochista speravi di trovarti nei pressi di Santa Monica e di venire derubato; se eri narcisista volavi alla Decathlon e svuotavi il 'reparto biciclette' e cancellavi dalla rubrica tutti i tuoi amici con il tatuaggio A.C.A.B. (a meno che lo ridefinissero con All Cops Are on the Bike); se il tratto prevalente era la perversione sessuale speravi solo di rinascere sellino da bicicletta.
E qui si creava il dissidio interiore. Oddio, dipende. Conosco anche gente dal carattere talmente forte e dalle idee così chiare da aver sempre guardato o Baywatch o Pacific Blue.
In più vanno considerate le categorie: Vado in bici, ma non so nuotare; so nuotare, ma non vado in bici; la bicicletta mi irrita l'inguine; l'acqua del mare mi arrossa gli occhi.
Tolte queste categorie, il dissidio interiore era assicurato: masochista, narcisista o pervertito che fossi ora cosa diamine avresti fatto nella vita?
Ogni giorno ti ripromettevi che basta, avresti deciso che fare senza farti troppo condizionare. Ma poi l'adrenalina ti partiva a bomba già dalle sigle:
E poi c'era l'ormone: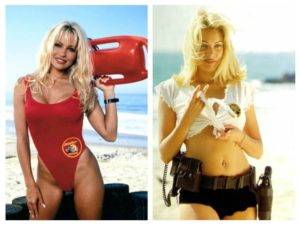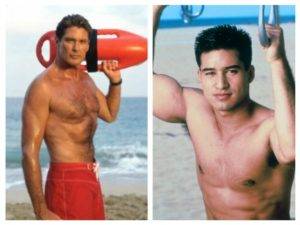 Non so voi, ma io non ne sono uscita finché non ho visto Misfits e ho deciso che, bando ai costumini sgambati e alle biciclette, da grande avrei fatto la disadattata con i superpoteri (e, superpoteri a parte, pare ce la stia facendo!).
Elisa Belotti