Sono passati ormai ben 8 anni dalla messa in onda dell'ultimo episodio di Ugly Betty. Una serie che ha conquistato il suo posto e oggi è ancora ricordata, riconosciuta e apprezzata. Il moderno adattamento del brutto anatroccolo gettato brutalmente nello spietatissimo mondo della moda, sembra non tramontare mai.
Il volto indimenticabile di questa serie è quello di una giovanissima America Ferrera, la quale faceva la sua prima apparizione sui nostri schermi. Il ruolo ha segnato una svolta nella vita dell'attrice americana, portandola al livello delle grandi star della televisione. Forse l'avrete persa di vista, o forse la ricorderete solamente per il ruolo che l'ha portata al successo. Ma dalla redazione de il MODE la ragazza ha fatto moltissima strada, affermandosi con forza non solo per le sue doti recitative, ma anche per molto altro.
Allora la domanda sorge spontanea.
Che fine ha fatto America Ferrera?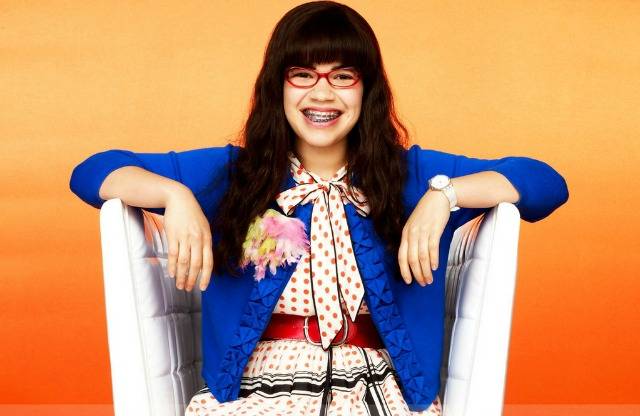 La giovane si è distinta in vari settori, sfruttando al massimo la popolarità ottenuta nel corso degli anni. Ma procediamo per gradi. Partiamo immediatamente dalla sua carriera attoriale.
Dopo aver ricevuto numerosi premi per Ugly Betty, America continua a lavorare sia per il piccolo che per il grande schermo. La ricordiamo soprattutto per il sequel di 4 amiche e un paio di jeans insieme a delle giovanissime Blake Lively, Alexis Bledel e Amber Tamblyn. Oppure Matrimonio in Famiglia del 2010 insieme a Forest Whitaker, Carlos Mencia e Regina King: una dolcissima commedia sentimentale sulla diversità e la tolleranza.
Dal 2015 America è protagonista di Superstore insieme a Ben Feldman (o forse lo ricorderete meglio come Michael Ginsberg in Mad Men): una sitcom incentrata su degli impiegati di un tipico supermercato americano. La serie è composta da ben quattro stagioni e quest'ultima viene trasmessa a partire da ottobre 2018 sul canale NBC.
L'impegno politico e Time's Up.
Quello che non molti sanno dell'attrice americana è che in realtà ha una grandissima passione politica e un forte senso civile.
A partire dal 2008 ha iniziato a rendere pubblica la sua simpatia per i Democratici partecipando a numerose convention per tutta l'America e gestendo Hillblazers insieme a Chelsea Clinton e Amber Tamblyn: un movimento organizzato a favore della campagna di Hilary Clinton per far avvicinare i giovani al mondo della politica e ovviamente al voto.
Date le sue origini, America è la prima a combattere a spada tratta per ottenere la massima integrazione di tutte le minoranze latine presenti negli USA, diventando una dei maggiori esponenti di Voto Latino: un'associazione non profit che cerca di rendere più partecipi i giovani latinoamericani al voto.
Successivamente allo scandalo Weinstein dello scorso ottobre, la Ferrera si è unita alla campagna #MeToo, dichiarando di essere stata molestata sessualmente all'eta di 9 anni, senza rilasciare ulteriori informazioni. La causa è ovviamente molto cara alla nostra piccola Betty, tanto da essere stata una dei membri fondatori del movimento Time's Up.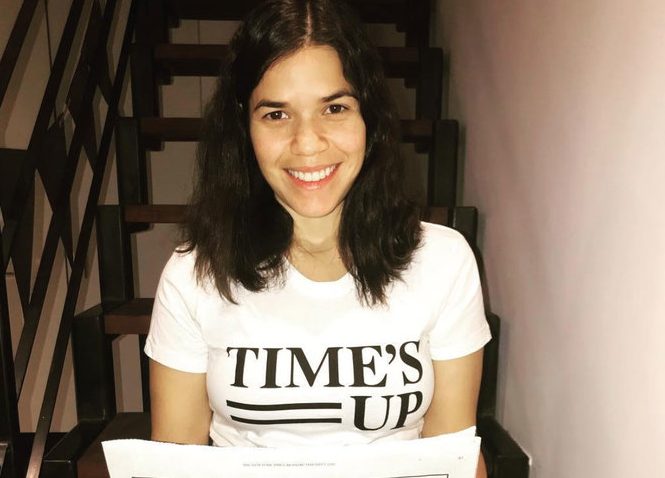 Alla domanda se è possibile un futuro nella politica, l'ex star di Ugly Betty sembra lasciar aperte varie possibilità.
So I will say, for the first time, in front of a public audience, sure, I've asked myself the question of whether I should be running for office. And I think you should be asking yourself that question, too.
Lo dirò per la prima volta davanti al pubblico, sicuramente mi sono fatta la domanda se candidarmi. E penso che voi dovreste farvi la stessa domanda.
"American Like Me".
Oltre a essere impegnata contemporaneamente nei vari settori che abbiamo elencato in precedenza, l'attrice sembra sempre stupirci. Infatti recentemente si è dedicata al mondo della scrittura, pubblicando un libro che in poco tempo è diventato un best seller.
Si intitola American Like Me: Reflections on Life Between Cultures ed è uscito il 25 settembre del 2018. Il libro consiste in una raccolta di memorie, sprazzi del passato provenienti dall'infanzia di America avvenuta tra due culture, in oscillazione fra gli Stati Uniti e le Honduras. Oltre alla sua storia se ne aggiungono molte altre di amici, personaggi famosi o attivisti che raccontano com'è crescere tra diverse culture e sentirsi a pieno spirito americani (tra cui Uzo Aduba di Orange is The New Black).
L'opera è il risultato dell'accettazione di se stessi, il culmine di un lungo e difficile processo. Un cammino che ha portato America ad accogliere tutto ciò che è parte di lei, della sua identità, della sua cultura.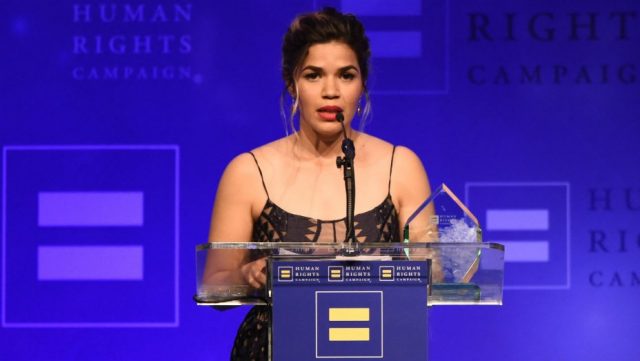 America Ferrera ci ha dato la prova di essere ben lontana dalla timida e indifesa Betty. Adesso è una donna forte, fiera delle sue origini e pronta a combattere per la difesa dei diritti di chi ne ha più bisogno.
Attivista, attrice, scrittrice e anche madre.
Insomma, cosa dite?
Non è una tipa tosta?