Daniel Meade, Wilhelmina Slater, Marc St. James, Amanda Tanen, uno più bello dell'altro. Perfetti, nessun difetto all'orizzonte. Sembravano usciti tutti da una scatola targata Barbie. Da una bellezza quasi plastica e finta, i protagonisti di Ugly Betty hanno allietato i nostri pomeriggi e sere, a discrezione della messa in onda. Nell'oceano di pesci da barriera corallina, però, noi ci siamo affezionati a quell'essere marino che sfigura di fronte a coralli, cavallucci e stelle marini: Betty Suarez, ragazza determinata e solare, si ritrova ad iniziare il lavoro dei suoi sogni in un mondo poco sincero e pulito. Mode, rivista di moda, non può che essere diretta e gestita da persone con sorrisi perfetti e outfit impeccabili. Beh, i due segni particolari della nostra cara Betty sono un apparecchio per i denti e uno stile, per così dire, tra il vintage-nonnesco e il barocco-bizzarro. Insomma, l'immagine che si delinea non è propriamente delle migliori. Sappiamo bene quanto sia stata lasciata in disparte per la sua apparenza poco incisiva. Eppure riesce a diventare amica del capo Daniel e riesce a farsi rispettare dai colleghi. Betty Suarez si riscatta per tutte quelle donne, e non solo, che non possono raggiungere un proprio obiettivo per via del loro aspetto fisico.
Dopo questo preambolo abbastanza lungo, arriviamo al nocciolo: gli attori di Ugly Betty li abbiamo più incontrati? Che fine hanno fatto?
America Ferrera – Betty Suarez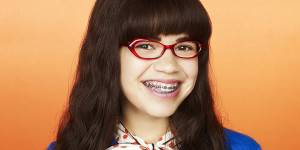 La ricordiamo anche per la sua partecipazione al film 4 amiche e un paio di jeans e il suo sequel, chi non lo ricorda? Ma non si tratta del periodo post-Ugly Betty. Dal 2010 ha recitato in film come Matrimonio in famiglia, End of Watch – Tolleranza zero e Cesar Chavez. Per quanto riguarda le serie tv non ha ricoperto più alcun ruolo protagonista, l'abbiamo vista in qualche puntata "random" di The Good Wife e di Inside Amy Shumer.
Almeno fino all'anno scorso: è una dei protagonisti di una sit-com iniziata nel 2015 intitolata Superstore. Interpreta Amy, una diligente dipendente del Cloud 9, un superstore di St. Louis.