Faccio outing: sono nata nel 1988 e tra qualche mese sarà inesorabile per me affrontare il traguardo dei primi 30 anni. Per riuscire a superare lo scoramento per la giovinezza che fugge via, tra le tante cose, mi rifugio nel mondo delle Serie Tv che MAI, MAI e dico MAI mi ha tradito. E l'altro giorno mi sono chiesta quale fosse la prima Serie che io abbia veramente seguito: escludendo "Dawson's Creek" (che per me non è una Serie Tv ma uno stile di vita) mi sono resa conto che è stata "True Blood" (Serie targata HBO) a traghettarmi nel magico mondo della serialità. Non sapevo bene che genere mi piacesse, le mie preferenze in fatto di film sono sempre state eterogenee quindi ero aperta a tutto, anche al fantasy.
"True Blood" si presentava bene: tratto dai romanzi di Charlaine Harris, la Serie è ambientata in una Louisiana di un futuro post-moderno in cui i vampiri possono vivere pacificamente con gli uomini grazie a una bevanda a base di sangue sintetico che dovrebbe, in teoria, tenere a bada i sanguinolenti istinti vampireschi, il Tru Blood.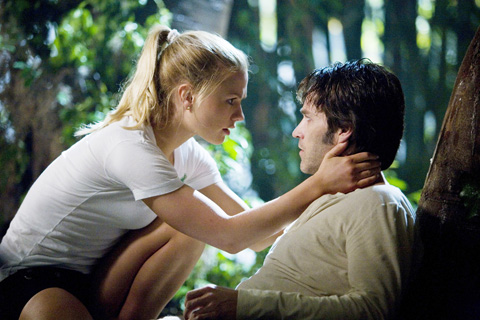 La protagonista è Sookie Stackhouse (Anna Paquin), una giovane cameriera che vive nel piccolo centro di Bon Temps e che, fin da bambina, sviluppa il potere di leggere la mente. Questo la rende schiva e l'allontana da tutti perchè, siamo onesti, tutti diciamo di volere la sincerità da chi ci circonda ma quando i commenti della gente non sono quelli che ci aspettiamo siamo ancora felici di averla voluta? La sua vita cambia radicalmente quando nel Merlotte's Bar & Grill, locale in cui lavora, entra Bill, il vampiro Bill (Stephen Moyer). La notizia del Tru Blood era arrivata anche nella sperduta Bon Temps ma le scorte erano rimaste intatte perchè mai nessun vampiro sembrava aver varcato i confini. Da quell'ingresso, mai nulla sarà più come prima: ha inizio, così, una storia d'amore che sconvolgerà le vite dei due protagonisti e dell'intera comunità.
Vampiri, fate, mutaforma, lupi mannari, "True Blood" non si fa mancare nulla e nonostante questo "ensamble", decisamente poco realistico sulla carta, è anche molto credibile. Il fatto che per gli abitanti di Bon Temps sia consueto cenare con un vampiro, o esserne letteralmente la cena, riesce a convincere lo spettatore che è tutto vero o almeno possibile.
Ovviamente sono presenti momenti di rottura che mettono pepe (TANTO PEPE) nella storia perchè, deve essere chiaro, "True Blood" non è affatto una romantica storia d'amore, "True Blood" è sesso, sangue e rock'n'roll!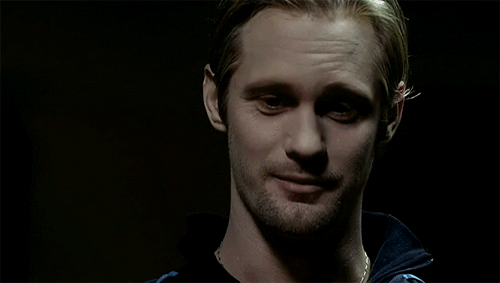 Se siete particolarmente sensibili o pudichi, infatti, saltatela senza pietà: ricordate Edward Cullen che in "Twilight" diceva a Bella "Non possiamo stare insieme perchè altrimenti TI FACCIO MALE" (o giù di lì)?" Ecco..dimenticatelo. In "True Blood" non ci sono attenzioni: l'amore è rude e violento ma riesce comunque a emozionare. Anche le amicizie diventano più forti così come le liti e gli scontri: ogni sentimento è amplificato e profondo e tu, che guardi una puntata dopo l'altra con avidità, credi che durerà per sempre..o almeno fino all'ultima puntata ma così non è.
Le sette stagioni di cui è composta la Serie non riescono a mantenere sempre lo stesso passo ed è questo che delude: un leggero declino è fisiologico ma quello che succede nelle ultime stagioni, soprattutto nella settima, ha dello sconvolgente! Vampiri che diventano zombies, tavole imbandite e un happy ending che mai nessuno si sarebbe nemmeno sognato di immaginare.
Dopo anni di successi, di maestose campagne di marketing e dopo la nascita di prodotti ispirati alla Serie (come la bevanda Tru Blood a base di arancia rossa), può essere sufficiente un finale "sbagliato" per deludere milioni di fans? Pare di sì. I fedelissimi di "True Blood" non hanno ben compreso la scelta degli sceneggiatori e dell'ideatore Alan Ball di concludere la Serie eliminando tutti gli elementi "forti" e scabrosi che la caratterizzavano e anche io mi sono sentita stranita. Come ho detto all'inizio, però, "True Blood" mi ha "iniziato" al magico mondo delle Serie Tv e quindi non posso denigrarla, non sarebbe giusto: le prime attese delle nuove puntate, il dover abituarsi ai sottotitoli, l'imparare a riconoscere i diversi accenti, vedere la propria vita sociale che scompare… tutte cose che non si possono dimenticare.
Nonostante i difetti e gli errori, "True Blood" è una Serie che merita assolutamente di essere vista: fucina di talenti (ricordiamo che è stata la prima vera occasione di Alexander Skarsgard, il Perry di "Big Little Lies"), la Serie è riuscita a diventare un vero e proprio cult del genere horror/fantasy, e ad essere "immortale e senza tempo", esattamente come i vampiri.
Insomma, se non l'avete mai vista, fatelo; se l'avete già vista, fatelo di nuovo!
E ricordate sempre quello che dice Jace Everett nella sigla: "I don't know who you think you are but before the night is through..I WANNA DO BAD THINGS WITH YOU".