Avidità, sangue, bugie e anarchia: Damnation vi invita nell'America rurale degli anni '30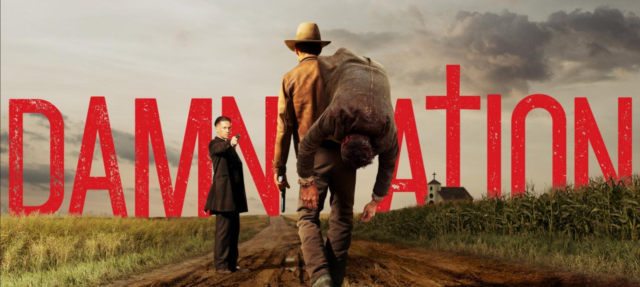 Damnation è una piccola Serie Tv con un grande cast e un tema stranamente attuale seppur ambientato negli anni '30 americani. Co-prodotta da NBC e Netflix, lo show si presenta come uno stratagemma per mettere in primo piano i problemi dell'America moderna (come razzismo, xenofobia e armi da fuoco) utilizzando uno scenario passato e due protagonisti preponderanti: un prete e un crumiro.
Dal 1 Febbraio è disponibile l'intera stagione sulla piattaforma streaming Netflix.
Direttamente da Hell or High Water e da Logan, ritroviamo i registi David Mackenzie e James Mangold, che dirigono un cast di tutto rispetto: Killian Scott, nei panni del predicatore e Logan Marshall-Green, nella spietata controparte (e non solo). Tra gli altri attori figurano anche Christopher Heyerdahl (recentemente visto in Tin Star, ma anche in True Blood e Van Helsing), Sarah Jones (Sons of Anarchy, The Path) nei panni della moglie del predicatore, Amelia, e Chasten Harmon (Elementary) nel ruolo di una cortigiana colta. Dieci episodi che riescono bene nella rievocazione degli scenari da far west, oltre che creare storie dai contorni labili, dove l'apparenza inganna.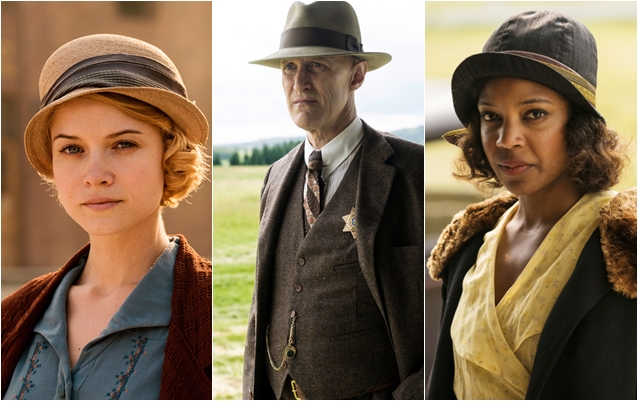 Ci troviamo nell'Iowa, durante il 1931, in un paesino in fermento per i recenti scioperi degli agricoltori e minatori in protesta contro la classe sociale che li sta sfruttando: i banchieri. Siamo in un periodo di forte tensione,; da una parte dilaga la Grande Depressione e dall'altra il proibizionismo attanaglia la vita quotidiana.
A emergere e dare supporto morale alla piccola popolazione, ci pensa un predicatore dalle maniere alquanto discutibili: Seth Davenport. Egli usa il proprio carisma e la Bibbia per incitare i concittadini contadini alla rivolta. I suoi sermoni pregni di parole quali giustizia e ribellione nascondono però motivazioni ben più oscure, tali da incitare un'insurrezione sanguinaria che innesca una pericolosa spirale di vendetta tra la popolazione.
Il suo passato è la chiave di questa Serie Tv, ove l'abito non fa il monaco e di certo non lo rende uno stinco di santo.
A causa dei sempre più frequenti atti di rivolta, viene inviato un agente della Pinkerton, Creeley Turner, un crumiro spietato il cui destino sembra destinato a intrecciarsi con quello del prete. Infatti, nel corso del primo episodio si comprende che i loro passati sono fortemente collegati e nascondono la verità sulla loro identità reale.
Le vesti clericali sono soltanto un mezzo con cui trasmettere il messaggio. La vera vocazione di Seth è la lotta contro le classi sociali più abbienti e privilegiate.
Jesus was an outlaw, a revolutionary.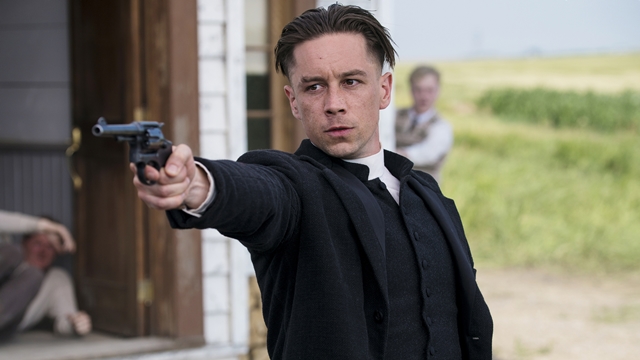 Damnation è frutto di una miscela che sa sfruttare il tipo di narrazione alla Peaky Blinders, utilizzando uno sfondo da period drama (non storicamente accurato) e lo straniamento delle vesti clericali come in Preacher. Il tutto accompagnato da soundtrack folk country, paesaggi aridi e sabbiosi e una regia desaturata che non fa che esaltare le tematiche di rivoluzione e le canoniche scene da saloon western. 
Le belle atmosfere non riescono però a sfruttare in pieno l'intera narrazione, lasciando nei fatti un leggero amaro in bocca. Le intenzioni sono onorevoli, la trama è intrigante così come i personaggi che compongono il quadro generale. Eppure, dopo alcuni episodi, si capisce che il succo della storia è già esaurito. La volontà di sperimentare una pagina della storia americana raramente rappresentata è un punto a favore di USA Network. Purtroppo, non avendo un'enfasi tale da coinvolgere appieno lo spettatore, la Serie Tv si rivela essere un prodotto standard di cui ben presto si dimenticherà l'esistenza.
Un prodotto che potrebbe ben interessare a coloro che hanno apprezzato Godless, Hell on Wheels e Hatfields and McCoys.