Molto prima di decidere di iniziare a vedere Troy: Fall of a City, ne avevo letto recensioni pessime.
Ma io non sono una persona che si lascia influenzare e, in tutta onestà, non mi sono molto scandalizzata per la scelta di un Achille nero, il marcantonio inglese David Gyasi. In epoca di totale whitewashing, un politically correct così estremo non è poi del tutto inaccettabile. Insomma, lontani sono i fasti dell'Achille made in Brad Pitt, ma perché bocciare Troy: Fall of a City solo per una scelta che alcuni visionari potrebbero definire rischiosa?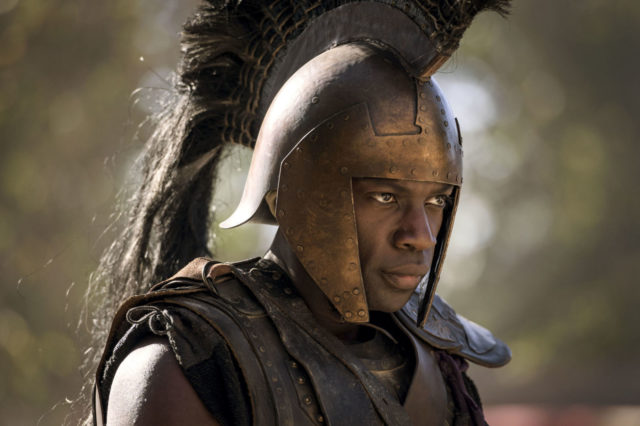 Quindi, armata di santa pazienza, mi sono messa a vedere il pilot, segretamente convinta che, in fondo, tutte quelle critiche fossero dei soliti precisini, con la puzza sotto al naso, fanatici di Omero. Purtroppo, non è stato così.
Voglio dire, Troy: Fall of a City parte anche con le idee giuste, vale a dire riportare sul piccolo schermo i dieci anni dell'assedio di Troia, condensati in otto episodi facili facili. Il problema non è essere iscritto al fan club di Omero, conoscere le sue opere a menadito, avere la puzza sotto al naso o essere degli schizzinosi un po' snob.
Il problema di fondo, con questa Serie Tv è che è fatta proprio male.
E spiego il perché.
Punto primo, il casting. E non parlo solo di scelte audaci come far rappresentare Achille, Enea o il divino Zeus a personaggi di colore; a un certo punto, chi se ne frega? Per anni molte etnie sono state interpretate unicamente da attori bianchi, non bisogna scandalizzarsi troppo.
Qui gli attori però sono per lo più mono-espressivi.
Prendiamo, ad esempio, la più bella donna del mondo, Elena. Per carità, brutta non è, ma da qui a farne la causa di una guerra decennale che ne passa! Vestita come l'uccello del Paradiso, ha sempre un'unica espressione ineluttabile che fa passare la voglia di vivere in qualsiasi situazione: a letto con Paride, mentre parla col marito, mentre sgrida la figlia sfigata. Paride sembra un beota che si fa guidare unicamente dalle parti basse. Diciamo, quale donna potrebbe sorridere giuliva dopo essere stata definita "una bestia di cui devo occuparmi?"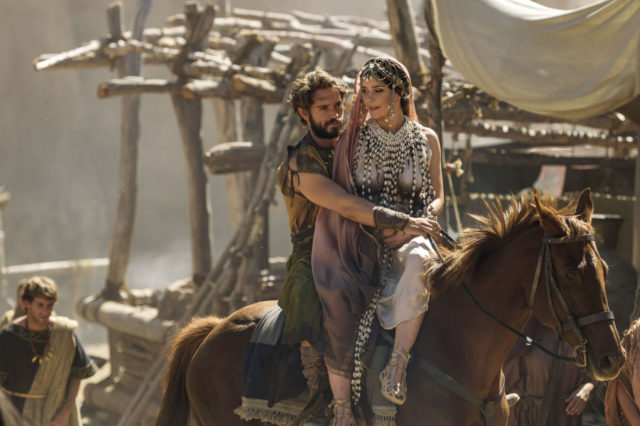 Gli dei sembrano usciti direttamente da una soap opera sudamericana, tanto sono litigiosi, ingessati e capricciosi: la scena della mela d'oro, più che essere epica, è ridicola, con le dee perdenti che se la prendono a male e gridano nel bosco in piena crisi isterica. Signore, imparate a perdere con classe. Perché è stato scelto proprio Paride? Non si sa, così è scritto, anche non si sa dove. Perché Paride sceglie proprio Afrodite? Perché è un fesso che ragiona, ripeto, con le parti basse.
La querelle divina si risolve in trenta secondi, senza pathos, senza suspance e senza neanche tante spiegazioni. È così e basta, adeguatevi e poco male se quella scelta scatenerà una guerra che durerà dieci anni. È il volere, incomprensibile, degli dei.
Un altro grosso difetti di Troy: Fall of a City sono i dialoghi; sembrano usciti da una fan-fiction adolescenziale o direttamente da un libro di successo scritto da uno youtuber a caso!
La prima puntata è tutta sull'innamoramento tra Paride ed Elena, incentrato sulla presunta infelicità di lei. Problema: Menelao era, nell'immaginario omerico, un vecchio satrapo sovrappeso, mentre in questa Serie è un uomo dall'aspetto gradevole, che non pare un marito così pessimo per l'annoiata regina, che, per svagarsi si dedica a baccanali saffici, il tutto sempre circondata da volatili di ogni tipo, incluso uno struzzo.
Anche le scene drammatiche lasciano poco al dramma: l'assassinio di Ifigenia da parte del padre si consuma in una manciata di secondi e Agamennone, che la uccide, non sa nemmeno perché lo fa. Difatti, come un pazzo, grida al cielo: "Perchéééééé?" Caro, se non lo sai tu…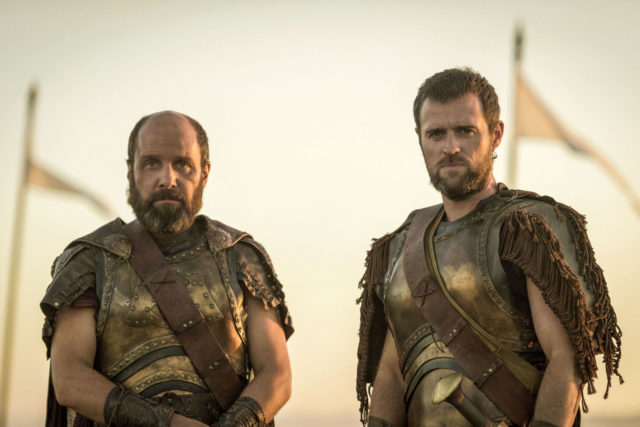 Le scene erotiche, invece, sembrano buttate lì a caso, tanto per risvegliare un po' lo spettatore dal torpore generale che lo coglie guardando puntata dopo puntata. Un nudo qui, uno là, senza un senso preciso; come si dice in questo caso, a gratis e senza nemmeno riuscire a scandalizzare un pochino. Che spreco!
Poteva salvare questa Serie magari l'ambientazione romantica, un po' rude e un po' sognante in stile Game of Thrones o, in misura minore, Britannia (ecco cosa ne pensiamo noi). E, invece no, perché anche in questo Troy: Fall of a City riesce a fallire. Scenari e ambientazioni sono visibilmente finti e artefatti: è un grosso problema quando ci si rende conto degli effetti speciali.
Insomma, Troy: Fall of a City è un clamoroso buco nell'acqua e ci sarebbe solo una parola per definirla.
Solo che non posso davvero dirla.