Il mito della guerra di Troia ci ha sempre tenuto – metaforicamente – incollati alle sedie. Sin dagli albori della poesia, quando uno o più cantori (non entreremo nel merito della questione Omerica) hanno deciso di tramandare per iscritto ciò che per anni si è raccontato oralmente. L'Iliade di Omero è diventata punto di riferimento per la letteratura a venire e tuttora gode di una magica fama e di uno spettacolare alone di mistero. Netflix, in onore della famosissima opera, ha lanciato Troy: Fall of a City e oggi, miei cari, analizzeremo i pro e i contro di questa audace produzione.
Grazie al sig. Schliemann il mito si è confermato realtà, purtroppo non nelle condizioni che noi conosciamo. Ahimé nessuna Elena, nessun Ettore e tristemente nessun Achille. Quest'ultimo è stato sicuramente uno dei personaggi mitici più amati, al centro di tutte le rivisitazioni cinematografiche e non del mito. La sua figura in questo ambito è stata abbastanza criticata: ad esempio, la scelta di Brad Pitt come Achille in Troy – per quanto sia stata un piacere per tutti – ha fatto sicuramente discutere, con riferimenti al temibile whitewashing.
Parlando chiaramente: forse l'Achille omerico non era proprio un Brad Pitt, biondo e con occhi di ghiaccio, ma non è che Netflix sia riuscita a far meglio.
Difatti uno dei problemi che salta subito all'occhio nella serie riguarda il cast: sicuramente molto "variopinto" ma poco fedele alla "realtà" dei fatti. La scelta di attori afroamericani per interpretare Achille e Zeus è assolutamente out of context. Non credo che la Grecia del XII-XI secolo a.C. possa aver avuto contatti con l'Africa subsahariana.
Achille, se mai fosse esistito, sarebbe stato più o meno caucasico, tendente verso il mediorientale – data anche la probabile etimologia asiatica del suo nome.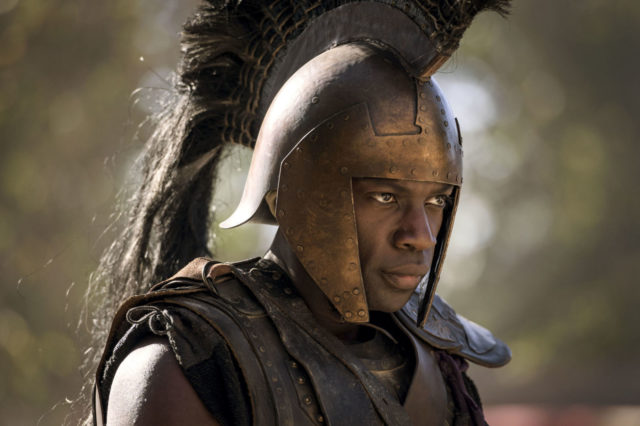 Oltre a questo, il cast di Troy: Fall of a City non è composto da attori straordinari. Ci sono delle pecche evidenti in ambito recitativo e soprattutto il ruolo di Elena risente molto dell'interpretazione opinabile di Bella Dayne. La regina di Sparta è monolitica, monoespressiva e monotona. In questo caso la falla recitativa è davvero una pecca, considerando che gli sceneggiatori di Troy hanno voluto raccontare la vicenda dalla prospettiva di Paride e della sua amante.
Punto a favore di Troy è proprio l'innovativo punto di vista. Paride è il vero protagonista della vicenda. L'interpretazione di Louis Hunter non è tra le migliori, però sicuramente non rovina il personaggio come invece accade per Elena. In generale la trama segue fedelmente il mito, con questa meravigliosa nuova accezione. A volte risulta un po' lenta e noiosa, ma i fedelissimi delle serie "storiche" non si stupiranno di questo.

Un'altra delle meraviglie di Troy è la scenografia: pazzesca e pertinente. Sui costumi invece c'è da ridire: molti infatti sono totalmente fuori contesto.
Ok, ho capito che è un mito ma quanto meno evitiamo abiti con tendenze futuristiche, che ovviamente sono indossati da Elena. Già il personaggio è una falla profonda quanto la Fossa delle Marianne, con determinati abiti diventa proprio una caricatura di se stessa. Ad esempio, all'inizio della serie, Elena indossa un abito che dovrebbe ideologicamente richiamare gli uccelli esotici di cui lei è appassionata. Purtroppo non fa niente di questo: è solo brutto ed eccessivamente "haute couture fatto male". Diciamoci la verità: sarebbe stato più adatto in una sfilata di Moschino.
Per quanto riguarda il complesso, molto è lasciato al caso. Scene erotiche qua e là portano automaticamente alla memoria gli sceneggiatori di Boris: "Facciamoli sc*pare, così de botto senza senso". Le scene drammatiche, invece, ricordano molto un episodio di Uomini e Donne: finte urla disperate e pianti tragicomici. Al netto di questo è un prodotto a suo modo apprezzabile.
In conclusione: ho apprezzato la rivisitazione del tema e anche il chiaro omaggio della serie all'opera di Omero. Troy: Fall of a City non è un prodotto terribile ma poteva essere fatto meglio. Rimane comunque sottotono in confronto sia ad altre rievocazioni del mito sia ad altre Serie Tv storiche. Ci sono punti deboli (molti), ma ho apprezzato la fedeltà al racconto omerico: cosa degna di nota.
Sull'antica Grecia purtroppo il mondo per ora ha prodotto poco e male. Oltreoceano lo studio dell'antichistica rasenta lo zero, mentre noi italica gente – che potremmo produrre sicuramente di meglio, a questo proposito è bene ricordare le tragedie pasoliniane – abbiamo pochi fondi e preferiamo investirli in prodotti di sicura fruizione. Troy non è stata altro che un'occasione sprecata.