"Tanto il credente quanto l'incredulo, ognuno a suo modo, condividono dubbio e fede, sempre che non cerchino di sfuggire a sé stessi e alla verità della loro esistenza. Nessuno può sfuggire completamente al dubbio, ma nemmeno alla fede; per l'uno la fede si rende presente contro il dubbio, per l'altro attraverso il dubbio e sotto forma di dubbio.
J. Ratzinger
A breve distanza dalla pubblicazione di Il Peso di Dio (Einaudi, 140 p.), che riprende per mano del regista napoletano discorsi e massime di Lenny Belardo, ripercorriamo la prima stagione di The Young Pope soffermandoci su tre personaggi e mettendo in luce un filo rosso che sembra attraversare tutta la Serie e trovare le sue radici ne La Grande Bellezza e perfino, inaspettatamente, ne I Fratelli Karamazov di Dostoevskij.
La prima stagione di The Young Pope si è conclusa da qualche mese lasciandoci con un tourbillon di emozioni e un pizzico di confusa tristezza. Ora, rassettati nel nostro aplomb, con la giusta lucidità e distacco possiamo ritessere le fila dell'opera d'esordio sul piccolo schermo di Paolo Sorrentino analizzandone gli interpreti che l'hanno resa così iconica.
A partire da un rigenerato Jude Law capace di sprovincializzarsi (finalmente) dal consueto ruolo di belloccio dal cuore tenero sublimando il suo charme in un abito (talare) cucito su misura da Sorrentino.
La figura di Lenny Belardo, tratteggiata dal regista come protagonista di The Young Pope, restituisce a fine stagione l'immagine di un papa dubbioso, incerto tanto su se stesso quanto su Dio. Una figura contraddittoria e sfaccettata. Un personaggio che porta su di sé il peso del credere. In quel Dio-Padre che è anche Madre (nella Bibbia Dio dà la vita ed è quindi ruakh, "Spirito" declinato al femminile) Lenny rivede i suoi genitori. Rivede soprattutto la loro pressante assenza, quella "sottile voce di silenzio" (1 Re 19,12-13) in cui pure si manifesta biblicamente Dio.
È in quel silenzio che si staglia il dubbio di fede condiviso tanto dal credente quanto dall'agnostico. È il dubbio che erompe nella pesante ammissione davanti alla suora Surey, nel quarto episodio (in questo articolo trovate la recensione), in quel "non sei la sola a dubitare" pronunciato a mezza bocca e distorto da un difetto di trasmissione dell'apparecchio acustico della giovane religiosa.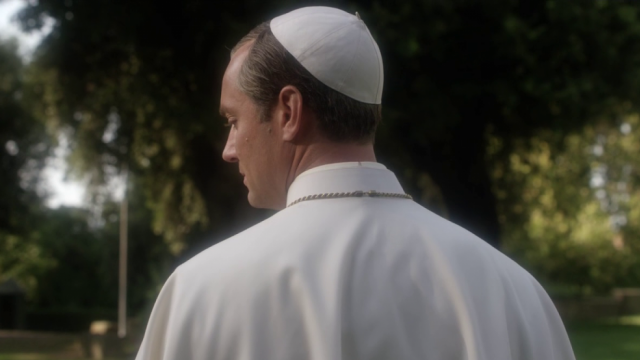 È tutt'altro che un papa granitico, Pio XIII: è una figura drammaticamente umana e bisognosa di certezze. Nella sua teologia c'è spazio tanto per l'ammissione più genuina del messaggio di Cristo e della figura di un Dio misericordioso quanto per l'immagine severa e incombente del vendicativo Signore dell'Antico Testamento.
Ancora rivolgendosi a Surey, afflitta orfana di sua sorella, pronuncia un monito: "Non devi inseguire i morti, Surey, altrimenti i morti inseguiranno te" che ricorda molto da vicino l'evangelico "lascia che i morti seppelliscano i morti". Un inno alla vita e al rifiuto di lasciarsi trascinare dal dolore della perdita dei propri cari in una spirale senza scampo. Quello stesso inno, però, in occasione del funerale si trasforma in un comando: "Smettila di piangere, Surey. Basta! I credenti non piangono, piangere è sbagliato!", aggiungendo poi "tu non credi. Surey, tu non credi".
La disperata ricerca di fervente devozione, di rigida ortodossia diviene stravolgimento del senso originario di quelle parole e assume l'autoritarismo che pure caratterizza la personalità di Lenny Belardo. Nella sua ricerca assoluta di autenticità e purezza non c'è spazio per il compromesso e i mezzi termini, per un amore a metà per Dio, per la debolezza. Il bisogno che sente, di mascherare le proprie incertezze, lo porta a rifugiarsi in una fede rigida, austera. Il rifiuto di accettare il dono di Voiello, una sigaretta elettronica, non è tanto sdegno orgoglioso ma espressione della negazione di ciò che è "surrogato di una cosa vera, io invece voglio sempre una verità piena". Una verità che gli è negata dal dubbio e dall'assenza del Padre (e della Madre).
In Lenny convivono l'idea di una bellezza da vivere, anche sessualmente ("non bisognerebbe mai vergognarsi della propria bellezza perché Dio ci chiede di gioirne") e l'intransigente condanna della possibilità di amare altri che il proprio sposo quand'anche questo fosse, come ammette Esther, "un insopportabile peso" perché viceversa "avresti solo dolore e l'insopportabile peso della colpa".
In lui è la bellissima convinzione di una preghiera che si fa momento di comprensione, riflessione profonda con sé stessi, silenzio di fronte al mondo e al caos della vita. In quell'attimo il soffio divino ispira pensieri nell'uomo. Eppure, dopo aver rimbrottato Esther perché pregare "non deve essere un elenco di richieste" è lui stesso rivolgendosi alla Madonna a ordinare con ostinazione e durezza, come un bambino capriccioso, che il miracolo avvenga, che Esther possa concepire. Quel "tu devi" che è imposizione autoritaria.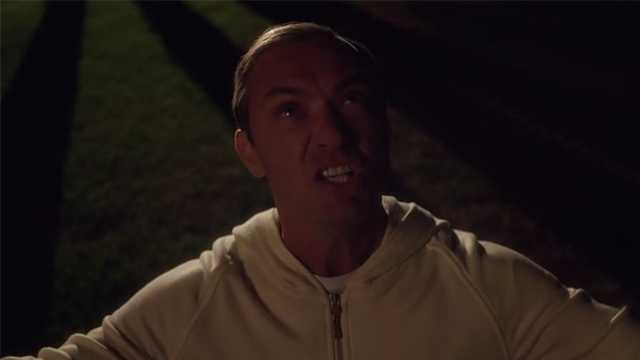 Nel protagonista di The Young Pope convivono allora queste anime, diverse e spesso opposte, parte, nel loro insieme, di un personaggio modulato per ricalcare i diversi poli e discrasie del cattolicesimo moderno, dal più profondo e caritatevole amore per l'altro allo sterile, reazionario e intransigente rispetto del dogma. A suo modo, come il Cristo di San Luca, anche Lenny è segno di contraddizione. È emblema dell'uomo scisso tra l'abbandono totale all'amore e il rigido rispetto formale di un'ortodossia che si fa colpa (ma anche sacrificio finale a Dio).
Nella complessità della sua figura, nelle sue debolezze, nel rigido rigore che si mescola e cozza col fervente slancio d'amore di una lettera mai spedita, di un'emozione mai pienamente vissuta ma solo assaporata, sfiorata in una "spiaggia deserta della California", si concreta il senso di un'umanità costantemente alla ricerca di sé.
Sorrentino non crea mai "personaggi", non dona mai alle figura una loro evidenza stereotipata ma ne indaga e mette in luce l'intima complessità e contraddittorietà creando psicologie realisticamente umane.
Voiello, il folcloristico Segretario di Stato tifoso del Napoli, solo apparentemente si presenta come affettata figura dell'"uomo dietro le quinte": presto lascia il posto a una personalità assai più complessa e per certi versi contraddittoria, come quella del pontefice. In lui c'è la sensibilità d'animo, già nel secondo episodio, di citare quel "Dio è amore" di Sant'Agostino, espressione massima del messaggio evangelico, e di comporre un discorso di una bellezza disarmante che troverà sfogo nell'ottavo episodio (una recensione completa dell'1×08 la trovate in questo articolo), quando sarà da ultimo accolto e annunciato al mondo per tramite di Lenny.
Voiello non ha ricevuto la "chiamata sulla via di Damasco", la sua vocazione vive nel pragmatismo di chi fa quello che sa fare meglio. E lui è un uomo straordinariamente capace di tessere intrighi e sfruttare le debolezze altrui per proprio tornaconto e contemporaneamente desiderare di essere in un'altra vita, di percepire la propria come profondamente sbagliata e di provare colpa per le proprie azioni. Sorrentino non ci lascia mai cadere nel facile errore di inquadrare univocamente un personaggio, di definirlo in base ad alcune sue azioni.
Ogni attore sulla scena porta con sé il peso e la contraddizione dell'essere uomo, di fare il male e desiderare il bene e, a volte, come nel caso di Voiello di fare il male per desiderio del bene, quasi a far sue le parole del Faust di Goethe, magnificamente trasposte nell'architettura di pensiero de Il Maestro e Margherita di M. Bulgakov: "Sono una parte di quella forza che desidera eternamente il male e opera eternamente il bene."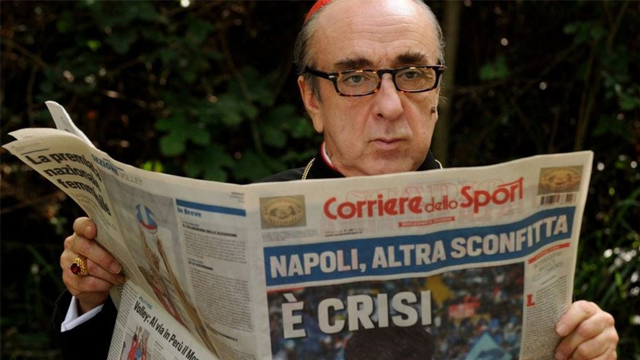 Al contrario Monsignor Gutierrez vive l'esperienza di fede nel legame con la sua infanzia, con la vocazione avvenuta dove cadono i pomeriggi di maggio.
Una vocazione che coincide con la purezza e il bisogno di continuare a proteggere quel bambino interiore che ancora si può leggere nei suoi occhi timidi illuminati dalla lacrime di commozione, in un personaggio figura dell'autentica e mistica devozione a Dio. Il suo volontario isolamento da un mondo che l'ha ferito e violato nell'età dell'innocenza fa da specchio alla clausura delle suore che appaiono alla fine del quarto episodio, sfogliando loro vecchie foto e rinnovando nel ricordo il loro essere come bambini, escluse, come Gutierrez stesso, dal mondo esterno.
"Com'è felice il destino dell'incolpevole vestale! Dimentica del mondo, dal mondo dimenticata" recitava Alexander Pope. Ma il papa gli ordina di andare nel mondo ("Come tu hai mandato me nel mondo, anche io ho mandato loro nel mondo", Gv 17,18) dandogli la forza di uscire dal suo isolamento e confrontarsi con i demoni del passato.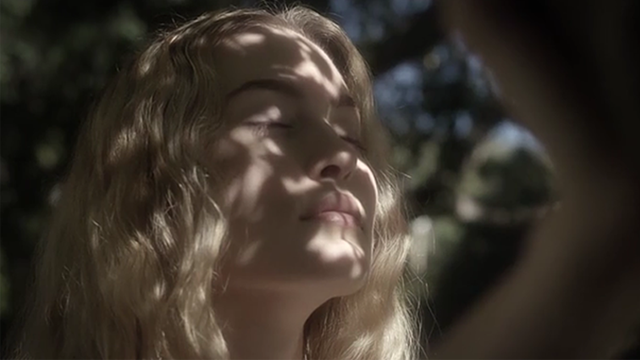 Il "ricordo", lungo tutta questa prima stagione, ha rappresentato un leitmotiv tra i più importanti. Attraverso di esso si forma dostoevskijanamente la coscienza dell'individuo: come ne I Fratelli Karamazov Alëša matura la sua bontà proiettandola nell'indelebile immagine della sua infanzia, in quell'abbraccio sofferente della madre al cospetto di un dipinto della Vergine, emblema dell'amore filiale, così per Gutierrez e Lenny la vocazione passa attraverso quelle memorie lontane ma ancora vivide. Per Belardo in particolare si esplica nell'immagine della madre, nella sua leggera innocenza, nella bellezza impalpabile di un momento di comunione con la natura.
"Voi non lo sapete quanto è bella la pace. Non avete idea di quanto può essere sconcertante la pace. Ma io lo so perché l'ho vista quando avevo otto anni in riva a un fiume in Colorado. La pace."
Quasi in ogni episodio il tempo si proietta per qualche istante nel passato, in quegli stralci di ricordi, all'angelico volto della madre (così simile al ricordo di Elisa che ispira Jep Gabardella nel comporre La Grande Bellezza!) mentre le note di Senza Un Perché sembrano costruire la figura di questa Madre silenziosa e remissiva, fragile e insicura che piega la testa e ci appare ferma come in uno specchio, vicina e irrimediabilmente irraggiungibile, mentre "tutta la vita gira infinita senza un perché".