The Young Pope è sicuramente una delle serie del momento. Paolo Sorrentino è riuscito a compiere un lavoro maestoso, da cui traspare la ricerca della minuziosità e della perfezione, indipendentemente dal fatto che l'opera possa piacere o meno.
Composta da 10 episodi, in onda su Sky Atlantic, la serie vanta un cast di tutto rispetto: il protagonista Pio XIII è interpretato da Jude Law; vanno poi segnalati Silvio Orlando nel ruolo del Segretario di Stato Voiello, Diane Keaton in quello di Suor Mary, Stefano Accorsi come Primo Ministro italiano e James Cromwell nel ruolo del cardinale mentore (e poi rivale) del Papa. Sorrentino in un'intervista a Sky (che sarà la principale fonte di questo articolo) ha precisato che per valutare questa serie bisognerà attendere la fine dell'ultimo episodio: i giudizi affrettati potrebbero mistificare la reale sostanza del prodotto.
Entriamo più nel dettaglio.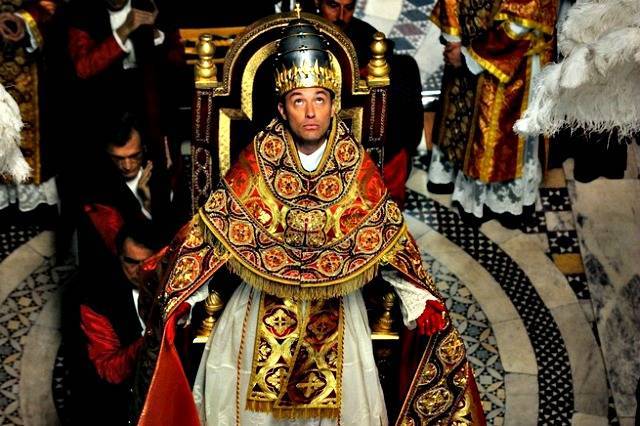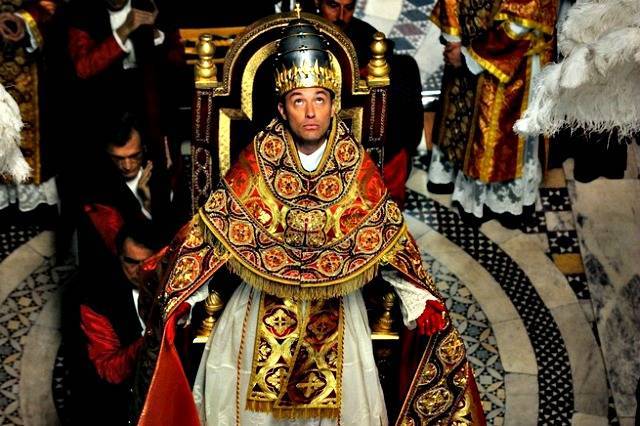 Iniziamo da qualche particolare in merito alla produzione: The Young Pope è stata ideata da Sky (come è avvenuto per altre due serie italiane, 1992 e Gomorra), con la collaborazione niente poco di meno di HBO e Canal +, fattore che ha contribuito ad essere acquistata in oltre ottanta Paesi, cosa ovviamente mai successa per una Serie Tv italiana. Tuttavia, non parliamo di una produzione proprio povera: se ne è occupata specificatamente Wildside, e in generale il budget della serie era di ben 40 milioni di euro. Niente male, dunque. Questo spiega, insieme al fascino che esercita un regista Premio Oscar come Paolo Sorrentino, il motivo di un cast così ricco e di livello.
Ma come effettivamente è nata questa Serie Tv?

Il principale soggetto da interpellare è sicuramente Paolo Sorrentino che, come tutti avranno notato, è uno dei registi che maggiormente ha fatto discutere negli ultimi anni, a causa del suo perfezionismo tecnico e delle trame spesso polemiche o disturbanti. Il regista, in un'intervista, è partito dal presupposto che qualcosa va raccontata se c'è la voglia di farlo: Sorrentino ha sostenuto che:
«L'idea di raccontare il Vaticano è molto antica, risale a quando avevo 25, 26 anni. A quell'epoca il mondo delle serie non era così bello, popolare e diffuso. Allora non sapevo neanche se sarei diventato mai un regista di cinema. Però l'idea principale era la stessa».
Parlare di potere, in sostanza, ma di un potere molto particolare: il Vaticano da sempre nasconde (inevitabilmente) dei retroscena di cui non verremo mai a conoscenza, ed è fortemente provocatorio un regista che decide di dare la sua interpretazione a questi "segreti".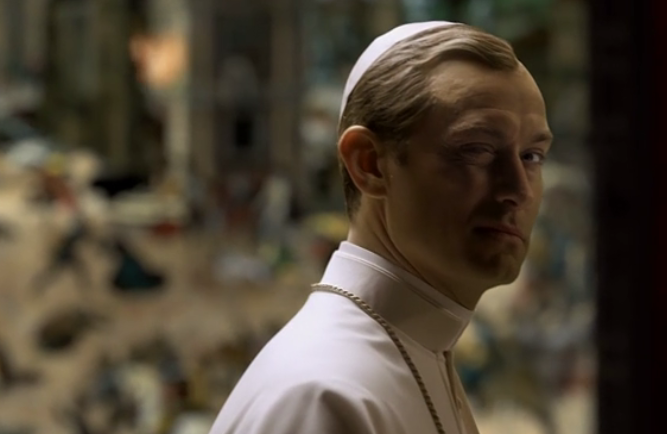 Interessante e fondamentale alla base di
The Young Pope è il concetto della fede:
cosa ne pensa al riguardo il regista?
Sorrentino ha studiato in ambienti religiosi (con i preti, dice) ma non si può sicuramente definire un credente; importante dunque è la citazione nella sua stessa serie di Toni Bertorelli (cardinale Caltanisetta), quando afferma che il problema non è credere in Dio, ma è capire perché, credenti o meno, abbiamo sempre bisogno di farci questa domanda.
Sorrentino aggiunge che la risposta a questa domanda è il motivo tematico per cui The Young Pope proseguirà con una seconda stagione.
L'idea dunque è sempre (o quasi) garanzia di qualità: creare e ideare una serie sapendo dove si vuole andare a parare, avere una forte ispirazione o produrla perché la si aveva in mente da tanti anni è il bello di un ottimo prodotto.
E The Young Pope, guarda caso, lo è.
Fonti:
intervista a Paolo Sorrentino di Sky Atlantic;
speciale di TV Sorrisi e Canzoni.