Attenzione! Questo articolo contiene spoiler sulla 1×03 di The Witcher. Qualora non abbiate ancora visto l'episodio, vi sconsigliamo di proseguire con la lettura.
Dopo l'incalzante pilot, analizzato a fondo qui, The Witcher sembrava aver perso un po' del suo brio. La serie tv capitanata da Henry Cavill ha infatti subito una battuta d'arresto nella seconda puntata, poiché è stato indispensabile introdurre nuovi personaggi, nonché mostrare un quadro sociale che rispecchiasse l'universo di Geralt di Rivia.
Nella 1×03, fortunatamente, la magia e l'ardore avvertiti nel primo episodio tornano a sorprendere. Il livello dello show si alza di un gradino più in alto, poiché da un punto di vista tecnico il lavoro svolto sulla regia e sulla fotografia è stato magistrale.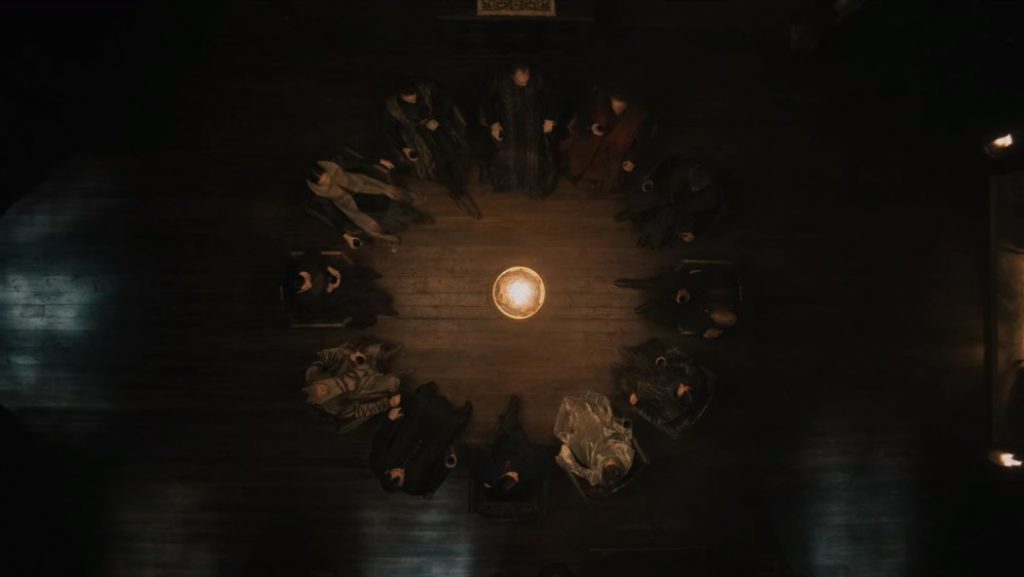 L'episodio di The Witcher si apre seguendo il medesimo format al quale cominciamo già ad abituarci.
All'inizio viene infatti presentato un nuovo mostro, il quale deve essere eliminato dal protagonista. A seguire vi è, infine, il tipico scontro morale capace di far vacillare qualsiasi idea ci eravamo già prefissati riguardo l'apparente antagonista. Domandarsi quale sia il male minore tra le due situazioni estreme proposte si rivela sempre più complesso. L'obiettivo è probabilmente quello di mostrare la complessità delle azioni umane, nonché quanto possa essere semplice e ingenuo discriminare ogni cosa, ogni individuo.
Lo stesso Geralt di Rivia inizia a far proprio questo concetto, tentando di salvare la principessa maledetta di Temeria. Perché il protagonista di questa serie non è un mercenario, ma nemmeno un eroe. Si ritrova così ad affrontare una nuova creatura mostruosa, della quale scopre le tristi origini ottenendo la conferma che i veri mostri, spesso, sono gli stessi uomini.
In The Witcher si affronta la moralità con raziocinio. Non esiste il bianco, né il nero: c'è soltanto il grigio, buio e indistinto. In questa zona ambivalente vengono prese decisioni complesse, capaci di causare guerre e morte. Sono scelte spesso causate da insoddisfazioni, amori non ricambiati, o dalla vendetta. E ciò che risalta in questo terzo episodio è la macabra (in)umanità dell'uomo che, pur di soddisfare la propria sete di rivalsa, è capace di trasformarsi in un mostro senza assumerne le sembianze fisiche.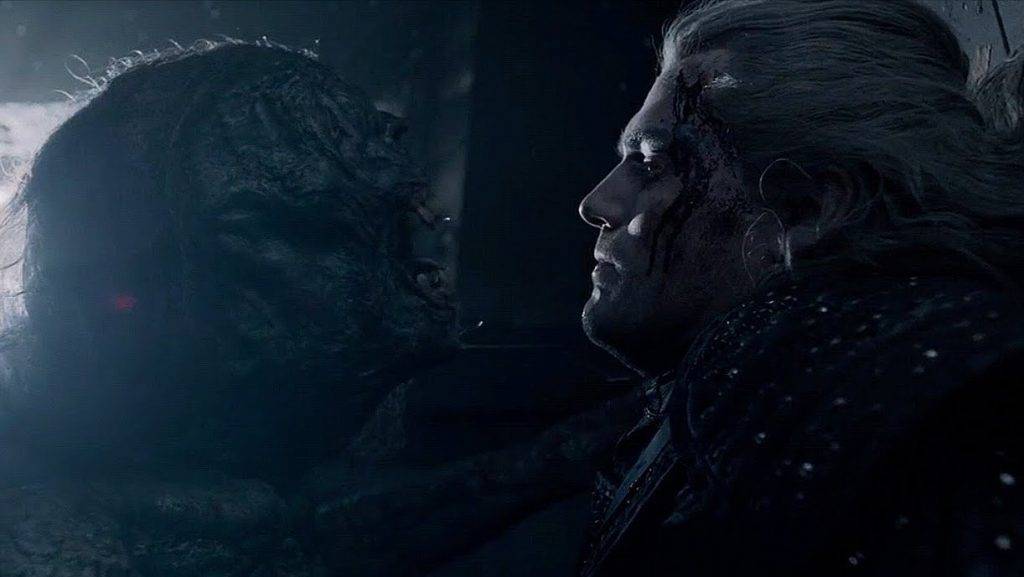 Ogni cambiamento presuppone però un sacrificio, e spesso sacrificare la propria morale rappresenta la perdita più grande.
Non tutti i cambiamenti, tuttavia, sono il frutto di una vendetta. Alcuni mirano invece a un riscatto personale, come nel caso di Yennefer. La giovane maga nella 1×03 subisce difatti una dolorosa e traumatica trasformazione, resa ancora più impressionante dall'ottima regia dell'episodio. Scegliendo di cambiare immediatamente il proprio aspetto, la ragazza dà prova del suo coraggio e della sua determinazione. È un personaggio forte ed estremamente interessante, poiché in soli due episodi è riuscito a subire un'incredibile evoluzione.
Durante la cruda scena dell'operazione, segue un'analogia tra la trasformazione della strige e quella di Yennefer. Le urla delle due donne si sovrappongono, conferendo continuità alla scena. E l'emotività trasmessa dal personaggio della maga, nonché il suo dolore, riflettono la sua risolutezza nel voler cambiare il proprio destino.
La rinascita della principessa di Temeria coincide così con la rinascita di Yennefer. La differenza tra le due è però sostanziale: mentre la prima sembra venire al mondo per la prima volta, la seconda è già preparata alla vita ed è pronta a sfruttare al meglio questa nuova chance.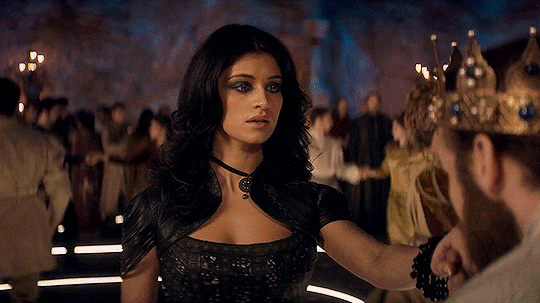 Ciò che contribuisce a rendere questa puntata particolarmente interessante è inoltre la scoperta di differenti timeline. Gli eventi di Geralt, Yennefer e probabilmente anche di Ciri non si svolgono nello stesso arco temporale. Lo dimostra il dialogo dell'organizzazione dei maghi, il Capitolo, nella quale si discute della possibile ascesa della futura regina Calanthe. In più, è possibile individuare durante la celebrazione a Temeria il futuro re Foltest e la regina Adda da bambini. La storyline di Yennefer è quindi ambientata parecchi anni prima dello scontro tra il Witcher e la principessa maledetta.
Purtroppo questo dettaglio non è stato curato benissimo. Chi è estraneo alla saga fantasy e non conosce ancora tutti i nomi dei personaggi, delle ambientazioni, nonché la timeline precisa in cui si svolgono gli eventi principali, potrebbe infatti perdere il filo della narrazione. Il rischio di creare confusione è parecchio alto.
La velata predizione circa il futuro incontro tra i tre protagonisti continua a ripetersi, e l'attesa del grande momento è già estenuante.
Nel frattempo, però, ogni personaggio riesce a donarci parecchie soddisfazioni. In questo episodio sia Geralt che Yennefer hanno messo in gioco le loro carte vincenti. Ancora una volta, abbiamo infatti avuto modo di vedere le abilità magiche di Geralt di Rivia, più evidenti durante l'avvincente scontro con la strige. E la giovane maga, estremamente sicura di sé e incantevole, è riuscita a ottenere il suo posto alla corte di Aedirn. La 1×03 è stata così in grado di soddisfare le aspettative prodotte dall'emozionante pilot.
Il personaggio della principessa Ciri in questa puntata è stato quasi del tutto assente, apparendo unicamente alla fine e lasciandoci con un peculiare cliffhanger. La ragazza, infatti, si allontana verso un bosco assorta e silente, come se fosse sotto un incantesimo. Non ci resta quindi che continuare il nostro binge watching per scoprire cosa sia accaduto alla principessa, e sperare che il livello della serie continui a essere temerariamente alto come in questo episodio.