La prima puntata della decima stagione di The Walking Dead è una dicotomia tra disperazione e speranza. Siamo sempre in piena apocalisse zombie, alla quale si aggiunge il pericolo drammatico e concreto dei Sussurratori. Ci sono dei confini che non vanno superati, imposti da un sadico gruppo ai nostri eroi. A quale prezzo poi…
In uno scenario così avvilente, dove la violenza e la prevaricazione la fanno da padrone, c'è ancora un raggio di luce?
Sì, in questo episodio di The Walking Dead ce ne sono diversi ed è proprio questa puntata che li mette in evidenza.
1) L'amore non è morto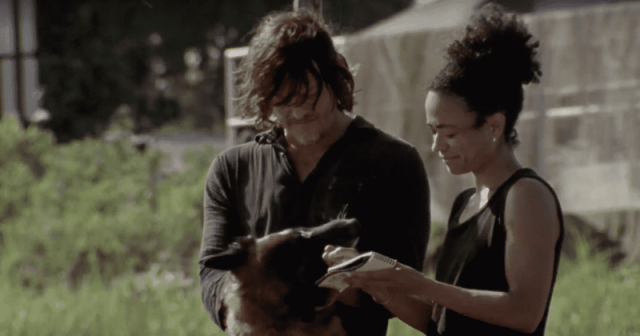 Prima Luke e Jules flirtano in modo innocente ed entrambi un po' imbarazzati cercano di riprendere in mano le redini di un corteggiamento che, in questi tempi, sembra un concetto quasi impossibile da realizzare.
La vita va avanti e con essa, malgrado tutto, anche una sua componente essenziale, l'amore. Un po' presto per dirlo, ma anche il rapporto tra Connie e Daryl sembra essere sul punto di diventare qualcosa in più. Lei lo guarda da lontano, lui sta imparando il linguaggio dei segni per poter interagire con lei.
Eugene ed Ezekiel continuano ad amare imperterriti nonostante tutto. Rosita è di un altro uomo e Carol è ben oltre il loro rapporto, ma i due non si rassegnano, perché, a volte, anche aggrapparsi a un amore impossibile tiene in vita.