Rinizia così come è finita. The Walking Dead 10×01 è la puntata perfetta per riprendere il filo conduttore della stagione precedente e ributtarci nel suo mondo così imperfetto e speciale. Le parole di Judith che mandano un solo messaggio "ce la faremo", l'ombra di una minaccia incombente, una maschera sulla spiaggia rinvenuta dai bambini che giocano spensierati.
Quando meno te l'aspetti il pericolo ti coglie di sorpresa e ti deruba di tutto ciò che hai amato e costruito fino a quel momento. Ti porta via i flirt, le promesse, un arto, un'arma. La sfida? Trovare il modo di andare avanti. Questa è la storia di The Walking Dead.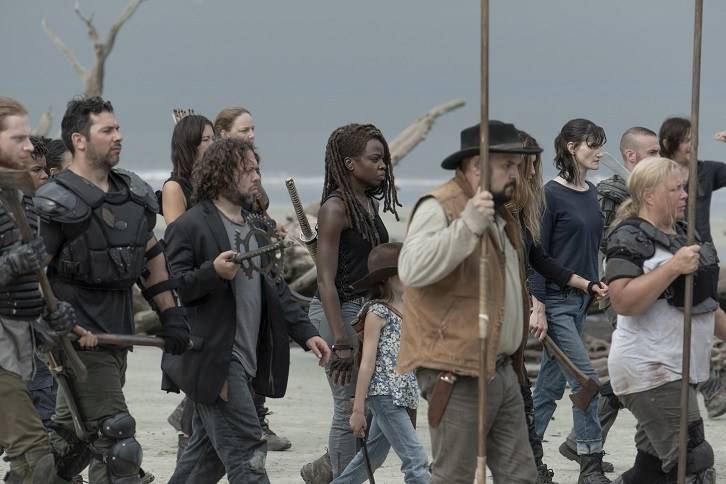 Il primo capitolo della puntata è "Giornate di addestramento". Oceanside è il posto giusto da cui ricominciare. E' uno dei posti che ha aperto più porte nelle stagioni precedenti. Da lì si riparte e si riconoscono i personaggi che aspettavamo di vedere.
Ecco quindi Judith che maneggia la spada come se fosse parte di lei. Ecco Ezekiel con il suo sguardo fiero e determinato, ecco Michonne in prima linea nella guida delle esercitazioni. Ecco Daryl che controlla e mantiene la sicurezza del gruppo. Ecco che ognuno ha il suo ruolo ed ecco che quando si combatte gli uni con gli altri non si ha nulla da temere. Tutto funziona, nessuno rimane ferito. Il primo capitolo della puntata mette in chiaro questo: si può fare.
Ma a parte sopravvivere e combattere cosa si può fare? Questa è una domanda fondamentale perché permette di mettere in luce la speranza. Gli autori riescono a darci una breve risposta prima di scatenare un'altra tempesta. Si può vivere. Conoscere una nuova ragazza che sta lavorando con te, si possono ricordare gli amici caduti ("Tara sarebbe stata fiera", "Conosco un idiota a cui sarebbe piaciuto molto"). Si può sperare nel ritorno di qualcuno.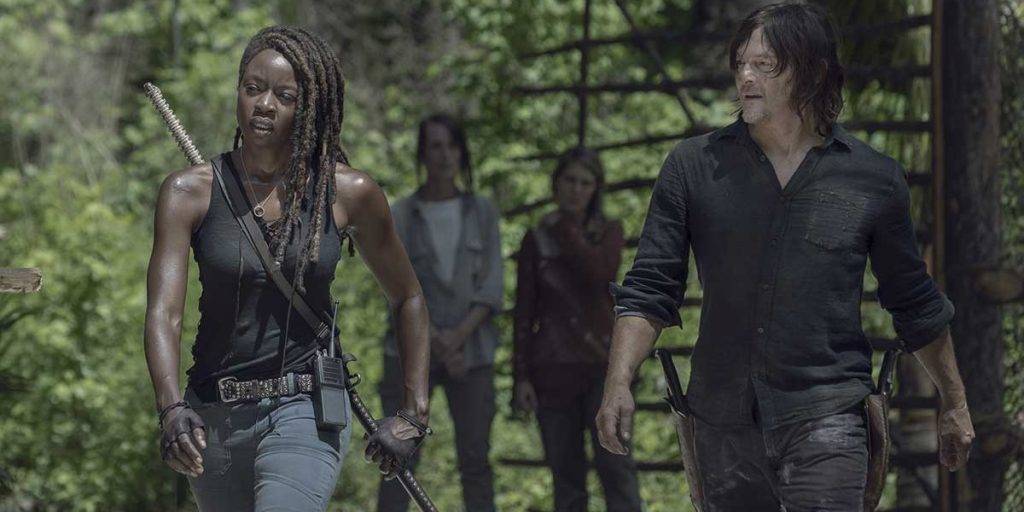 Con tutte queste premesse e una sigla perfetta per rendere omaggio a chi non c'è più The Walking Dead 10×01 comincia la sua nuova stagione.
Il secondo capitolo è "Pelle" con il sottotitolo "non dobbiamo scatenare il panico". Questo è il capitolo dei dubbi e della paura. Sì perché una comunità non si costruisce solo sulle certezze, ma anche sulla capacità di mantenerle intatte.
Il viaggio di Michonne e Aaron alla ricerca di segni ha proprio lo scopo di farle rimanere solide. Aaron rappresenta il dubbio, la rabbia giustificata dalla morte delle persone che amava. Le sue parole "siamo i cattivi nella storia di qualcun altro" sono dure. Mettono alla prova Michonne e tutti noi.
La donna però è sempre più forte, il suo essere leader indiscusso non vacilla. A motivazioni semplici ("dobbiamo mantenere la calma o vinceranno", "la gentilezza non mi è mai servita, l'intelligenza sì") aggiunge la solidità del suo cuore e di ciò in cui crede. Anche quando Aaron pronuncia i nomi dei morti. I nomi delle persone che non ci sono più metterebbero alla prova qualsiasi leader, ma lei no.
"I buoni siamo noi. So bene chi erano Rick e Carl e anche Eric e Jesus. Dobbiamo scegliere di essere buoni anche quando è difficile. E appena iniziamo a dubitare di questo e lo perdiamo di vista la risposta a quella domanda comincia a cambiare e questo è più spaventoso di qualsiasi maschera di pelle".
La forza di Michonne è spiegata a parole da Judith e dalla sua favola al fratello. "Le persone come lui non se ne vanno mai veramente. Vive nei nostri cuori e rende coraggiosi anche noi."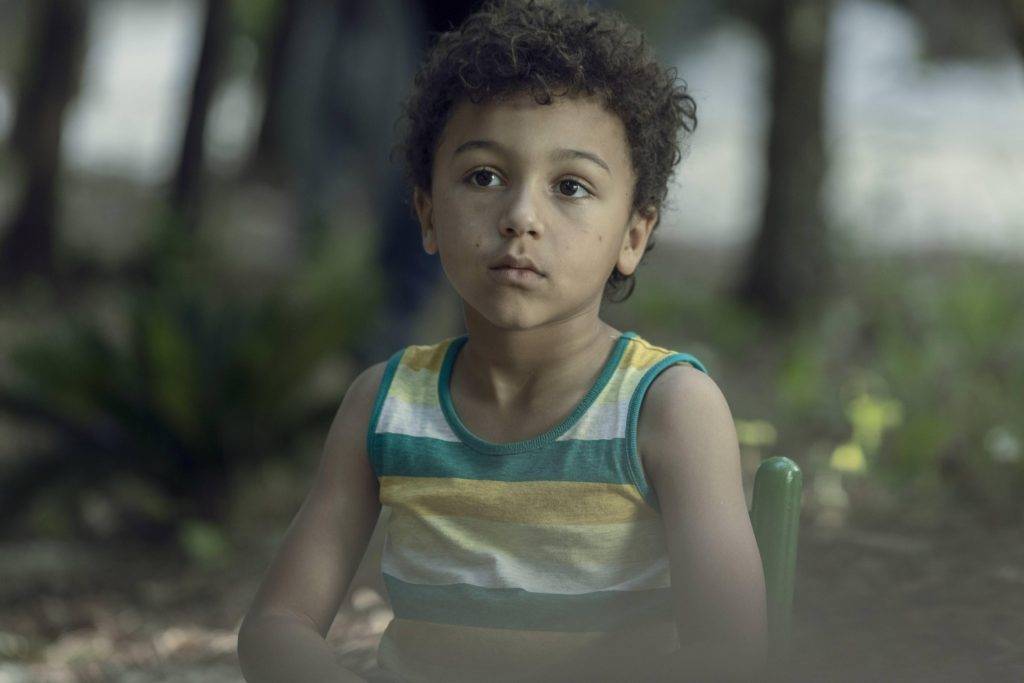 Nel terzo capitolo "La saggezza degli uccelli" prende il titolo dalle parole di Negan e Gabriel sulle lezioni di vita da apprendere per guidare una comunità. Non è un caso però che sulla culla della figlia di Rosita e Siddiq ci siano appesi tanti uccellini di carta che girano in tondo.
In questo capitolo ci vengono mostrati anche gli altri personaggi che aspettavamo con ansia di rivedere proiettati dopo la fine della scorsa stagione. Lydia sta imparando a leggere, ma prima di questo sta imparando a combattere come faceva Henry. Negan gode delle ore di libertà e dispensa consigli a chi è capace di udirli profondamente. Siddiq è preda dello stress post traumatico e sembra non riuscire a controllarlo.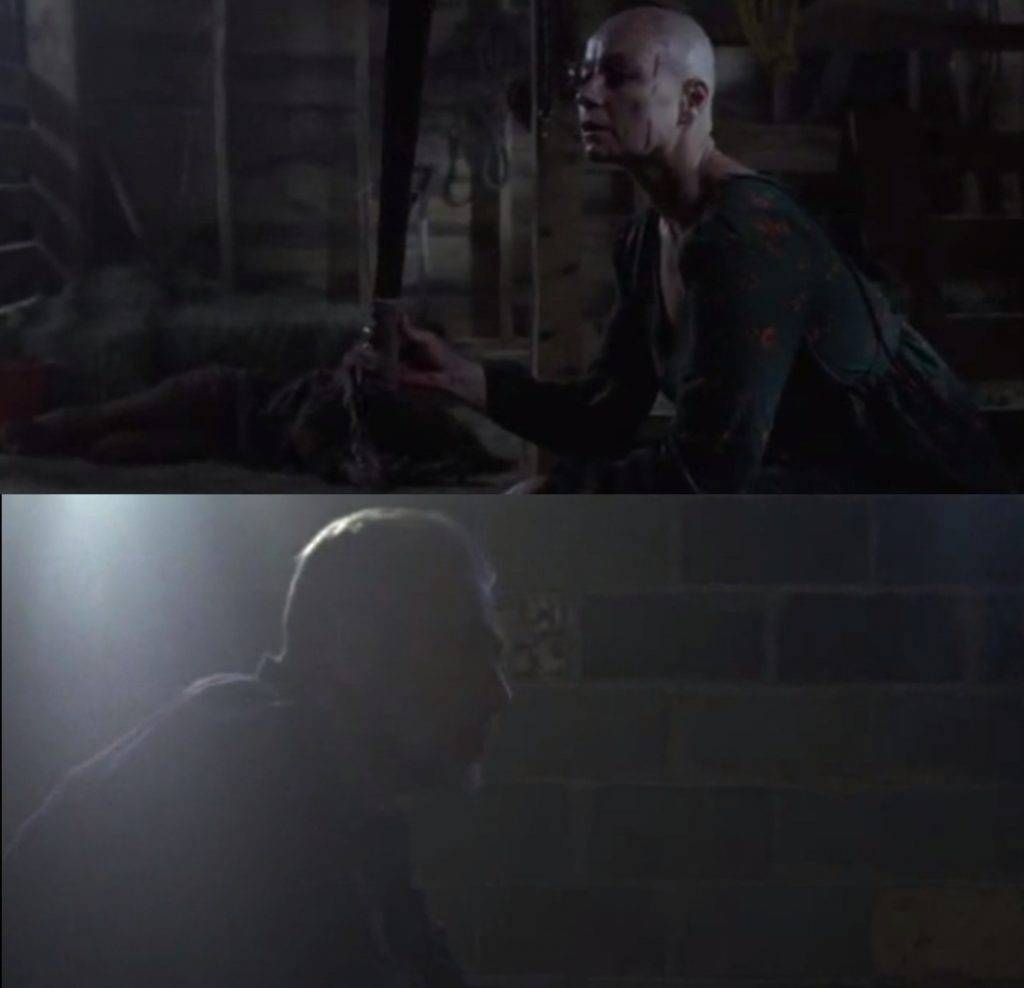 Le immagini contrapposte di Negan e Alpha al buio non sono posizionate a caso nel capitolo di passaggio al centro della puntata. E' evidente il messaggio fotografico. Le loro personalità così forti e contrastanti sotto certi aspetti e così malvagie e determinate sotto altri avranno la possibilità di guardarsi negli occhi prima o poi.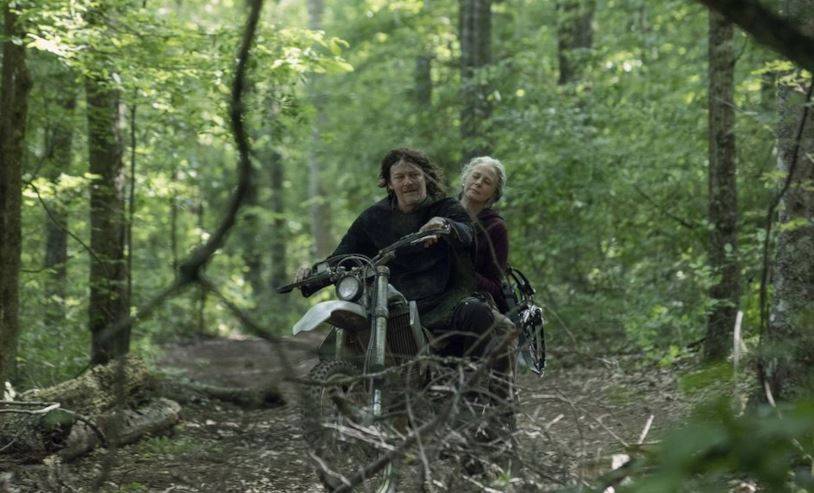 I quattro capitoli successivi della puntata hanno lo scopo di preparare la restante parte di stagione. "Lupi di mare" e "New Maxico" ci fanno concentrare su Carol e Daryl. Da una parte Daryl sembra maturato, non agisce più con impulsività e si pone totalmente come leader silenzioso e punto di riferimento per chiunque.
I suoi occhi si guardano sempre intorno per controllare che tutti siano al sicuro, ma è nei rapporti con le persone che riversa ciò che di buono c'è in lui. Imparando il linguaggio dei segni dona a Connie la forza per capire che anche per sua sorella la sordità non sarà un problema. Chiedendo a Carol di restare ammette di aver bisogno di lei e le regala un nuovo scopo.
E anche se è vero che i due "sopravvivono solo da una lotta a quella successiva", riescono sempre a farlo insieme e con coraggio.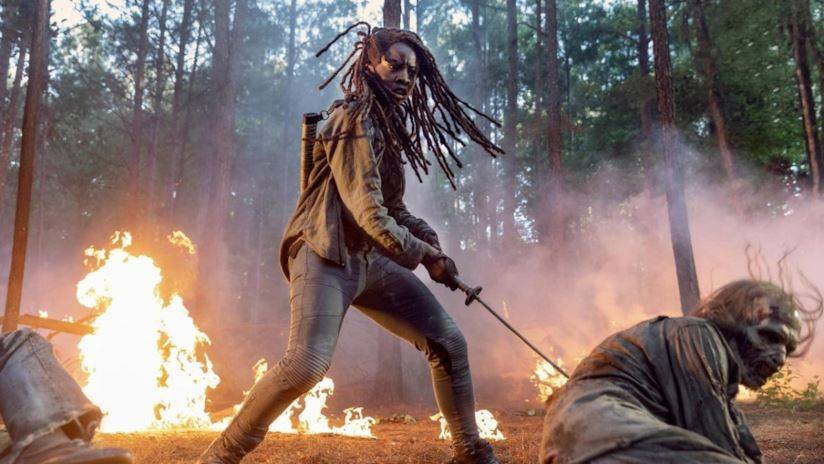 "I confini che superiamo" è il capitolo che dà il nome all'intera puntata. E' in poche parole il riassunto di tutto il primo episodio. L'evacuazione di Oceanside è la storia di The Walking Dead perché nessun posto è mai sicuro. Il satellite è ciò che nel mondo è rimasto da scoprire, ciò per cui vale la pena non arrendersi. E' un messaggio di speranza. La collaborazione per riuscire a sopravvivere all'incendio e alla mandria di zombie è ciò che i nostri protagonisti hanno imparato nel corso delle loro vicende: solo insieme si va avanti.
La puntata termina con "Brace", ultimo capitolo che ci viene presentato. Si chiude il cerchio. Con queste ultime scene l'addestramento del primo capitolo diventa realtà. Il messaggio di speranza "insieme si può vincere" è più forte che mai. La brace però, anche quando sembra spenta, può continuare a scottare per ore e giorni. Ecco quindi che nel finale di puntata gli sguardi di due madri (Carol e Alpha) si scontrano e cominciano a bruciare.
Vi invitiamo a passare dalla nostra gemellata The Walking Dead ITA Family sulla loro pagina Facebook.
Non dimenticatevi di passare anche dai nostri amici di: Caryl Italia e Dwighty Boy – Austin Amelio Italia, The Walking Dead Italia, FIGHT the Dead. FEAR the living – The Walking Dead gdr