La nuova stagione di The Walking Dead arriverà il 7 ottobre su AMC. Nel finale dell'ottava stagione abbiamo assistito al tanto atteso scontro tra Negan e Rick e i rispettivi gruppi. Il conflitto si è concluso con la vittoria della comunità di Rick e Negan, leader dei Salvatori, è stato preso prigioniero. La decisione di tenerlo in vita ha creato tensioni all'interno del gruppo dei vincitori, considerando che alcuni membri (come Maggie) lo volevano morto.
Secondo Jeffrey Dean Morgan nella nona stagione di The Walking Dead vedremo Negan sotto una nuova luce.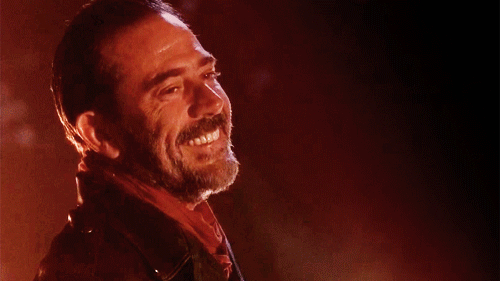 Negan sarà costretto a vedere la comunità di Rick crescere e rigenerarsi. Molti fan potrebbero pensare che questo svilupperà nel personaggio dei discorsi e delle offese nei confronti del gruppo. Stando a quanto dichiarato da Jeffrey Dean Morgan sembra invece che l'isolamento da prigionia lo farà impazzire. Ecco quanto dichiarato:
Quest'anno, per me, sarà interessante vedere la vulnerabilità di Negan. Credo che nessuno interagisca realmente con lui, forse solo Rick. Negan potrebbe vivere solo per questo motivo. Potrebbe essere tutto ciò a cui pensa, "Ti prego Rick, vieni qui".

Credo che finirà per impazzire. Quattro muri lo circondano e vuole combattere per mantenere un certo senso di sanità. E non sta andando bene. È abituato a recitare davanti a molte persone e ha creare un vero e proprio show.
La parlantina di Negan non andrà da nessuna parte. Sarà tuttavia interessante vedere come reagirà alla perdita del potere e come tutto questo influirà sulla sua personalità e mentalità. I fan di The Walking Dead conoscono ormai molto bene Negan: il personaggio metterà in atto qualche bravata per nascondere le proprie fragilità.
Ma per quanto tempo Negan resterà prigioniero, psicologicamente e fisicamente? Sicuramente i produttori della serie non vorranno tenere questo personaggio rinchiuso per molto tempo. Con Andrew Lincoln che lascerà la serie, Negan sarà sicuramente un protagonista importante del nuovo arco narrativo.