L'ultimo episodio di The Walking Dead, la puntata 9×05, ha segnato come abbiamo visto l'addio di Rick Grimes. A essere più precisi si tratta di un arrivederci, in quanto Andrew Lincoln riprenderà il suo personaggio (presumibilmente per un'ultima volta) nel film su The Walking Dead in lavorazione.
Ma questa stagione non sarebbe stata ricordata solamente per l'addio del suo protagonista.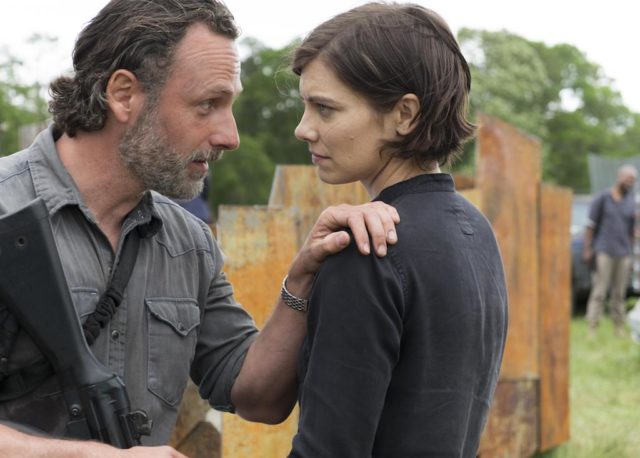 Come era infatti già noto da tempo, anche l'erede designata di Rick, Maggie (aka Lauren Cohan) avrebbe salutato. Le ragioni in questo caso vanno ritrovate un po' nel fatto di non aver raggiunto l'accordo salariale con la produzione, un po' per questioni legate alle motivazioni dopo tanti anni a girare per la stessa serie Tv. La Cohan si è infatti impegnata in un nuovo progetto, targato ABC, intitolato Whiskey Cavalier.
Quello che non potevamo minimamente immaginare, tuttavia, è che i due personaggi (e i rispettivi attori) avrebbero detto addio NELLO STESSO EPISODIO. La già famosa 9×05, infatti, ha rappresentato l'ultimo episodio anche per la Cohan. La qual cosa ha lasciato tutti di stucco proprio perchè non era ampiamente prevista, mentre per ciò che concerne Andrew Lincoln era stata preparata con ampio preavviso.
Le parole di Angela Kang, showrunner di The Walking Dead, sono tuttavia chiare:
«Questo per lei (Lauren Cohan ndr) è stato l'ultimo episodio di questa stagione»
Sappiamo che dal prossimo episodio per The Walking Dead comincerà un nuovo corso, contraddistinto anche da un salto temporale di circa cinque anni rispetto alla precedente puntata. La storia di Maggie quindi verrà semplicemente interrotta e conosceremo le ragioni del suo addio nella storia solamente tramite le parole dei suoi protagonisti.
Ma cosa può essere realmente accaduto al personaggio, visto che in The Walking Dead non ne viene fatta menzione?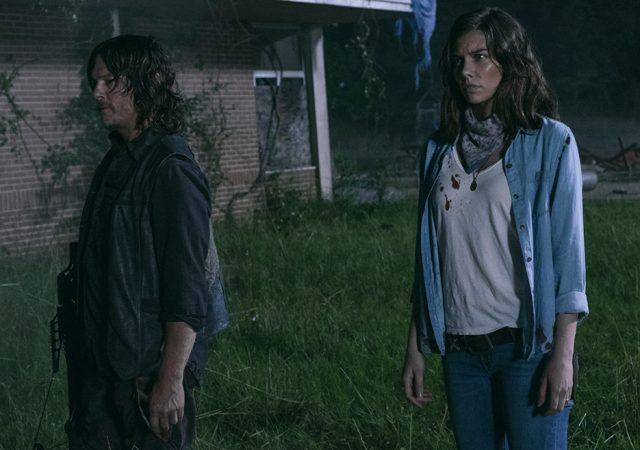 Secondo alcuni, Maggie non sarebbe affatto morta. Dopo aver rinunciato alla sua vendetta contro Negan avrebbe deciso di seguire Georgie (la misteriosa donna comparsa per la prima volta nella 8×12) che da tempo immemore cercava di annettere la Vedova al suo team. In tal senso un indizio prezioso ci è dato dal terzo episodio di questa stagione, allorchè veniamo a conoscenza del fatto che Maggie continua a ricevere messaggi dalla donna, intepretata da Jayne Atkinson.
A confermare, o meglio ad alimentare queste voci ci ha pensato David Madden, presidente della programmazione AMC:
«Spero che non sia l'ultima volta che la vedrete nello show, ma non è prevista in nessun episodio imminente. Tuttavia Angela e Lauren parlano. Sono in realtà molto amichevoli e ci piacerebbe vederla tornare. Molto di quello avrà a a che fare con Whiskey Cavalier e bisogna capire quale sarà la sua disponibilità. Ma creativamente, ci piacerebbe vederla tornare in una certa misura. E sentiamo sicuramente che c'è in ballo più della storia di Maggie da raccontare. Non abbiamo voluto ucciderla nella 9×05. Abbiamo stabilito che lei è là fuori da qualche parte. E questo è un vuoto che vorremmo riempire prima o poi, se il suo nuovo show lo consente»
Quindi, sostanzialmente, a causa del destino incerto dell'attrice è stato reso in certo anche il destino del suo personaggio. E per non saper nè leggere nè scrivere, la sua storia verrà semplicemente accantonata.
E allora prepariamoci, per il momento, a un nuovo The Walking Dead. Senza Rick e senza Maggie.
Leggi anche – The Walking Dead è risorto dalle sue ceneri. Ora non rovinatelo di nuovo