The Walking Dead è sempre in continua evoluzione, ma la notizia di stamattina è di quelle davvero clamorose [NON CONTINUARE A LEGGERE SE NON VUOI SPOILER SULL'EPISODIO IN ONDA QUESTA SERA IN ITALIA].
L'ultimo episodio di The Walking Dead con Andrew Lincoln è arrivato e se n'è andato con il suo personaggio Rick Grimes. Unica nota positiva è che la AMC ha scelto di non uccidere il personaggio di Rick Grimes, decidendo di mandarlo a bordo di un elicottero e recuperarlo da una terribile ferita.
Ci chiediamo, ora, che fine abbia fatto Rick, e forse, piano piano, avremo le dovute risposte. Unica certezza è che Rick non apparirà di nuovo nella serie The Walking Dead.  Ma, e questo non ce lo aspettavamo, riprenderà il suo ruolo in un film completamente dedicato alla serie!  A quanto pare, tutto partirà da dove l'abbiamo lasciato, raccontando la storia della scomparsa di Rick a bordo dell'elicottero con Jadis. Di dettagli ancora non ne abbiamo, ma sappiamo che ci sarà un elemento di fantascienza nei film e potrebbe portarci a degli aspetti dell'apocalisse strabilianti.
A questo punto possiamo gridarlo ai quattro venti: la storia di Rick Grimes non è finita!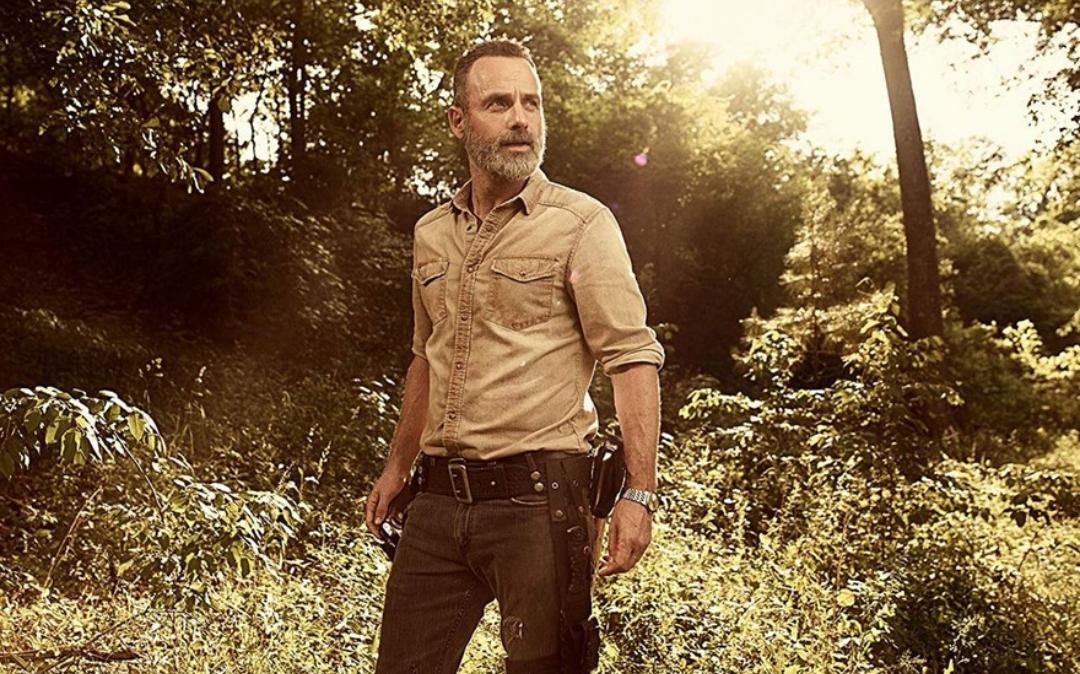 La AMC non vuole proprio staccarsi dal personaggio interpretato da Andrew Lincoln e ha dichiarato che, probabilmente, il progetto di produzione film potrebbe durare di più e vedere la creazione di più film legati allo show, probabilmente tre.
I film o il film, sarà scritto da uno degli autori della serie, Scott Gimple. L'autore ha rilasciato un'intervista a Entertainment Weekly, dichiarando un possibile inizio della produzione del primo film nel 2019:
«Vogliamo creare un'epica molto grande grazie all'aiuto di uno degli attori più rappresentativi della storia della tv. E una delle migliori persone mai incontrate. Ci stiamo occupando della prima parte dell'evoluzione della storia di Rick Grimes, ma molto altro ci aspetta, come le parti mai narrate nell'universo di The Walking Dead, che verranno esplorate, e volti del passato della serie. Ovviamente ci sarà spazio anche per nuovi personaggi, che speriamo possano piacere agli spettatori. Vogliamo esplorare un nuovo terreno con cose diverse, ma che fanno parte dello stesso mondo che ha catturato la nostra immaginazione nell'ultimo decennio". Ha poi continuato: "Walking Dead ha un sacco di grandi cose in corso, e continueremo a fare questo spettacolo. Inoltre, non dimentichiamo che sta volando su un elicottero, lontano dalla Virginia, e sarà un nuovo mondo, una situazione nuova con una sua storia, e sarà molto, molto diversa da quella che abbiamo visto prima…»
Inoltre ha aggiunto anche della possibilità di vedere altri personaggi, quali Michonne e Daryl.
Anche le ultime dichiarazioni di Lincoln al Comic Con di San Diego, lasciarono presagire qualcosa:
«La mia relazione con questa parte è tutt'altro che finita (…) Non dirò altro, ma dirò solo: 'Guardate questa stagione!'". Ha voluto poi concludere l'attore con una dichiarazione d'amore per lo stesso personaggio da lui interpretato e la voglia di non lasciare le cose a metà: "Una parte di me che pensava, 'Non penso di aver finito con questo ragazzo.' Adoro questo personaggio, amo il mondo in cui viviamo. Quindi, perché non proviamo a continuare potenzialmente questa storia in un modo diverso e magari a completare la sua storia?»