È divertente pensare a quanto sia fondamentale l'ambientazione nell'identificare una serie tv. Se Romanzo Criminale fosse stato girato a Milano, ad esempio, sarebbe stata una serie completamente diversa: sarebbero cambiati i nome dei personaggi, il loro modo di esprimersi e probabilmente anche il loro abbigliamento. Allo stesso modo anche The Walking Dead e il suo protagonista, Rick Grimes, sarebbero stati completamente differenti se la storia non si fosse svolta ad Atlanta.
Se la terribile apocalisse zombie di The Walking Dead fosse scoppiata a Napoli, come sarebbe stata la serie?
Il protagonista sarebbe stato sicuramente diverso dal vice sceriffo Rick Grimes (leggi qui tutti i dettagli sul progetto cinematografico dedicato a lui). Il commissario partenopeo si sarebbe svegliato in una fatiscente e abbandonata struttura ospedaliera della città dopo un lungo coma. L'uomo non si sarebbe particolarmente sorpreso per l'assenza del personale o per lo stato dell'ospedale, ma sarebbe rimasto piuttosto stupefatto dal grande silenzio che lo pervadeva. Quindi, dopo aver indossato gli abiti che aveva trovato in una stanza vuota, sarebbe sceso in strada per capire cosa fosse successo. Non è necessario che vi dica che il suo abbigliamento sarebbe stato diverso. Il cappello da cowboy avrebbe lasciato il posto a un berretto del Napoli e Rick avrebbe sicuramente indossato una camicia che avrebbe lasciato intravedere un Crocifisso dorato.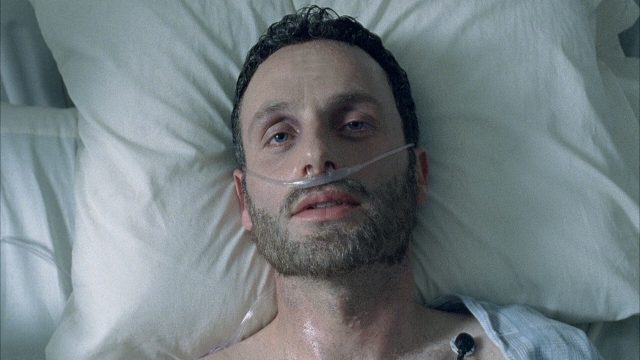 Il commissario Riccardiello detto Rick sarebbe arrivato a Corso Umberto e qui invece di trovare i suoi compaesani intenti a fare shopping vicino alle bancarelle dei venditori ambulanti si sarebbe imbattuto in un branco di zombie. A salvarlo sarebbe stato un ladro d'appartamento, O' Cinès, che gli avrebbe mostrato come arrampicarsi sul balcone di un palazzo per sfuggire al pericolo.
Poi attraverso vicoli stretti e bui lo avrebbe condotto fino alla Certosa di San Martino dove si erano rifugiati i sopravvissuti e dove Rick avrebbe incontrato la sua cara moglie Loredana e il dolce Carluccio. Insomma se Kirkman avesse ambientato la sua serie di fumetti nella ridente città campana, la storia di Rick Grimes sarebbe stata sicuramente diversa. Ma completamente differente sarebbe stato il modo di esprimersi del protagonista che avrebbe sicuramente pronunciato le sue più famose battute in dialetto (scopri qui 15 frasi in dialetto che abbiamo imparato grazie alle serie tv).
Abbiamo quindi tradotto le frasi di Rick Grimes nel dialetto napoletano, provando a immaginare come sarebbe stata la serie se lui fosse stato partenopeo.
1) L'utima vot' ch'aggia chiest nu' favore a San Gennàr e m agg' fermat in contemplazion, hann sparàt a figlim.
Sappiamo che Rick Grimes non era molto credente e aveva un rapporto molto conflittuale con l'Altissimo, ma se il personaggio fosse stato napoletano la situazione sarebbe stata diversa. Il commissario partenopeo sarebbe stato invece un cattolico devoto. Tuttavia dopo aver assistito a uno spettacolo così terribile e dopo essere stato costretto a fare qualsiasi cosa per sopravvivere, anche lui avrebbe perso la fede. Quando un poliziotto devoto a San Gennaro vede le persone trasformarsi in zombie e schiva la morte per poco, non può evitare di mettere in dubbio tutto quello in cui crede.