Carol Peletier è uno dei personaggi che abbiamo avuto modo di conoscere sin dai primi episodi di The Walking Dead. Quando l'abbiamo vista per la prima volta, tuttavia, non ci aspettavamo di certo che sarebbe diventata uno dei membri più forti di tutto il gruppo.
Carol ci viene infatti presentata come una donna debole, succube del marito che l'ha sempre sminuita e trattata con violenza. Paradossalmente, sarà proprio la morte dell'uomo a farle acquisire sicurezza.
Successivamente, la morte di sua figlia Sophia la segnerà inesorabilmente. Quest'avvenimento la porterà a trasformarsi per diventare, a poco a poco, una donna forte e indipendente che non ha bisogno della protezione di nessuno per sopravvivere all'Apocalisse zombie.
Carol sarà costretta ad affrontare diverse difficoltà nel corso delle stagioni di The Walking Dead. Dall'uccisione di Lizzie, alla morte del piccolo Sam, fino ad arrivare alla perdita di suo figlio adottivo Henry per mano della temibile Alpha.
Prima dell'arrivo di Alpha, tuttavia, Carol è sempre riuscita ad andare avanti. Ha affrontato a testa alta tutte le difficoltà che le si sono poste davanti e ha lottato da vera guerriera. Ciò che la farà realmente crollare sarà vedere la testa di suo figlio Henry infilzata su una picca.
Nella decima stagione la vediamo di ritorno da un viaggio in barca, dove sostiene di voler ritornare. Daryl tuttavia cerca di dissuaderla perché gli piacerebbe che la donna rimanesse con loro. Arrivati al terzo episodio, però, capiamo davvero che c'è qualcosa che non va con la donna. Carol infatti non riesce a fare a meno di alcune pastiglie e sembra non voglia dormire. Come se ciò non bastasse, ha delle visioni che le fanno perdere letteralmente il senso della realtà che la circonda.
Non riesce più a distinguere ciò che è vero da ciò che è falso. Quando prende in mano una fotografia che ritrae una donna e dei bambini, in realtà vede sé stessa circondata dai bambini che hanno fatto parte della sua vita e a cui si è affezionata. Sophia, Sam, Lizzie, Mika, Henry e la stessa Carol guardano all'obiettivo della fotocamera.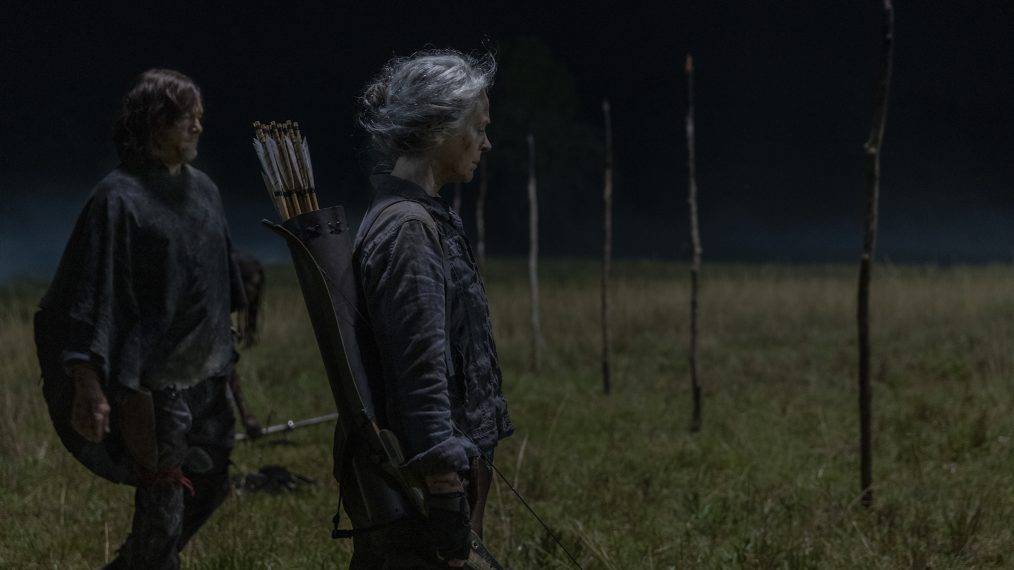 La nostra guerriera, dunque, sta crollando. Dopo aver resistito a tante sofferenze, noi speriamo davvero che non sia arrivata al punto di non ritorno. La showrunner di The Walking Dead, Angela Kang, ha dichiarato a tal proposito:
Per Carol la posta in gioco è così alta a causa di quello che è successo a suo figlio, e penso che in questo episodio quello che stiamo davvero vedendo – e Melissa McBride interpreta il ruolo così magnificamente – è solo la profondità del suo dolore, dolore che continua a tenere nascosto a tutto il resto del gruppo. E questo affiora in superficie in un paio di momenti davvero chiave, come quando è al confine con Alpha. Quando qualcuno soffre così tanto e ha un desiderio così ardente di vendicarsi, vuole vedere Alpha pagare per i suoi peccati, anche se ciò avrà un grande impatto su tutta la comunità in vari modi.
Sembra, dunque, che questa stagione ci metterà di fronte a una Carol Peletier arrabbiata, vendicativa e potenzialmente fuori controllo. Le visioni che abbiamo avuto modo di osservare nel terzo episodio (qui la nostra recensione settimanale) sembrano essere soltanto l'inizio dei problemi a cui andrà incontro il personaggio che tanto amiamo.
Come abbiamo visto, infatti, non ci ha pensato due volte prima di tentare di uccidere Alpha. Il dolore che la donna prova è talmente forte da rischiare di mettere in pericolo anche la comunità di cui fa parte. A nulla servono le parole di Michonne, che cerca di farla ragionare. Futile anche il discorso che le fa Daryl per cercare di farla dormire e smettere di riempirsi di pastiglie.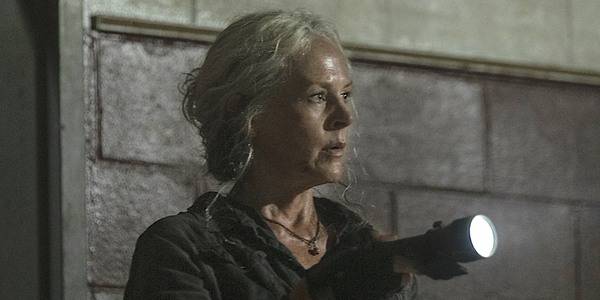 La Carol che conoscevamo non c'è più. Ha lasciato il posto a una donna che medita soltanto vendetta e che non riesce a vedere nient'altro se non la lotta contro colei che le ha portato via un altro figlio.
La vera domanda è: Carol riuscirà ancora una volta a riprendersi? O il baratro in cui sta lentamente scivolando è soltanto l'inizio della fine?