In The Walking Dead non è mai stato semplice distinguere i "buoni" dai "cattivi". Sin dall'inizio era chiaro che Rick, personaggio coraggioso e altruista, fosse il protagonista della serie. Di conseguenza, noi tutti ci siamo schierati immediatamente al suo fianco.
Con il passare degli episodi, tuttavia, la profondità dei vari personaggi ha iniziato a farci riflettere. Non c'era realmente una parte giusta e una parte sbagliata: c'erano soltanto persone che volevano vivere, o meglio, sopravvivere a una vera e propria Apocalisse. Abbiamo immediatamente identificato come "i buoni" del gruppo Dale e Glenn, giusto per citarne un paio che ormai ci hanno abbandonato da un po' di tempo.
Con altri, invece, non è stato così semplice: prendiamo lo stesso Shane, per esempio. Quando Rick era in coma, Shane non ci ha pensato due volte prima di prendere Lori e Carl e portarli con sé, cercando di agire in ogni modo possibile pur di tenerli in vita. Poi, con il ritorno del suo migliore amico, è arrivato anche il momento della sua rovina definitiva. Nonostante tutte le azioni sbagliate che il personaggio ha commesso, tuttavia, non siamo realmente riusciti a odiarlo (e non abbiamo mai accettato la sua morte). Ha finito col tradire i suoi stessi amici pur di ottenere un tornaconto personale. Ma come possiamo giudicarlo? In fondo, chi rimarrebbe sano di mente durante una vera e propria Apocalisse zombie?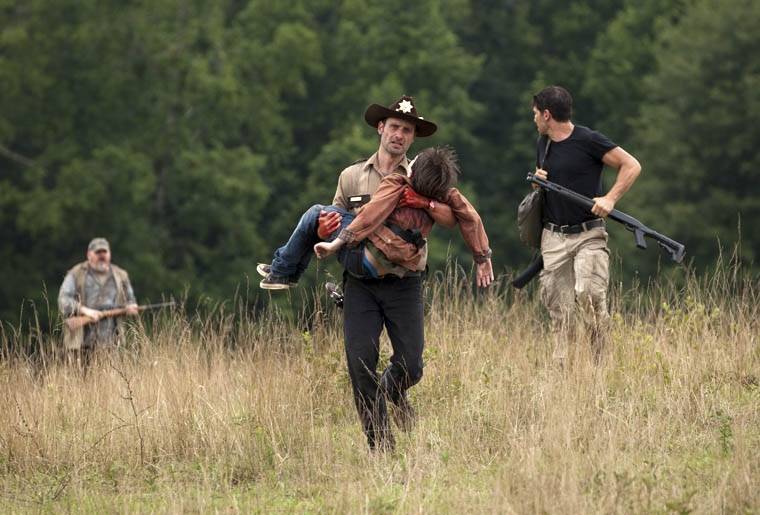 Uno dei personaggi che, nel bene e nel male, ha sempre agito solo e soltanto per salvaguardare il proprio gruppo è stato invece proprio Rick Grimes.
Rick, il padre e marito premuroso che subito dopo essersi svegliato dal coma si è ritrovato in un ospedale deserto e circondato da morti che camminavano. L'uomo coraggioso che ha affrontato di tutto pur di salvare, in più di un'occasione, le persone che amava.
Dalle trasfusioni di sangue per Carl quando quest'ultimo era stato accidentalmente colpito da Otis, al pregare Lori di tenere il bambino che portava in grembo pur consapevole che non fosse suo figlio. Con il passare del tempo, poi, anche gli altri membri del gruppo sono diventati una famiglia per il protagonista di The Walking Dead.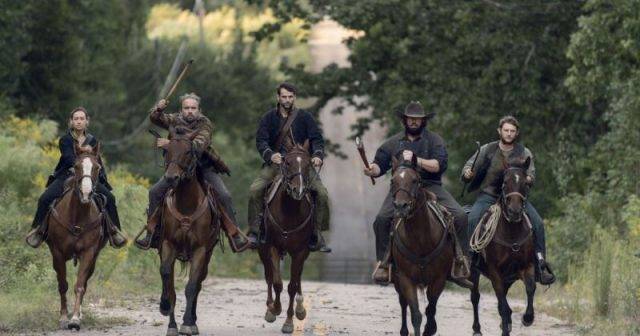 Nonostante avesse una moglie e due figli da proteggere, ha sempre agito in nome del bene comune. È passato dall'essere un semplice membro del gruppo a diventarne il capobranco: colui sul quale fare affidamento, l'uomo a cui dare ascolto in ogni occasione.
Rick Grimes ha portato tutti al centro di controllo malattie, ha mediato i rapporti con Hershel per rimanere alla fattoria, ha dovuto uccidere il suo migliore amico per la sicurezza di tutti.
Ha preso decisioni meditate e sofferte anche quando significava andare contro i suoi stessi amici, la sua stessa famiglia: tanto per citare un momento difficile per il leader, ha dovuto allontanare Carol quando quest'ultima aveva ucciso Karen e David per impedire che una malattia contagiosa raggiungesse troppi membri del gruppo. Carol, come ben sappiamo, era parte del gruppo sin dall'inizio e per Rick non è stato facile mandarla via. Nonostante il dolore, ha dovuto fare ciò che era meglio per il gruppo.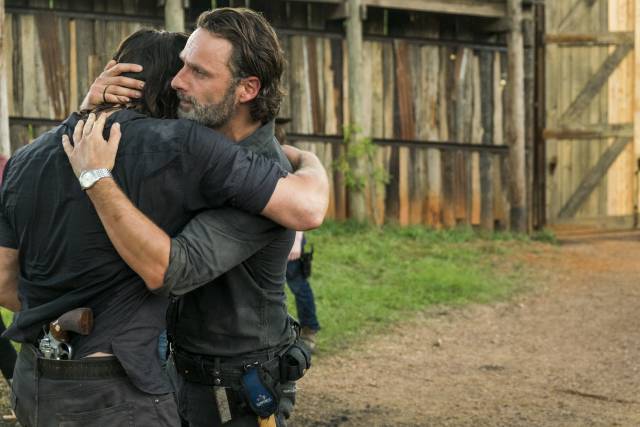 Ovviamente, essendo un essere umano, ha avuto anche alcuni momenti di debolezza. Alla morte di Lori, per esempio, abbiamo pregato che non perdesse completamente il senno. Le visioni di sua moglie e in seguito anche di Shane lo perseguitavano e non gli facevano avere la mente lucida. Nonostante ciò, è sempre andato avanti.
E ha continuato a comportarsi in questo modo fino all'ultimo momento. Ha pensato agli altri anche quando ha fatto saltare il ponte per impedire alla mandria di raggiungere la comunità.
Rick, nonostante tutto, ha continuato a essere un uomo coraggioso.
E l'uomo coraggioso cavalcò molto, molto lontano provando ad allontanare la mandria gigante. Ma dopo un po' il cavallo si spaventò e scappò, abbandonando l'uomo coraggioso. Così l'uomo coraggioso andò da solo verso il ponte che aveva fatto per i suoi amici, ti ricordi? Bene, i milioni di vaganti seguirono l'uomo coraggioso sul ponte, e dall'altra parte i suoi amici aspettavano. L'uomo coraggioso non voleva che i vaganti gli facessero del male, così fece esplodere il ponte e i vaganti caddero in acqua e lui salvò i suoi amici. Fine.
Leggi anche: The Walking Dead – Restiamo umani