L'episodio The Walking Dead 10×03 ci mette alla prova fin da subito. Si apre in maniera incalzante e prosegue in modo difficile da comprendere. All'inizio vediamo i nostri protagonisti risoluti e pronti ad affrontare la situazione che gli si sta ponendo davanti. Proprio come nei primi due episodi le comunità sembrano organizzate, forti. Ogni ora che passa, però, ci chiediamo cosa possa succedere in quella successiva. È esattamente l'intento degli autori: farci credere che succederà qualcosa che non riusciranno ad affrontare.
Quando si arriva alla quarantanovesima ora in cui Michonne crede di potersi concedere un po' di riposo, le pale del mulino e la musica sempre più coinvolgente segnano l'inizio del momento decisivo. Inizia, dopo una breve introduzione, l'episodio vero e proprio. Non è certo il momento di chiudere gli occhi. Solo i bambini possono, solo quelli piccoli, solo quelli che ancora non devono avere paura di addormentarsi come gli adulti.
L'affermazione di Gamma davanti ai cancelli di Alexandria ("non siamo noi") manda in confusione tutti gli abitanti, ma anche tutti gli spettatori. Durante la discussione comunitaria sul da farsi è difficile capire cosa pensare, quale posizione prendere. Lo è per Michonne che vorrebbe mantenere il controllo, che sa che la paura può uccidere più di una mandria di vaganti. Lo è per Siddiq alle prese con il suo stress post traumatico alla sola parola "picche" che preferisce allontanarsi per non destare sospetti. Lo è per chi vuole vendetta per i propri amici o parenti che non sa più aspettare. Lo è per Lydia che conosce sua madre, ha le risposte e vorrebbe ottenere un po' di fiducia.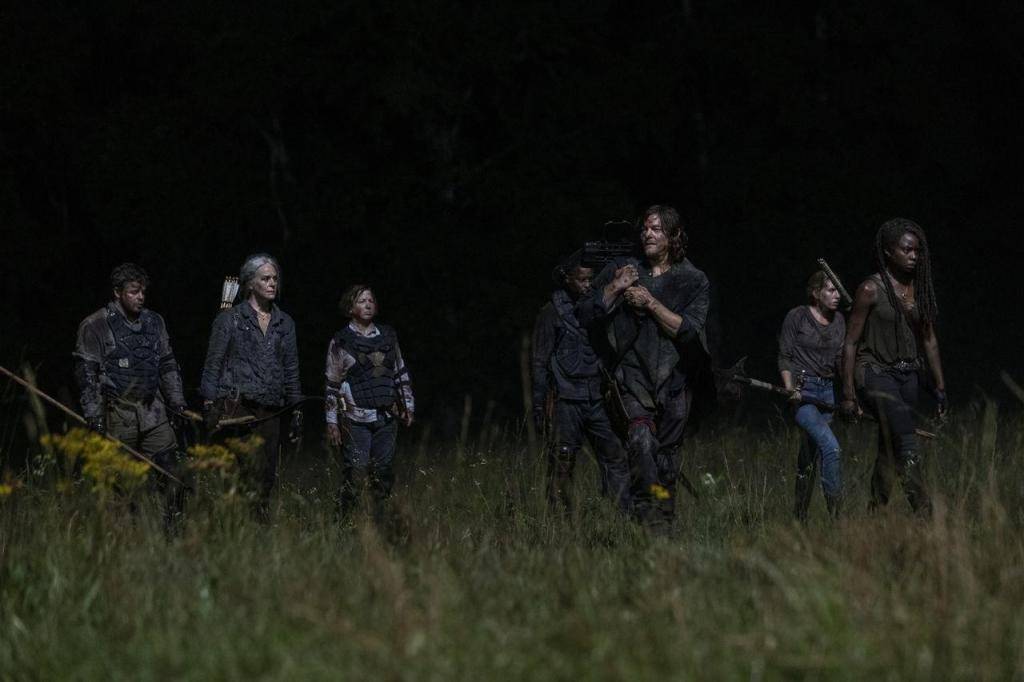 I Sussurratori sono una minaccia. La paura maturata per tutti i mesi nei loro confronti non ha fatto altro che aumentare rabbia, sensazioni confuse, false speranze, ricordi rancorosi. E' un po' come se Alpha avesse già vinto un'altra battaglia della guerra. Riesce a mandare una comunità in crisi facendo poco e niente. Riesce a insinuare il dubbio tra le fila dei leader senza averli neanche guardati in faccia. Riesce a mettere confusione nella mente di chi pensa di avere il controllo.
Michonne riesce a rispondere bene anche a questo colpo. Guida il gruppo dei combattenti prima e il gruppo decisionale poi. Sa cosa deve fare e non permette a stanchezza e paura di confonderle le idee. Sgretola immediatamente la convinzione di chi pensa di poter affrontare l'orda, pone un punto di arrivo lontano ma reale ("le cose peggioreranno prima di migliorare") e dona la soluzione ("non andremo da nessuna parte se non agiremo come un singolo individuo").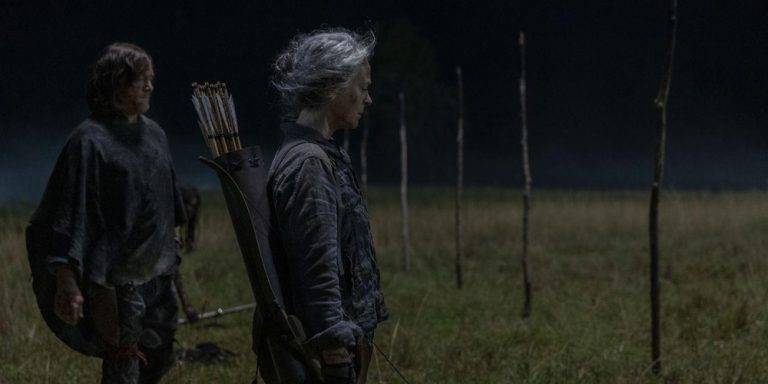 Michonne riesce a mantenere il controllo, al contrario di Carol che sembra averlo perso o che sembra volerselo tenere nascosto in un angolo profondo del suo cuore. Le pastiglie, il non dormire, il timer, è subito evidente che non stia bene.
Tutti sono stanchi, provati, ma alla fine sappiamo come funzionano queste cose nel mondo di The Walking Dead. Vince chi riesce a non farsi condizionare. Vince chi, come Daryl, ha imparato ad avere una buonissima dose di lucidità che lo spinge a ragionare molto prima di agire. Valuta ogni conseguenza prima di prendere una decisione e in questo modo riesce anche a trovare le parole giuste o i gesti giusti per stare davvero vicino alle persone che ama.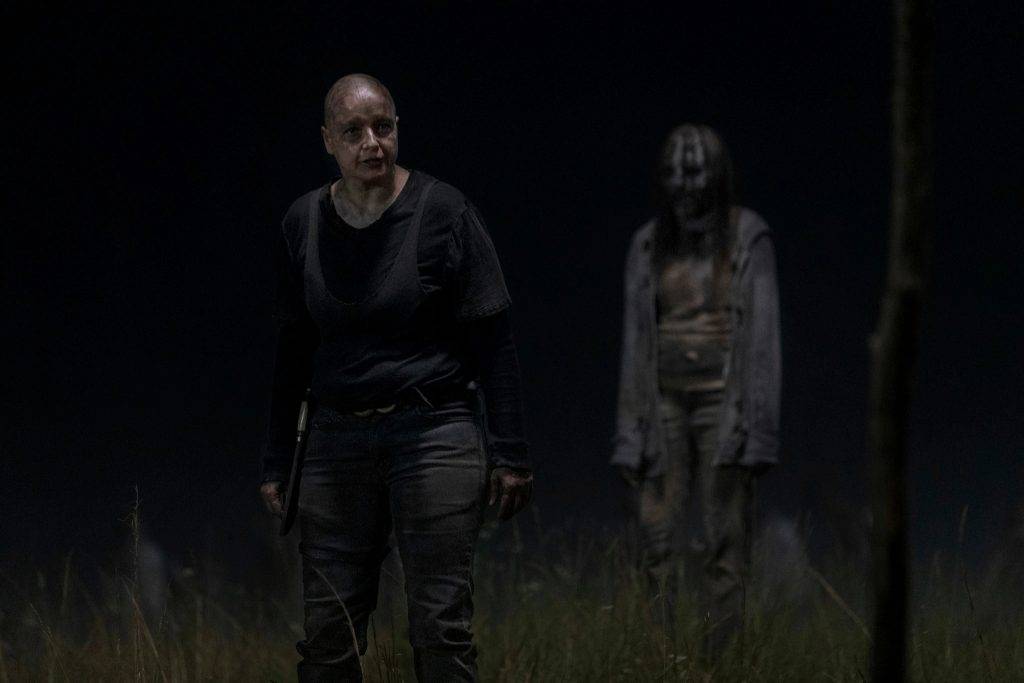 La decisione di Alpha di richiamarli al confine nord e di farli aspettare in compagni dei loro "fantasmi" è propedeutica all'agire sulla loro paura e sulla loro impotenza. Lei ha un'arma da cui non hanno la possibilità né di difendersi, né di scappare. Quindi non possono fare altro che obbedire e sottostare ad ogni sua volontà. Questo diventa anche evidente nel momento in cui viene a a galla che Alpha sa delle tre volte in cui il suo confine è stato varcato. Non le sfugge nulla, i suoi occhi sono ovunque e questo terrorizza ancora di più, soprattutto quando qualcuno infrange volontariamente le regole.
Chi prova ad uscire dagli schemi da lei tracciati deve essere punito. Chi perde la calma o cede alle provocazioni mette a rischio tutte le persone e tutto il duro lavoro fatto per tenerle al sicuro. Chi cerca di provocare per dimostrare qualcosa a se stesso, come Aaron, rischia di perdere qualcosa (la vista nel suo caso) in un mondo che gli ha già tolto fin troppo.
Guardarsi nel profondo, fidarsi delle persone che si hanno intorno, avere la forza di ammettere di non stare bene e di avere bisogno di aiuto sono le chiavi per rimanere "un singolo individuo" come dice Michonne. Così come dare una possibilità in più a chi faceva parte di un altro schieramento come in passato (Negan, Lydia). Non esiste altra strada. Se fai resistenza, rischi di sbagliare e ferire, proprio come Siddiq. Se riesci a guardarti allo specchio e fare un passo indietro, puoi trovare sia una strada da seguire, sia qualcuno che è in grado di seguirla con te.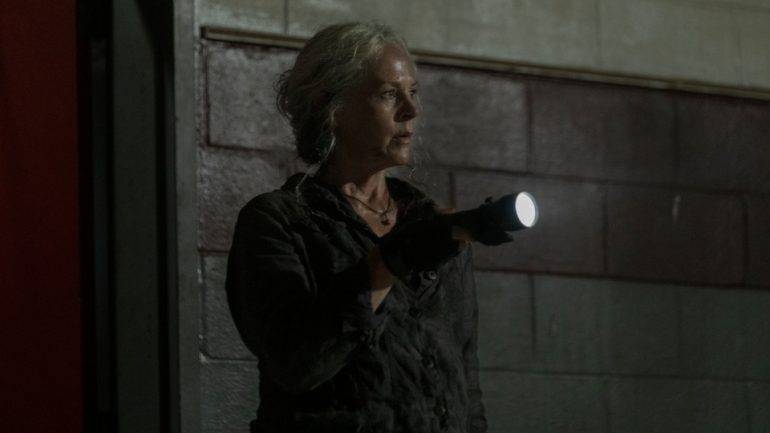 Negan, dopo l'ennesima prova di libertà andata a buon fine, aiuta Aaron ad affrontare il ritorno a casa, inteso come ritorno anche a se stesso. Viene provocato e messo in difficoltà, ma forse è vero che ha cambiato il suo modo di pensare e agire. Probabilmente ora Aaron ne sarà il testimone, perché lui stesso ha messo in dubbio le sue azioni (chi è il vero cattivo) nella prima puntata e l'ex capo dei Salvatori gli ha dato esattamente le risposte specchio del suo pensiero.
Il carisma paga anche in The Walking Dead. Dopo Negan, anche Michonne, da buona leader, accetta che Siddiq non sia pronto a parlare del suo demone e accetta che Carol debba essere aiutata e debba sapere la verità su ciò che sta vivendo ("li hai visti solo tu").
"Era il tipo da non arrendersi mai, fino a quando non l'ha fatto".
Dante in poche parole riassume tutto quello che potrebbe succedere ad ogni personaggio che sta affrontando i fatti reali, che non sta scappando. Ed è il modo migliore per chiudere la puntata, perché ci lascia una certezza.
Michonne torna da Judith. L'episodio si chiude esattamente come doveva chiudersi perché la famiglia è ciò che tiene in vita nel mondo di The Walking Dead. Ma è anche ciò che può trascinarti a fondo, per sempre.
Vi invitiamo a passare dalla nostra gemellata The Walking Dead ITA Family sulla loro pagina Facebook.
Non dimenticatevi di passare anche dai nostri amici di: Caryl Italia e Dwighty Boy – Austin Amelio Italia, The Walking Dead Italia, FIGHT the Dead. FEAR the living – The Walking Dead gdr
LEGGI ANCHE – Rick Grimes, l'uomo coraggioso