Ed eccoci arrivati alla fine della prima metà della nona stagione di The Walking Dead.
Questi primi otto episodi di The Walking Dead 9 sono volati, ma al tempo stesso l'obiettivo degli autori di far sembrare che siano passati anni è stato pienamente raggiunto. Rick Grimes non ci è mai sembrato così lontano, così irraggiungibile. Il suo sogno, dapprima non realizzato, poi costantemente in pericolo, sembra più un miraggio che una realtà da raggiungere. La sua famiglia tiene duro con ogni mezzo possibile, ma anche questa sembra una battaglia sempre più difficile da vincere.
The Walking Dead ci ha spesso abituati a nuovi nemici, personaggi che apparivano sempre con qualcosa di più folle rispetto ai loro predecessori. Shane, il Governatore, Gareth, Negan e ora … coloro che sussurrano e indossano gli zombie per confondersi tra loro.
"Stanno solo gironzolando, non è normale"
Ad aggiungersi a questo quadretto poco confortante ci si mette un altro pericoloso nemico che mai prima d'ora si era insinuato nel nostro gruppo. Una specie di guerra interna sembra logorare i nostri personaggi. Ancora non ci è dato sapere che cosa abbia reso i rapporti tra le comunità così freddi e statici. Ci viene fornito qualche elemento nei dialoghi tra Michonne, Siddiq e Carol ma per le vere spiegazioni dovremo attendere un paio di mesi.
"Sapevo che qui erano ancora arrabbiati con me, ma saperlo non lo rende più facile"

"Non ho scelto quello che ho scelto pensando che sarebbe stato facile. Mi odiano ma almeno sono ancora vivi"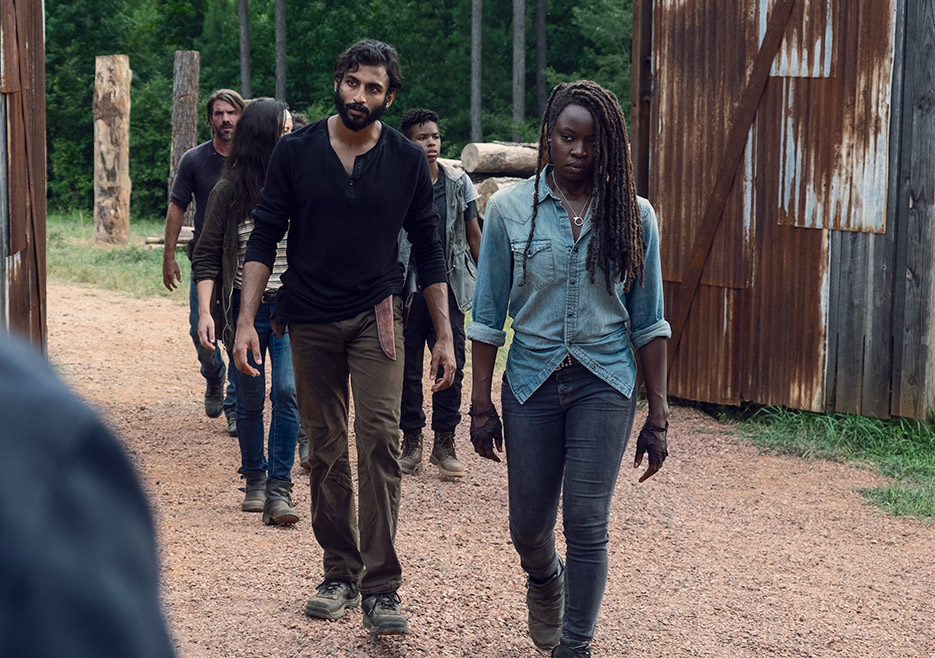 "Ci sarà un temporale"
All'inizio della puntata Daryl prevede il temporale serale. Quel temporale e quella frase enfatizzata non hanno altro che lo scopo di provare a prepararci psicologicamente a quello che potrà succedere. L'episodio di The Walking Dead comincia con una bella giornata di sole (il ritrovo del personaggi ad Hilltop, la missione condivisa della ricerca di Eugene, la proposta di Aaron a Jesus di accettare il suo ruolo di leader) in cui tutto potrebbe proseguire per il meglio.
Quasi immediatamente quell'armonia utopica viene spezzata da nuvole, nebbia, dubbi. La previsione di Daryl Dixon comincia ad avverarsi. I campi coltivati di Hilltop si svuotano all'arrivo di un allarme per persone conosciute e "fidate" che sono costrette ad entrare dai cancelli senza armi. Non ci si saluta, non ci si abbraccia. Tara è fredda, distaccata, fa ironia amara.
"Il vecchio gruppo è di nuovo insieme"
Michonne sorride spontaneamente alla vista di Carol, ma poi si gela di nuovo. Sembra non esserci più spazio per le emozioni, per i progetti comuni. Ognuno deve pensare ai suoi interessi o meglio agli interessi della comunità a cui appartiene. Tutto ciò che legava le persone (essere una famiglia, aver perso qualcuno ma voler costruire qualcosa di più grande) sembra essersi dissolto insieme al sole di quel possibile nuovo giorno.
Il Regno è il Regno. Hilltop è qui e Alexandria è lì. In mezzo c'è un grande mondo distrutto"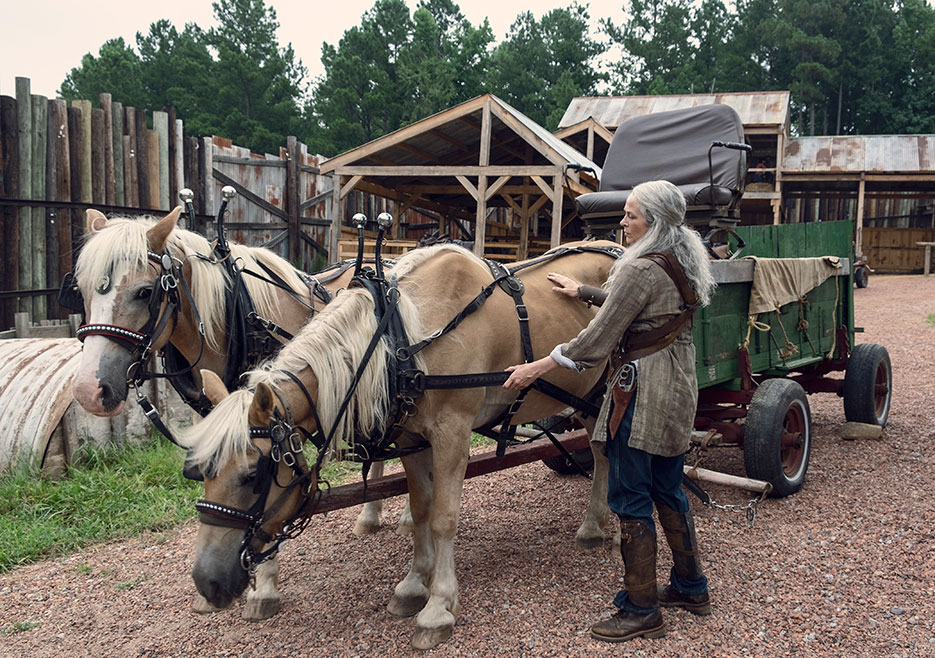 Alla fine della giornata la previsione di Daryl diventa reale e con lei arrivano la morte, il dolore e la sconfitta.
Questa "seconda parte di puntata" comincia con il risveglio di Rosita, impaurita e spaventata come non l'abbiamo mai vista.
"Qualunque cosa sia possono gestirla"

"No, non sanno di che si tratta"
E continua con la spiegazione di Eugene, ritrovato da Cane.
"Non era una mandria normale, stavano sussurrando tra loro"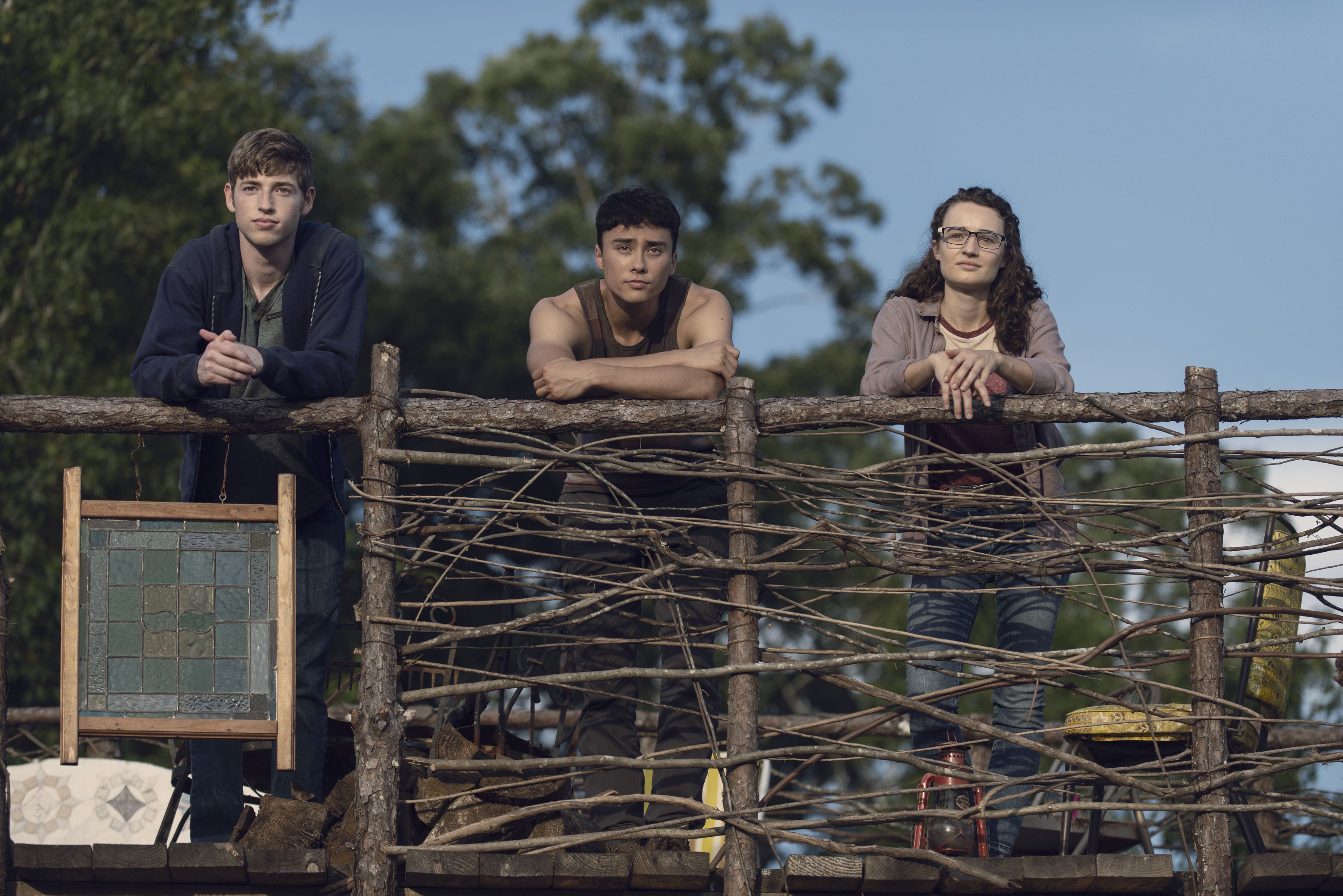 Ai "nuovi nemici" e ai problemi da loro derivanti si sommano, nel corso delle varie scene, l'uscita di prigione di Negan e le scorribande dei ragazzi di Hilltop (Gage, Rodney, Addy).
Gli adolescenti giocano con gli zombie, un po' come fecero Lizzie e Mika alla prigione. Henry (allora Carl) si fa strada tra di loro ("se dovessi spiegarlo non lo capireste") e mette fine a quella ridicola trappola. Il ragazzo non vuole deludere le persone che gli hanno dato fiducia e ha grandi aspettative dal suo inserimento ad Hilltop ma è pur sempre un giovane e, come tale, cade con ingenuità nella delusione amorosa e nel divertimento coinvolgente della "festa".
E' diverso dagli altri però. E' un ragazzo, ma è maturo. Carol si fida di lui e gli permette di compiere le sue scelte e i suoi sbagli, ben consapevole che se la caverà. Henry accetta infatti le conseguenze delle sue azioni e attende paziente di potersi rimettere in gioco.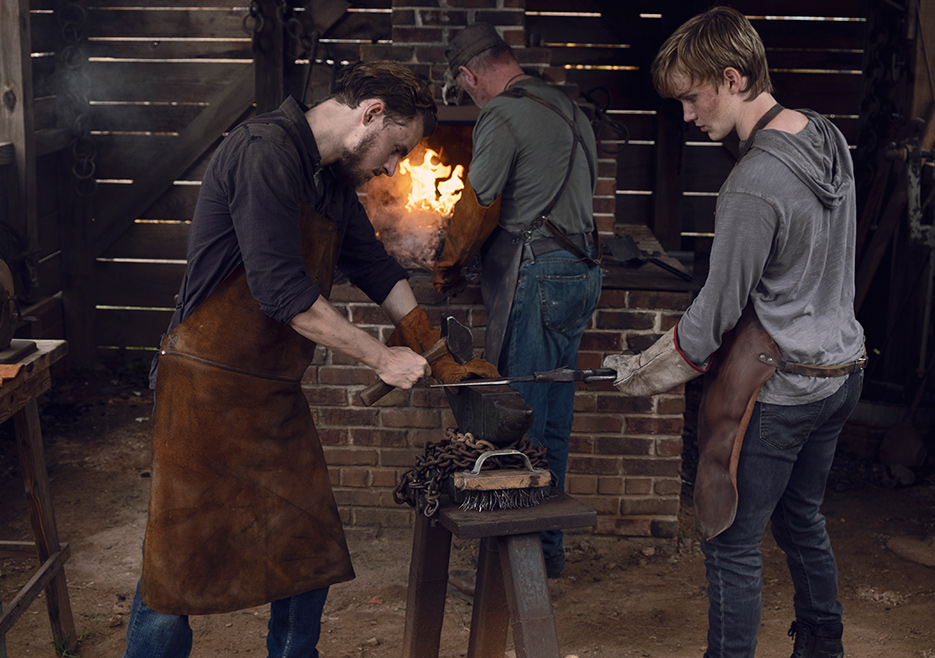 Ogni temporale ha la sua fine.
Ecco quindi che, nonostante le guerre interne e nuovi nemici all'orizzonte, anche in The Walking Dead riusciamo ad aggrapparci a qualcosa. In questo episodio in particolare la speranza è rappresentata dall'aiuto che Magna e i suoi uomini danno al cimitero.
"Cosa fate?"

"La nostra parte"
E' passato tanto tempo da quando i vivi dominavano il mondo e ora serve sempre più tempo per guadagnarsi la fiducia dei pochi umani rimasti. A Michonne serviva l'ennesima prova della loro fedeltà e quella prova è arrivata proprio al momento giusto.
"Siamo più forti insieme"
Un altro segnale arriva da Alexandria. Negan trova la porta della cella aperta e dopo così tanto tempo si può dedurre che essa non sia rimasta socchiusa per caso. Qualcuno avrà pensato (come nel caso di Eastman con Morgan) che era arrivato il momento della verità anche per l'ex leader dei Salvatori. Dentro o fuori, alleato o nemico. Basta mezze misure.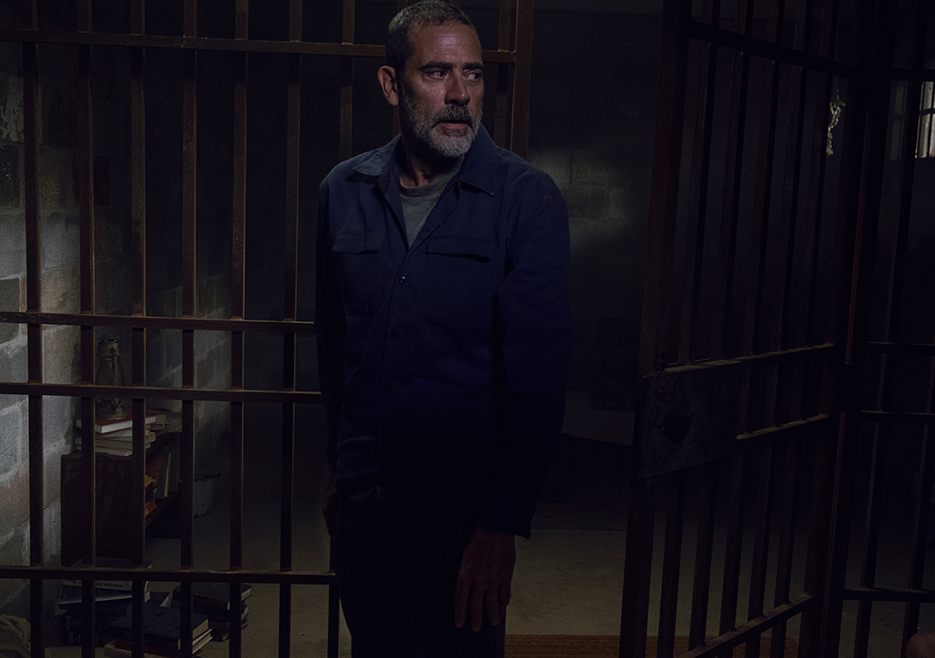 "Tu sei in un posto che non ti appartiene"
La sequenza finale ci riporta all'interno del temporale di cui parlava Daryl.
Le speranze ci sono e la morte deve essere un motore per coltivarle. Fino a che questo non sarà possibile i vivi, o meglio le persone che vogliono costruire un mondo migliore, saranno sempre nel posto sbagliato e non avranno possibilità di vittoria.
Il mondo appartiene ai morti che camminano. Ora più che mai.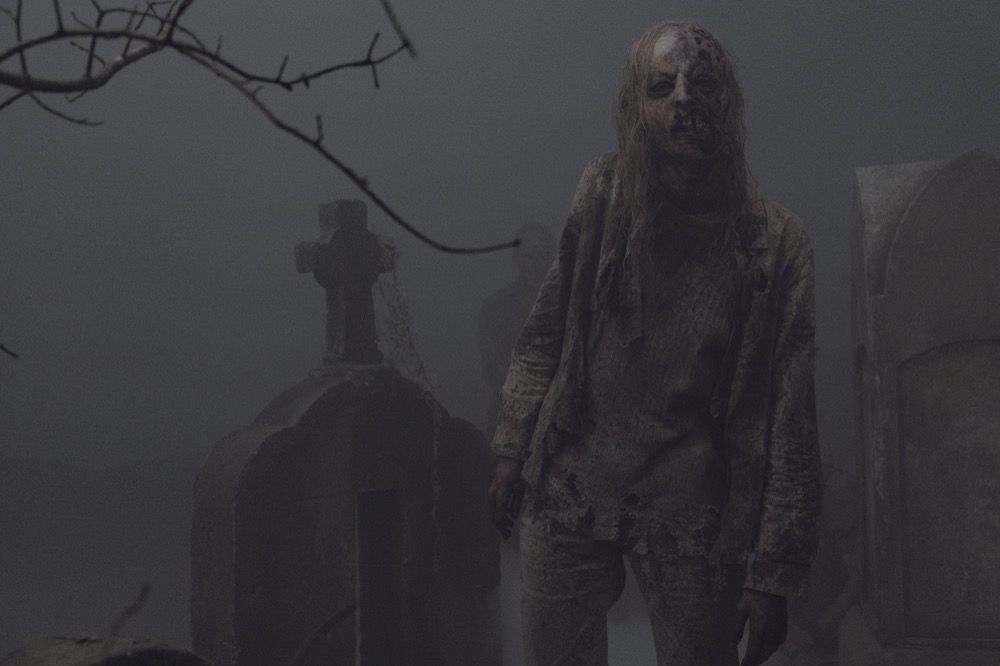 Prima di salutarci, vi invitiamo a passare dalla nostra gemellata The Walking Dead ITA Family. Sulla loro pagina Facebook troverete anche il promo sottotitolato!
Non dimenticatevi di passare anche dai nostri amici di:
Caryl Italia e Dwighty Boy – Austin Amelio Italia
FIGHT the Dead. FEAR the living – The Walking Dead gdr