"..And I had pure potential and a soiled white shirt
With love enough to kill me but was unsure of its worth
And though the night is sweetened by some rising of the moon
I've lived enough to know the battle's never through.."
Inizio la recensione nello stesso modo in cui si è aperta la puntata: una canzoncina dal ritmo allegro e spensierato che però, come al solito, non è messa lì a caso. Ho scelto quella citazione per raccontare la prima scena incentrata su Carol: la spesa in dispensa, la raccolta delle ghiande, il timer per il forno e la cucina in piena modalità "preparazione biscotti". Il tutto è ovviamente contrapposto allo zombie e alla camicia sporca di sangue (soiled white shirt) che, però, non cancellano il ritmo e il sorriso della nostra protagonista (but was unsure of its worth), decisa a fare il possibile per contribuire al sostentamento di Alexandria.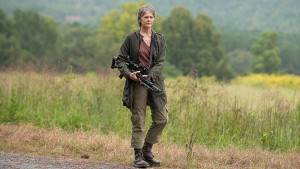 Questo focus iniziale su Carol, assente nelle ultime due puntate, ha lo scopo di regalarci una visuale sul suo nuovo piccolo mondo e sulle sue battaglie personali. Esattamente come per Abraham la scorsa settimana, i pensieri di Carol fanno da sfondo generale di tutto l'episodio. La vediamo cucinare e sorridere spensierata, fare la "mamma" di Alexandria. Poi però la vediamo svegliarsi nel cuore della notte per aggiornare un inquietante conteggio su un diario rinchiuso in un cassetto: i nomi delle persone che conosceva che ha ucciso (Karen, Davide, Lizzie), seguiti dal numero di vittime in altri contesti (Terminus, Lupi) di cui nemmeno sapeva il nome, per un totale di 18 vite umane. La vediamo cominciare a fumare poco tempo dopo aver pregato la sua compagna di dispensa Shelly di smettere, perché quell'abitudine l'avrebbe uccisa. La vediamo portare un biscotto sulla tomba di Sam e aprirsi a Tobin, preoccuparsi per Maggie ed imporsi su di lei. La vediamo affrontare i suoi fantasmi che hanno mille facce e sfaccettature e rimanere forte e solida come una roccia, come la donna forte che è diventata.
La sua essenza sta proprio nella frase: "I've lived enough to know the battle's never through" (ho vissuto abbastanza per sapere che la battaglia non è finita).
E' più o meno quello che Rick cerca di trasmettere a tutti in chiesa, quello che il suo gruppo sa: "ne abbiamo viste fin troppe per pensare di ignorare il problema".
L'episodio di questa settimana è un punto di svolta. Un ENORME punto di svolta. La resa dei conti per quasi tutti i personaggi.
Rick, il suo gruppo, Morgan, gli abitanti di Alexandria e i rappresentanti di Hilltop devono prendere una decisione basandosi su alcuni elementi.
Sanno chi è Negan: un uomo che per farsi rispettare picchia a morte un ragazzo di 16 anni. Sanno chi sono i Salvatori: seguaci di Negan che terrorizzano con la forza persone più deboli, si impongono su di loro, ricattano, minacciano fin che possono ricavare qualcosa, poi uccidono senza scrupoli. Sanno che cosa hanno fatto a Hilltop e cosa stavano per fare a Daryl, Sasha e Abraham.
Questi sono i fatti.
Rick prende parola e, senza troppi giri, sintetizza la situazione: "li uccidiamo prima che ci trovino, instauriamo un buon rapporto con Hilltop e sopravviviamo al meglio sostenendoci a vicenda".
E' macabro quanto indispensabile, triste quanto necessario.
L'unico ad opporsi è Morgan che cerca di fare leva proprio sulla sicurezza di vittoria del gruppo. Nessuno, però, è disposto a dargli ragione, anche se in fondo, una parte del cuore di tutti i presenti vorrebbe proprio fare come suggerisce lui. In quei tutti ci metto anche Rick, che non uccide chiunque solo per paura o freddezza, ma che ha imparato a distinguere le illusioni dalla realtà e ne sono testimonianza vivente molti dei presenti nella chiesa.
Nessuno sostiene Morgan. Aaron si alza per Rick e dà voce agli altri: "quello che è successo con i Lupi non deve succedere con nessun altro".
La decisione è presa: il massacro ai Salvatori ci sarà, perché "è così che mangeremo".
Dopo la sentenza gli autori ci mettono davanti tanti punti di vista, tanti piccoli spunti di riflessioni per aiutarci a ragionare e crearci una nostra opinione.
Sono vari, disparati ed espressi in modo diverso ma tutti riassumibili nelle parole di Rosita:
"A nessuno piace uccidere, succede e basta".
Ed è così. A nessuno del gruppo piace farlo, nessuno è così inumano da amare l'omicidio e da provare gusto nel farlo. C'è chi ormai ha sviluppato una certa freddezza nell'assassinio, chi ha imparato ad accettarlo col tempo, chi ancora non sa come comportarsi a riguardo, chi lo teme e chi ne farebbe volentieri a meno, MA E' COSI', SUCCEDE E BASTA, BISOGNA FARLO E BASTA.
Aaron l'ha capito durante l'attacco dei Lupi, dove ha visto gente massacrata gratuitamente e senza motivo da persone logorate mentalmente dal nuovo mondo. Tara lo ha già fatto alla prigione e se ne porta ancora dietro il rimorso e la brutalità, ma sa che è indispensabile. Maggie ha già ucciso a Woodbury e si sente responsabile della decisione del gruppo, per questo non si tirerà indietro. Rosita non teme la sua posizione, sa quello che bisogna fare per proteggere le persone che ama ed è disposta a farlo senza farsi troppe domande. Gabriel ha capito che le sue convinzioni non sono più applicabili ormai e rivede la sua posizione. Glenn e Heath, che non hanno mai ucciso, riconoscono di essere stati molto fortunati fino a quel momento, perché non hanno mai dovuto farlo. Carol sta ancora combattendo con i suoi sensi di colpa, si segna il numero delle persone che ha ucciso sul suo cammino, le stesse persone che non la fanno più dormire la notte, le stesse persone che sono morte per consentire a lei e agli altri di avere una possibilità di vita in più.
E' così. E' la resa dei conti. Ognuno deve prendere la sua decisione, deve capire qual è il suo posto.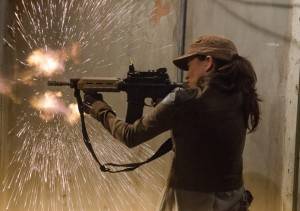 Per questo alcuni, anche se amareggiati, partono e altri, come Tobin, ammettono di non volerlo fare. Per questo, come afferma Rick, non tutti sono costretti ad uccidere, ma chi sceglie di non farlo deve capire la necessità del gesto. Per questo Glenn riesce ad uccidere per la prima volta e decide di risparmiare il gesto a Heath e, per questo, Padre Gabriel preme il grilletto pronunciando un passo della Bibbia.
Uccidere persone nel sonno, tagliare gole e piantare coltelli nel cranio è un massacro, è un gesto estremo, è un punto di svolta per tutti i membri del gruppo.
Ma c'è di peggio.
Ancora una volta tutto ciò che i nostri protagonisti fanno è niente in confronto a ciò che ci viene mostrato dei Salvatori. Essi richiedono la testa di una persona innocente e, una volta ricevuta, ci giocano e la scherniscono. Liberano il prigioniero, ma esso è visibilmente torturato, dormono in pace con sé stessi sotto foto che ritraggono persone con il cranio sfondato (Lucille is coming) e sono disposti a sacrificare una persona solo per spedire una radiolina.
Il nostro gruppo invece, anche nelle situazioni più estreme, ha sempre dato un'opportunità a chi gli andava contro. Al Governatore diedero ripetutamente la possibilità di arrendersi; non restarono a Terminus per uccidere i superstiti e gli diedero la possibilità di non rivederli mai più e al Grady Memorial si accordarono per uno scambio senza vittime. Pur nei loro gesti estremi, perché di questo si tratta, Rick e i suoi sono elevati dal punto di vista morale perché nonostante tutto non sono mai arrivati al livello dei Salvatori e di Negan, né al livello dei cannibali e degli arcieri. Hanno toccato il fondo, Rick in particolare con Joe e Gareth, ma sono arrivati ad un equilibrio che gli permette di uccidere solo quando necessario e, di sicuro, di non trarne divertimento o piacere.
Non è un caso che nella stanza con le foto delle persone massacrate capitino proprio Glenn e Heath.
"Hai mai visto qualcosa.. e poi tu non volevi più dormire e non avevi fame perché ogni volta che chiudevi gli occhi lo vedevi? E quando provavi a mangiare..?"
Quello che si erano detti durante la ricerca dello zombie che assomigliasse a Gregory, sembra voler riemergere proprio mentre i loro sguardi si posano su quelle immagini così devastanti.
"Uccidere qualcuno deve essere ancora peggio. Ne sono certo" ha detto Glenn. E peggio del peggio c'è solo l'uccidere qualcuno in quel modo così brutale, uccidere qualcuno solo per il gusto di farlo, uccidere senza nemmeno concedere una possibilità.

Quando l'assalto alla base dei Salvatori termina, tutti hanno la sensazione che sia finita troppo bene e troppo facilmente. Infatti non è così. In sella alla moto di Daryl compare un altro uomo che è mandato a morire con il solo scopo di consegnare una radiolina.
Una donna tuona dall'apparecchio una frase con una nota molto famigliare: "abbassa la pistola coglione". Sembra quasi volerci ricordare un "sì tu, dentro il carro armato, coglione" di Glenn nella prima stagione. Le sue intenzioni allora erano più che buone, mentre quello che sappiamo ora è che lo scontro con i Salvatori non è finito, che Maggie e Carol sono nelle loro mani e che Negan deve ancora fare la sua apparizione.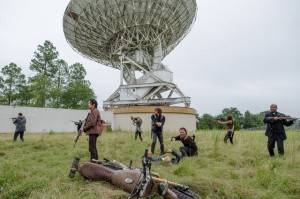 Concludo citando la seconda e ultima canzone della puntata, anche questa molto espressiva e precisa.
"..When I was a child, I heard voices…
Some would sing and some would scream
You soon find you have few choices..
I learned the voices died with me..
All you have is your fire…
And the place you need to reach
Don't you ever tame your demons
But always keep them on a leash.."
Il testo ha molta forza e per il momento che vivono i nostri personaggi è più che adatto. Il messaggio "presto capisci che hai poche scelte" è perfettamente riferito a tutto il tema della puntata e si fonde con il ritornello che cita: "tutto ciò che hai è il tuo fuoco e il posto che hai bisogno di raggiungere. Non domare mai i tuoi demoni, ma tienili sempre a bada".
Un salutone ai nostri amici di:  The Walking Dead Italia, The Walking Dead ITA, Caryl Italia, TWD – Am I the only one Zen around here? Good Lord