3) Ezekiel e Rosita Espinosa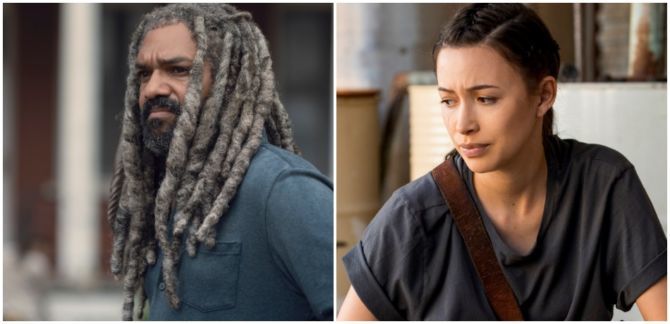 Ora, nella serie tv non ci asiamo ancora arrivati, per cui dobbiamo attendere la ripresa di The Walking Dead il 10 febbraio per sapere le sorti di Ezekiel e Rosita Espinosa sul piccolo schermo.
Sappiamo benissimo, però, ciò che accade ai due personaggi nel fumetto.
Alpha, la spietata leader dei Sussurratori che hanno fatto la loro comparsa nel mid-season finale, coglie l'occasione della fiera per attuare la sua vendetta nei confronti della comunità di Rick. Le teste di Ezekiel e Rosita infatti spiccano su picche che delimitano un perimetro che gli abitanti di Alexandria non dovranno mai superare.
Li decapita durante un momento di debolezza, quando le difese sono abbassate, dopo averli sorpresi, appunto, durante la fiera.
Ancora non sappiamo se questa sarà la fine anche per la versione televisiva di questi due personaggi di spicco, ma, se a loro verrà assegnato il destino di Glenn, la ripresa di The Walking Dead sarà a dir poco sensazionale e cruenta.