# #
4) Storie d'amore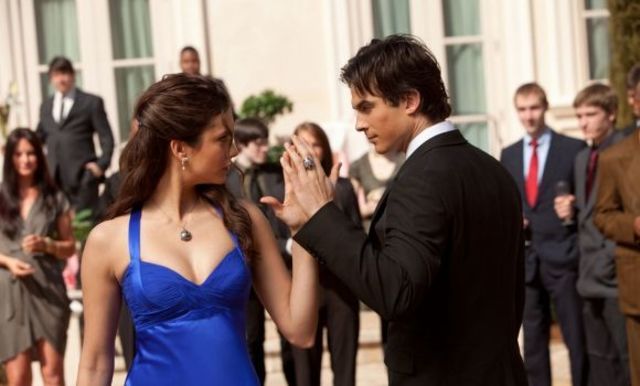 Inutile nasconderlo, tutti noi, anche quelli che si fingono più duri, nascondono nel profondo del proprio cuore uno spirito da romanticoni. Molti di noi si sono emozionati vedendo sullo schermo le scene d'amore di Elena e Damon in The Vampire Diaries e si sono commossi assistendo al primo attesissimo bacio di Elijah e Hayley in The Originals. Tra le tante coppie presenti nello show, sono sicuramente queste le due più coinvolgenti e appassionanti. Ma, nonostante l'amore che proviamo per entrambe, una di queste coppie è riuscita più dell'altra a far palpitare i nostri cuori. L'amore impossibile Di Elijah ed Hayley, le buone maniere di lui, il loro prendersi cura dell'altro, ci hanno fatto senza dubbio sognare e desiderare di vivere una storia che fosse anche solo un po' simile alla loro: ma tutto questo è nulla di fronte alle emozioni che Elena e Damon riescono a trasmetterci attraverso lo schermo. I due sono passione pura, sono l'uno il completamento dell'altro, insieme rendono perfette tutte le loro imperfezioni.
# #
Ma sai cosa sono in realtà… sono un egoista. Prendo delle decisioni sbagliate che ti feriscono. Sì, preferirei morire piuttosto che diventare umano, preferirei morire adesso piuttosto che passare un po' di anni insieme a te solo per perderti quando sarò vecchio e malato e tu no. Preferirei morire in questo momento piuttosto che passare i miei ultimi anni a ricordare quanto stavo bene e quanto ero felice. Perché è così che sono fatto Elena e non posso cambiare, e non c'è scusa al mondo che racchiuda tutti i motivi per cui è chiaro che sono quello sbagliato per te.
Con questo discorso Damon dichiara il suo amore a Elena, mostrandosi in tutta la sua profondità, mostrandoci come, nonostante sappia di non essere la persona giusta per la ragazza, l'amore che prova è troppo forte per poter essere contrastato. Questa non è la storia di un amore perfetto, banale, semplice: è un amore vero e come tale è complicato e difficile. Amarsi richiede impegno, può provocare dolore, può far stare male e questo i Delena lo sanno bene.
Ma l'amore rende anche vivi: Elena ne è conscia, grazie a Damon riesce a superare il trauma dell'essere diventata una vampira, tornando a sentirsi viva perfino nella morte.
# #
Va bene, allora non dispiace neanche a me. Non mi dispiace di averti incontrato, non mi dispiace il fatto che conoscerti mi abbia fatto riflettere su ogni cosa e che da morta sia stato tu più di chiunque altro a farmi sentire viva Tu sei una persona orribile, hai preso tutte le decisioni sbagliate e di tutte le scelte che ho fatto questa sarà di sicuro la peggiore ma a me non dispiace di essere innamorata di te.
Nessuna storia d'amore può vincere il confronto contro di loro, ed Elijah e Hayley, così come le altre coppie presenti in The Originals, non fanno eccezione.
È dunque il turno di The Vampire Diaries di vincere il suo primo punto nella nostra sfida.