"Credi che lo scambierebbe con un altro?", "Sì, credo che preghi per questo ogni giorno". Vogliamo iniziare così questa recensione di The Romanoffs. Col passaggio che vede contrapposti Anka e Joe nella scena clou della puntata. I due hanno intrapreso un viaggio transoceanico per adottare un bambino. Sono arrivati fino in Russia, nel recesso più sperduto al confine con la Corea del Nord. Nella grigia e degradata Vladivostok.
Il perché abbiano deciso di spingersi fino a quel luogo non ci è chiaro. Non all'inizio, almeno. Ma durante quello scambio di battute con cui abbiamo aperto la recensione tutto viene svelato. Anka non può avere figli. Ha provato disperatamente ma senza successo. Desidera ardentemente un bambino ma lo fa nel modo sbagliato. Emerge così la discrasia, l'insolubile distanza tra l'amare e il voler amare.
Anka non sa amare.
Il suo più che un desiderio è un bisogno capriccioso, ostinato, egoista. Vuole un bambino. Lo vuole per sé. Come fosse un trofeo da esporre ad amici e parenti. Vuole un erede, un Romanov. Un biondo, forte figlio simbolo del suo nobile retaggio. Per Anka quell'adozione è solo una compravendita, una disperata compravendita in cui avrà quello per cui ha sempre lottato. Un bambino "sano".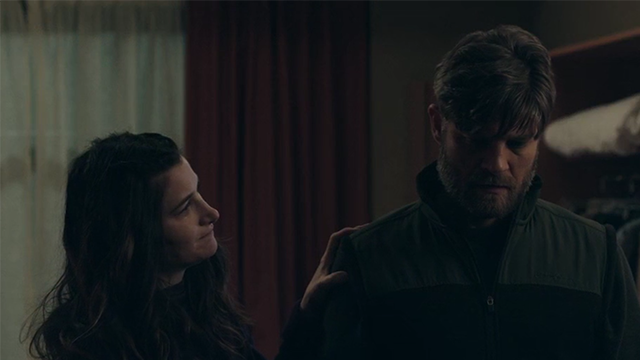 Senza esitazione, a un esterrefatto Joe confessa che avrebbe abortito se mai fosse riuscita ad avere un figlio ma fosse risultato affetto da disabilità. Come abbiamo ricordato più volte, essere un Romanov significa correre il rischio di aggrapparsi a una supposta superiorità di sangue. Barricarsi dietro il vuoto valore della nobiltà, dietro visioni retrograde.
Così era stato per Anushka nella 1×01 di The Romanoffs. L'anziana era però riuscita a liberarsi delle stantie idee in cui si era rintanata per troppo tempo. Aveva aperto le porte della sua polverosa casa e finito per riscoprire una nobiltà nuova, quella del cuore e dello spirito.
Lo stesso accade per la stragrande maggioranza dei protagonisti di The Romanoffs che riescono a riscattare gli errori degli avi e riattualizzare in positivo il nome della casata. Non è qualcosa di scontato, però. Nella 1×02 Micheal si era confermato egoista e inetto. La conclusione aveva premiato solo la moglie, liberata, finalmente, dai legacci familiari. Ora, in questa nuova dinamica matrimoniale, si registra il secondo fallimento per un Romanov.
Anka, è vero, a fine episodio avrà la sua bambina "sana" ma risulterà sconfitta.
Perderà la possibilità di amare davvero. Perché l'unico modo di amare è incondizionatamente. E questo Anka non lo capirà mai. Perché ha costruito il suo amore su una transazione, sulla scelta del bambino più sano, più bello, più affettuoso. Ha restituito, come fosse un prodotto difettoso, la bambina che le era stata affidata.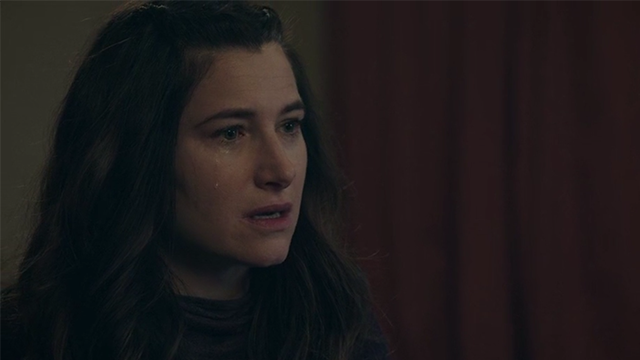 Joe questo non può accettarlo. Lui che ha vissuto le stesse difficoltà della moglie, le stesse rinunce, la stessa sofferenza. Lui che ha vissuto un abbandono in tenera età sa, più di chiunque altro, cosa significa amare e voler essere amati. Il suo è un amore assoluto. Un amore che non guarda in faccia alla sofferenza.
Il suo è l'unico amore possibile, quello che prescrive sacrifici, rinunce, sofferenze. Sacrifici, rinunce, sofferenze "felici" perché affrontate con la spinta di un sentimento autentico. Un sentimento che passa dal donarsi all'altro, costi quel che costi. "No matter what". Lo ripete ossessivamente Joe alla moglie. No matter what. Costi quel che costi.
"Credi che lo scambierebbe con un altro?", Anka si sbaglia. Sua cugina, la protagonista dello scorso episodio di The Romanoffs, non avrebbe mai rinunciato a suo figlio. Non avrebbe mai voluto "cambiarlo". Perché Victoria sa cosa significa amare. Sa che nonostante tutti i soldi, le false speranze e i momenti di sconforto, quel figlio è ciò che di più caro potrebbe avere. Quel figlio, ogni giorno, ogni istante, le permette di amare. Non è mai faticoso amare. Anche quando potrebbe sembrarlo. Perché l'amore permette di perseguire e raggiungere la propria umanità più piena attraverso il sacrificio all'altro. Per mezzo di un donarsi senza condizioni.
Ma questo Anka non lo sa, non può saperlo. La sua aridità interiore non le permette di vedere la bellezza dell'affetto materno.
Non le permette di conoscere l'amore incondizionato. Joe si allontana da lei. Finisce per le gelide strade di Vladivostok inseguendo un cane randagio che sfugge alle sue carezze. Alla fine accetterà di tornare in America con la moglie e con una bambina sana. Ma il suo pensiero sarà altrove. In sottofondo la bellissima Just the Way You Are di Billy Joel. "Così come sei". A ricordarci che l'amore non guarda alla bellezza. Alla salute. Alla razza. L'amore è amore vero solo quando accetta l'altro così com'è.
Joe ama. È diventato padre nel momento stesso in cui ha stretto nelle mani per la prima volta quell'apatica bambina russa. E ora ripensa a lei. A quell'esserino lasciato indietro. Rifiutato e rigettato perché "non conforme". In cuor suo non potrà mai farsene una ragione. Perché un padre non può dimenticare sua figlia, neppure dopo averla abbandonata.
La 1×07 di The Romanoffs si conclude così, lasciando tutto in sospeso. Ma in cuor nostro sappiamo. Lo sappiamo davvero. Siamo certi che l'amore e il dolore non abbandoneranno più Joe. Sia che scelga di tornare indietro, sia che provi a lasciarsi tutto alle spalle. Perché in cuor suo ama e non può smettere di farlo. Non può smettere di essere partecipe del dolore di sua figlia. Di quella bambina sofferente che è il vero, unico simbolo dell'autenticità di un sentimento che non accetta condizioni. Perché non si può scegliere chi amare. E questo Anka non lo sa e forse, per sua sfortuna, non lo saprà mai.