Cosa vuol dire essere dei Romanov? O meglio, cosa significa sentirsi tali? È questa la domanda preliminare e imprescindibile che muove le fila del discorso nella nuova serie Amazon. The Romanoffs non è una ricostruzione storica. Non è un period drama, come taluni forse si sarebbero aspettati. The Romanoffs non è neanche una storia di lignaggi e discendenze. Niente di tutto questo. Per comprendere il senso dell'opera dobbiamo tenere a mente l'immaginario collettivo che si lega indissolubilmente al nome dei Romanov, la dinastia imperiale russa per eccellenza.
Il mito dei Romanov si sviluppa a seguito dell'orribile strage della casata per mano bolscevica durante la rivoluzione d'ottobre. Il popolo russo rimarrà scosso dalla drammatica caduta imperiale. Decenni dopo, di quei Romanov oppressivi ma pii se ne faranno dei martiri, canonizzati dalla chiesa ortodossa. E la speranza che il nome degli imperatori di Russia sopravviva e si ravvivi nei secoli non abbandonerà mai i più nostalgici reazionari di tutta Europa.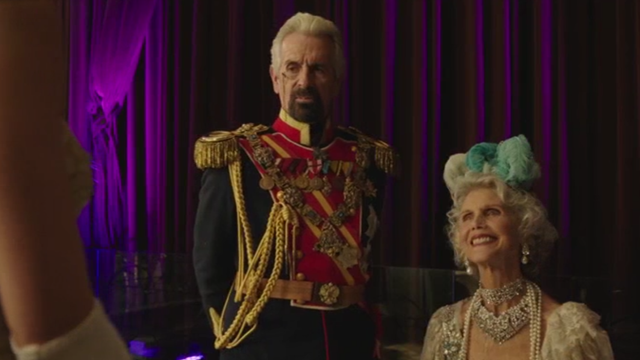 Impostori e millantatori nel corso del Novecento alimenteranno il mito di Anastasia, Alessio e degli altri figli dello zar Nicola II. Nelle anime europee, i Romanov diverranno immagine di grandezza e simbolo di riscatto. La dinastia, per rami secondari e incerti, sopravviverà. I profughi della rivoluzione russa emigreranno in Inghilterra, Francia e Stati Uniti. In ognuno di questi Paesi continueranno a mantenere orgogliosamente il nome Romanov, consacrando nel ricordo dei nobili natali tutta la loro vita.
Che valore ha allora al giorno d'oggi sentirsi un Romanov?
È una monomania orgogliosa, una psicosi cronica, simbolo di alienazione. Sentirsi Romanov non è poi tanto diverso da sentirsi Napoleone o, volendo tornare più indietro nel tempo, Nerone. In epoca romana si era alimentato il mito che voleva l'imperatore sopravvissuto e desideroso di riscatto. I cristiani ne fecero l'Anticristo, pronto a tornare alla fine dei tempi. Da ogni dove si levarono voci di megalomani che si riconoscevano in lui. Così dell'identità di Napoleone, ugualmente, se ne appropriarono per generazioni i disadattati di mezza Europa. Gli alienati dal mondo, i folli e disperati che si rifugiavano e crogiolavano nell'illusoria convinzione di essere re.
Lo stesso accadde con Anastasia, l'amatissima figlia dello zar di Russia. Nell'omonimo film del 1956, l'interpretazione di Ingrid Bergman ha dato spessore a una delle espressioni più famose di schizofrenia, quella di Anna Anderson che si professava figlia di Nicola II. I protagonisti di The Romanoffs sono a loro modo degli schizoidi, affetti da un delirio che li aiuta a sopravvivere.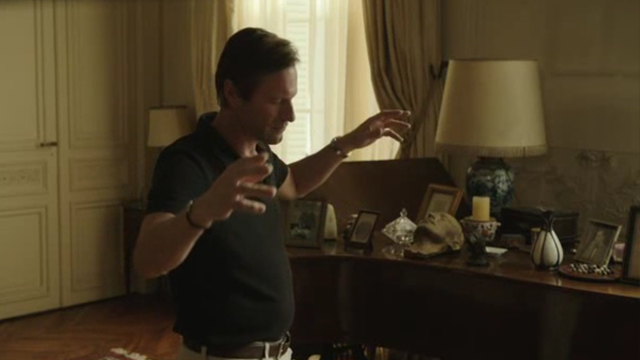 Nel primo episodio di The Romanoffs, Anushka è un'anziana che non vive più. La sua esistenza è affidata al ricordo e all'orgogliosa rimembranza di un passato illustre. Si sente una Romanov ed è orgogliosa di esserlo. Tanto, o forse più, di quanto si senta francese. La sua casa è una capsula del tempo, cristallizzata espressione del passato. Di quel passato che è l'unico tempo un cui Anushka sente di poter vivere.
Il suo appartamento è ciò che la tiene incollata all'idea che la sua vita abbia valore, che tutto ciò che conti sia il lignaggio.
Nello stesso tempo diventa il luogo tombale in cui si respira aria stantia, in cui non c'è rinnovamento e la vita marcisce. Anushka si putrefà in quella casa, aggrappata a idee di nobiltà e orgoglio russo. Il rapporto col nipote, Greg, è un legame di reciproca convenienza. Non c'è affetto ma solo il sangue. Il sangue dei Romanov conta più di tutto. La discendenza conta più di tutto.
Eppure, avviene un cambiamento. Anushka si apre progressivamente alla vita. Lo fa grazie a Hajar, grazie all'espressione dell'"Altro", dello straniero. Le porte sbarrate della sua stanza si dischiudono lentamente a un tempo presente. In questo tempo riscopre valori nuovi. Vede la freschezza di una contemporaneità in cui il sangue, la schiatta, non ha più significato. L'affetto rinnovato e riscoperto la restituisce al mondo.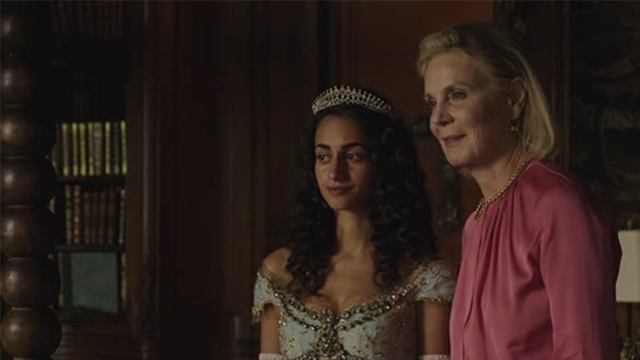 Quando Hajar indossa il meraviglioso abito da cerimonia del tempo che fu, Anushka vede una Romanov. Nel paradosso dello straniero, del diverso, dell'escluso la rigida e autarchica donna scopre un familiare. "Mi ricordi qualcuno", confida alla ragazza. È in quel momento che avviene il superamento della nevrosi, della schizofrenia di sentirsi una Romanov. In quel momento Anushka decide di affidare la sua eredità a un'estranea.
Un'estranea che sente così vicina, affine e consanguinea per un affetto sincero e ricambiato.
Essere un Romanov assume a quel punto un'accezione nuova e positiva. Quella che pure fa parte del sentirsi tale. Ovvero l'accoglienza. L'umanità di un'Anastasia che nella sua esuberanza e semplicità visita i feriti di guerra. Di una casata che, in più di una circostanza, ha scelto l'amore e la mescolanza di sangue.
Nel secondo episodio antologico di The Romanoffs c'è la stessa chiusura iniziale. La vita affidata all'orgoglio e al rifiuto del presente. Michael è un inetto. Un uomo sopraffatto dall'esistenza, chiuso nel cinismo e nell'apatia. Gli resta soltanto un cognome. Se lo cuce addosso. "La mia famiglia fu assassinata". La mia famiglia. Come stesse parlando di parenti prossimi e non di lontani e incerti antenati.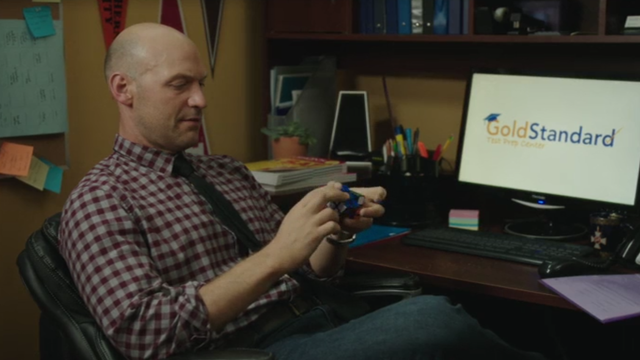 Nel nome dei Romanov trova l'unica fonte di affermazione personale. Il quid che lo rende speciale e migliore degli altri. Nella sua schizofrenia ha bisogno di riempirsi la bocca di quel nome, di alienarsi da una realtà che non sa affrontare. E che lo restituirebbe a se stesso nella sua condizione di fallito.
Anche a lui, però, accade qualcosa.
L'emozione di un sentimento improvviso lo indirizza verso uno scopo. Finisce nella sua ossessione per consacrarsi a quello scopo e una volta ottenuto l'interesse di Michelle si sente vivo. Balla, lui che non ama ballare. Si lancia in un'avventura, lui che solitamente è chiuso nei suoi vuoti giochini al telefono. Ma la psicosi che lo attanaglia non può lasciarlo e, non appena viene meno quell'emozione di un momento, Michael crolla sotto i colpi della realtà.
La vera vincitrice è allora la moglie, finalmente libera dall'oppressione di un uomo incapace di vivere. Di un marito che vive sulle sue spalle e che nutre un rancore latente verso di lei, donna affermata e felice della sua vita. Il sorriso finale di Shelly è il sollievo di chi si scolla di dosso il nome vuoto e posticcio dei Romanov, sottraendosi al fascino della nobiltà decaduta e scoprendo la leggerezza genuina della libertà.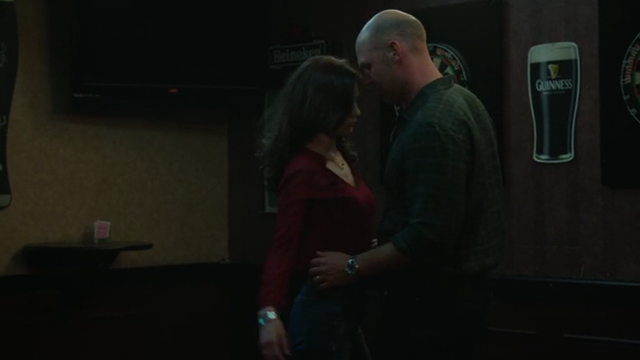 The Romanoffs finora ci ha messo di fronte a quello che sarà il tema portante dell'intera serie targata Amazon. La schizofrenia del sentirsi Romanov, l'alienazione megalomane di chi vive nel passato. Lo ha fatto con storie quotidiane di disarmante semplicità. E il rischio è che questa semplicità naufraghi nella banalità e nel piattume. Il passo, crediamo, è molto breve.