The Romanoffs parla del tempo. Delle ere, dei secoli, degli anni. Dei giorni. Parla di un evento insignificante eppure in un certo senso cruciale. The Romanoffs è il passato che si fa presente, la semplicità di ciò che la storia non racconta. Dietro al sesto episodio c'è un parallelismo voluto, ricercato. Il figlio malato di emofilia, la madre apprensiva e distrutta. La speranza di una cura affidata a un impostore. L'amore. La 1×06 ci parla di Aleksandra e di suo figlio Aleksej, della zarina e del primogenito dello zar. Ci parla di Rasputin che si tramuta in un medico ingannatore capace di irretire con le parole.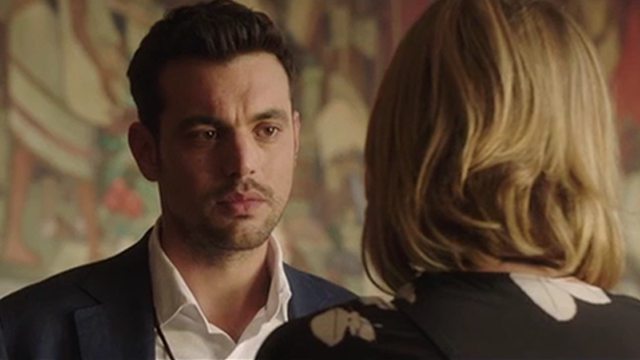 Tutto si riavvolge. Ancora una volta. Di nuovo, daccapo. Daccapo e in avanti nel tempo. Per rinnovarsi, arricchirsi, liberarsi dal peso di quello stesso tempo distruttore. Victoria è una madre con un figlio malato. Abel è un cinico, disilluso dalla vita. È un uomo che guarda al mondo nel suo complesso. Nelle sue brutture, nei suoi inestirpabili mali. A fine episodio Abel trova e perde insieme. Abbandona una parte di sé, ne abbraccia un'altra, tenacemente ma inconsapevolmente ricercata durante la sua vita.
Vorrebbe amare. Vorrebbe specchiarsi in un volto, sentire la bellezza di donarsi all'altro.
Ma il peso del mondo lo schiaccia. Il chiacchiericcio di un'esistenza che gli impone di raccontare il male, da giornalista qual è, lo attanaglia. In lui si condensa una parte del fascino folle di Rasputin. Del monaco che abbraccia il male per sentirlo su di sé, per inghiottirlo e dominarlo. Ma che finisce per rimanerne irrimediabilmente schiavo. Di Rasputin riprende quello slancio folle del mistico. Come Rasputin, finisce per perdersi, per vedersi sconfitto nella sua ricerca di verità. Non è davvero malato ma un male lo domina ugualmente. Il male di vivere. Il male del mondo.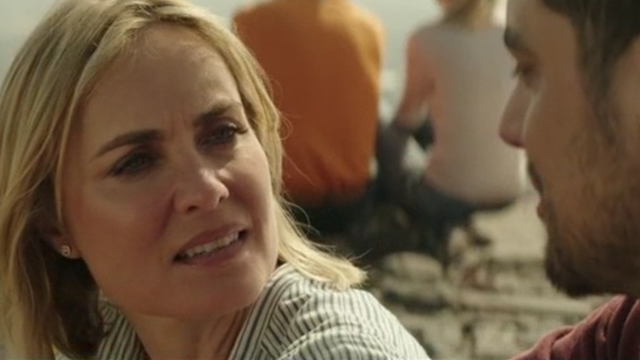 Ma l'ambiguità di Rasputin sta anche nella capacità di guarire. Più se stesso che gli altri. Abel, come il monaco dei Romanov, finisce per cedere alle lusinghe dell'amore. Di un sentimento che lo porta a mettere in secondo piano la sua ricerca di verità. La lotta contro il mondo. Il mistico rifiuta il mondo, lo combatte, lo disprezza. Abel non può più farlo.
Nel momento in cui vede la cura carezzevole di una madre per il figlio perde l'idea generale di libertà. "Sono come tutti gli altri: voglio, voglio, voglio". La storia di battaglie e violenze, la lotta di classe, l'identità di un popolo così ben esemplificate nel meraviglioso murales di Diego Rivera al Palazzo Nazionale di Città del Messico non hanno più senso.
Quei personaggi così importanti lo affiancheranno nel finale.
Come a dargli un estremo, finale saluto. Come a guidarlo verso un'altra via. Una via più intima e meno sociale. "Dalla quiete, dall'alba//Sento il canto degli uccelli//Cede alle sirene", canta la dolcissima voce di Regina Spektor. A fine canzone avverrà il contrario. Tutto si riavvolgerà e dalle sirene ecco il canto degli uccelli, la canzone d'amore, l'alba e infine, daccapo, il silenzio. Il silenzio dello sconfitto. Di chi rinuncia alla propria battaglia. Al suono delle sirene, delle trombe di guerra, alla morte.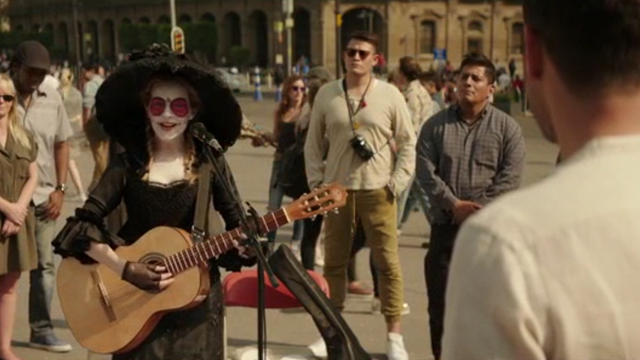 Perde la lotta ideologica e cede a quella interiore. Abbandona il sociale per scoprire e arrendersi a un bisogno intimo. Quello di amare. La tentazione del mondo si concretizza in una donna. Una donna stupenda nella sua tremenda disperazione. Nell'amore tragico che dona al figlio malato. Un figlio che porta il peso di una malattia ereditaria. Di qualcosa che viene dalla madre e molto prima di lei. Il male fisico, l'emofilia, diventa simbolo di un male genetico dell'uomo e dei Romanov in particolare. Una sorta di colpa tragica che si trasferisce di genitore in figlio. Che necessita espiazione.
Quella colpa che ha contraddistinto la casata reale di Russia e che di volta in volta abbiamo scoperto negli episodi di The Romanoffs. La colpa di chi dà valore al sangue e non alla nobiltà del cuore (1×01). La colpa di chi nega la propria umanità nascondendosi dietro una maschera di impeccabile compostezza (1×03). Come pure la colpa di chi cede alle malelingue rinunciando alla bellezza dell'uomo (1×05).
La colpa, in questo episodio, è l'aridità di un'ideologia che vorrebbe imporsi sopra i valori personali.
Sopra i sentimenti. Quell'ideologia che ha permesso ai sacerdoti Mexica (gli Aztechi, per noi occidentali) di cibarsi di carni umane. Che ha permesso agli spagnoli di far strage di indigeni. E alla Santa Inquisizione di perseguitare i miscredenti. Una storia di guerre, sopraffazioni e morte. "C'è tanta morte" nel murales di Diego Rivera. Eventi epocali, lotte sociali, la Grande Storia.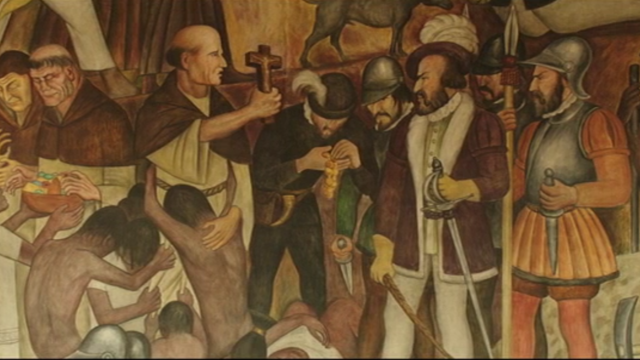 Ma manca qualcosa. Abel lo sa. Abel rinuncia a quella lotta, all'ideologia, alla morte. Basta un secondo, un attimo d'amore per incrinare il suo mondo. La fredda aridità della storia ufficiale lascia il posto al non detto, al racconto della quotidianità. A quello che non fa storia, mai, o quasi. All'amore.
Rinuncia a una strada che non è la sua. Cede alla tentazione del mistico e abbraccia il desiderio. Si abbandona all'amore. Nella passerella finale la musica di Regina Spektor con parte del testo dello stesso regista dei The Romanoffs, Matthew Weiner, chiude il cerchio. Rasputin si è reincarnato in un medico che sfrutta la disperazione dei ricchi pazienti. Ma si è anche rinnovato in un uomo, Abel, che abbraccia il mondo, un pezzettino infinitesimale di mondo, uscendo dal suo eremo e scoprendo ciò che realmente desidera.
La storia, la storia degli sconfitti, di chi non ha parola, torna in scena e trionfa sulla storia ufficiale.
Non c'è epicità, non c'è eroismo. C'è solo un uomo che ama una donna. E persegue quell'amore. Sconfitto, come giornalista, nella sua indagine di verità e di giustizia ma vincitore, come uomo, nella sua ricerca d'amore. The Romanoffs ci ricorda che non tutti possiamo essere mistici eroi dell'umanità. La strada di molti sta in una storia silenziosa e non scritta. Una storia fatta di intimo, segreto e dimenticato amore.