Sgombriamo subito il campo da ogni dubbio. In questo articolo parleremo sì di The Punisher, ma non a 360° del personaggio creato da Gerry Conway nel 1974. Non prenderemo cioè in esame il suo background fumettistico.
E che Dio ce ne scampi, men che meno ci soffermeremo sulla sua lunga e sfortunata parentesi cinematografica.
Quel che ci interessa è esclusivamente il Marvel's The Punisher targato Netflix, il giustiziere interpretato da Jon Bernthal che ha fatto capolino nella seconda stagione di Daredevil
Il suo esordio ha folgorato tutti coloro che, come il sottoscritto, poco e nulla sapevano a proposito della sua storia e del suo atroce passato. Da semplice villain, con il passare delle puntate Frank Castle si è evoluto in un personaggio sempre più complesso e affascinante, rubando la scena in più di un'occasione al Diavolo di Hell's Kitchen. La sua storyline è ben più interessante di quella incentrata sulle confuse trame ordite dalla Mano. La Serie ha tutta un'altra marcia quando il Punitore è sulla scena, arrivando in alcuni momenti a toccare vette di eccellenza per il genere cinecomic.
Lo sviluppo di uno spin-off stand-alone è stata la naturale conseguenza di quanto visto e apprezzato
Si è così colta al volo l'occasione per esplorare a fondo e far fruttare il potenziale del personaggio, talmente intrigante da diventare in poco tempo un beniamino dei fan.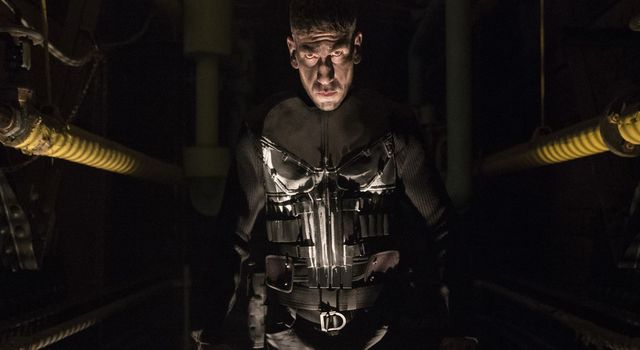 La prima stagione
Abbiamo avuto modo di apprezzare la prima stagione di The Punisher (potete dare un'occhiata a cosa ci è piaciuto e cosa non ci è piaciuto), sviluppata da Steve Lightfoot (già sceneggiatore di Hannibal, tra le altre) e rilasciata per intero lo scorso 17 Novembre.
C'erano grandi aspettative intorno a questa Serie, sia per i motivi sopra elencati, sia per una preoccupante flessione qualitativa degli ultimi prodotti Marvel-Netflix. Dopo un inizio boom con Daredevil e una piacevole conferma con Jessica Jones, l'asticella della controparte televisiva del Marvel Cinematic Universe aveva subito una preoccupante quanto pericolosa flessione. Primo campanello dall'allarme il dimenticabile Luke Cage, che aveva lasciato freddi e interdetti diversi spettatori. Allarme che è diventato rosso con l'uscita di quel mezzo disastro che risponde al nome di Iron Fist. Nemmeno la presenza di Charlie Cox, Sigurney Weaver e degli altri supereroi per la prima volta riuniti è riuscita a risollevare The Defenders, l'ultima deludente e interlocutoria miniserie in salsa Avengers, uscita lo scorso agosto.
Le curiosità di fan e critica quindi riguardo a The Punisher erano molteplici, ed è facile intuirne le ragioni. In primis, riguardavano Castle.
Dopo essersi dimostrato un memorabile (non) villain, avrebbe funzionato allo stesso modo come protagonista in uno show tutto suo?
E ancora, in che contesto qualitativo si sarebbe inserito il punitore? Il risultato finale sarebbe stato un parente più vicino al riuscito Daredevil o più prossimo al Danny Rand che in tanti hanno mal digerito?
Lightfoot e soci erano quindi attesi al varco, per fare il punto una volta per tutte sul livello dell'intero progetto televisivo legato ai supereroi nati dal binomio Marvel-Netflix. Urgeva risollevare l'intero franchise, un'ulteriore missione non da poco gravava sulle spalle del nostro reduce tormentato.
Per fortuna, come sappiamo, la risposta di fan e critica è stata positiva, ma adesso focalizziamo la nostra attenzione sul protagonista e la scelta narrativa intrapresa dagli autori per costruire la sua storia.
Frank Castle o Pete Castiglione?
The Punisher è dunque una Serie di tutto rispetto, per chi non l'avesse vista fughiamo da subito ogni dubbio. Non la migliore in senso assoluto del suo universo, ma certamente una boccata d'aria fresca per il franchise e un notevole passo in avanti rispetto alle sopracitate delusioni.
La storia (e da qui, SPOILER ALERT) comincia con un inedito Frank in versione barba e capello lungo, il volto della sua nuova identità dopo esser stato dato per morto da autorità e media. Lo vediamo nei primi minuti dell'episodio pilota bruciare il suo iconico giubbotto col teschio, come a simboleggiare sì il suo voler chiudere con il passato, ma senza preludere a un tentativo di andare avanti con la propria vita. Niente di tutto ciò, la fenice non intende risorgere dalle sue ceneri.
Nonostante la sua vendetta sia compiuta, con l'anima a pezzi che pare irrimediabilmente compromessa, Frank è determinato non a ricominciare, non a ricostruirsi un'esistenza normale.
Dopo tanto tempo sembra aver smesso di lottare contro il mondo e iniziato una guerra contro se stesso, auto-punendosi con l'imposizione di una non vita.
I demoni che lo tormentano lo divorano nel profondo, svegliandolo ogni mattina nel tugurio dove trascorre le sue notti a leggere e rimuginare. Di giorno è un operaio solitario e taciturno, che scarica rabbia e sensi di colpa sulle pietre e le mura da tirare giù, brandendo selvaggiamente un martello. Questo sì, alla sua vecchia maniera.
Alla luce di questo quadro desolante, l'ex marine sembra non aspetti altro che sopraggiunga la morte a liberarlo dal questo limbo esistenziale di sofferenza e dannazione.
Questo precario equilibrio, questa sorta di tregua col mondo auto-impostasi, si sgretolerà presto, costringendo Castle ad abbandonare i panni di Pete Castiglione e ad affrontare ancora una volta il suo passato. Verrà presto a conoscenza di una cospirazione segreta riguardante le sue sanguinose operazioni  in Afghanistan e, sorpresa sorpresa, avrà di nuovo a che fare con i responsabili della morte della propria famiglia (intendiamo i mandanti, visto che i responsabili materiali come sappiamo sono già stati rispediti al Creatore).
La vendetta come scopo di vita
Come anticipato, nell'impostare la prima stagione di The Punisher, Lightfoot e soci hanno scelto la via più conservativa. Si è scelto cioè di proseguire con il discorso messo già in piedi in Daredevil, ossia mettere al centro di tutto la sete di vendetta inestinguibile di Castle nei confronti di chi gli ha rovinato la vita. Un terreno ampiamente battuto, che sembrava essersi esaurito con l'omicidio del colonnello Ray Schoonover, alias Blacksmith. Non si può affermare tuttavia che siano voluti andare sul sicuro, perché il rischio di risultare ripetitivi o ridondati era più che elevato. Per fortuna lo show non ne risente più di tanto e la scelta è stata legittimata dal fatto che sono in molti ad essersi approcciati al Punitore senza aver visto il suo esordio nella Serie sul vigilante di Hell's Kitchen.
Alla storia già arcinota subentreranno vecchi tradimenti e tragiche vicende legate a doppio filo con l'omicidio della famiglia di Castle.
L'impostazione realista da war movie di serie B  (alla John Week per intenderci) ha pagato e ha permesso di raggiungere anche il pubblico più disinteressato ai cinecomics. Chi si aspettava, di contro, un soldato che agisce in solitaria alla Rambo potrebbe esser rimasto deluso, in quanto viene introdotto il personaggio di Micro a far da spalla al nostro eroe. L'ex hacker tradito dal governo è un espediente narrativo essenziale per dare plausibilità alle missioni di un eroe senza super-poteri come Frank. Da solo combinerebbe ben poco senza i mezzi messi a disposizione dal suo nuovo socio.
La scelta di Billy Russo come antagonista principale ricalca ancor di più il puntare tutto sulla rabbia di Castle verso chi gli ha fatto del male, vero cuore pulsante dello show.
Acuire tutto il suo dolore, puntata dopo puntata, per provocare un rush finale di sangue e rivalsa.
Tredici puntate sono forse troppo diluite per arrivare al tanto atteso scontro finale, il regolamento di conti che lo spettatore brama fin dal (prevedibile) plot twist sulla vera natura del personaggio interpretato da Ben Barnes.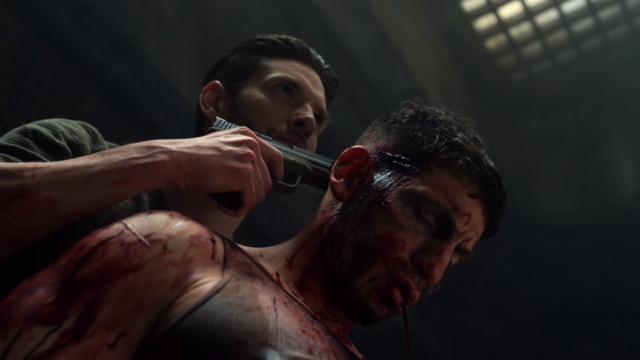 La performance di Jon Bernthal è il faro che guida e irradia ogni episodio, il motivo che spinge lo spettatore a proseguire la visione per conoscere il suo destino.
Il suo volto è teso e furente, eppure pieno di umanità e dolcezza al tempo stesso. Il suo Castle è una pentola a pressione incandescente pronta solo a esplodere. Come in Daredevil, anche The Punisher ha tutto un altro passo (in negativo) quando manca il suo protagonista sulla scena. La storyline di Madani, o peggio quella del reduce, ovattano troppo spesso il tutto a spese di un ritmo già non esaltante nella prima parte.
Tra atroci sofferenze e innumerevoli vittime mietute, Frank porterà a termine ancora una volta la sua vendetta, compiendo il suo unico scopo di vita, per la seconda volta.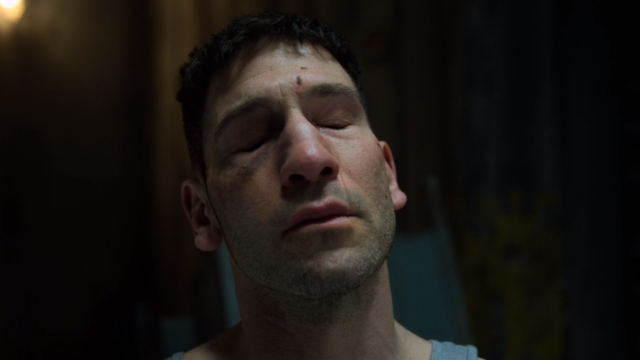 C'è vita oltre la vendetta?
Mentre ero in guerra non pensavo mai a cosa sarebbe accaduto dopo. A cosa avrei fatto quando fosse finita. Ma immagino che ora lo sia. Credo che il silenzio sia la parte più dura. Il silenzio dopo la fine degli spari. Si, come… come fate a conviverci? Immagino che sia ciò che state cercando di scoprire. È ciò che state facendo, ci state lavorando. Lo rispetto. È solo che… se devi guardarti davvero allo specchio allora devi accettare chi sei. Ma non solo te stesso, devi accettare anche tutti gli altri.

Per la prima volta da quando ho memoria non ho una guerra da combattere.

E, se devo essere sincero, io… ho paura.
L'episodio finale si conclude con questo monologo di Frank. Poche righe, ma che riassumono l'intera prima stagione di The Punisher.
Una Serie con una storia intrigante ma che di innovativo ha poco o nulla, visto che da Il Gladiatore non si contano le produzioni su uomini senza più nulla da perdere in cerca di rivincita.
La vera sfida, per Frank e gli autori, viene ora
La Serie infatti è stata rinnovata per una seconda stagione, e sarà fondamentale scoprire su quale linea narrativa verrà impostata quest'ultima. Il Punitore dovrà affrontare una missione per la quale non è mai stato addestrato: andare avanti. Superare il lutto tremendo che lo ha colpito, scrollarsi di dosso il macigno del senso di colpa che lo opprime. Dovrà riuscire a tornare a guardarsi allo specchio.
Allo stesso tempo, gli autori dovranno trovare una nuova via, dovranno dare a Castle uno scopo che per una volta non sia vendicare la propria famiglia. Una missione quantomeno più trasversale. In questa stagione le ragioni che muovono Castle sono sempre e solo personali, riguardano i suoi congiunti o chi gli sta cuore. Non è avvenuta la trasformazione nel giustiziere contro il crimine di New York tanto cara gli amanti della sua controparte fumettistica. Cambiare non sarà un compito facile, ma sarebbe ancor più pericoloso ripercorrere binari che il pubblico ormai conosce alla perfezione.
Di solito le storie di vendetta come quella di Frank Castle hanno tutte un comune denominatore: la morte.
Memento mori recita il season finale, e siamo sicuri che il pensiero di concludere il viaggio dell'ex marine ricongiungendolo alla sua amata famiglia avrà sfiorato più di una volta la mente di Lightfoot. Ma non è ancora il momento, because business is business, show must go on. La Serie non poteva non continuare, ma The Punisher 2 sarà atteso a un ulteriore salto di qualità.
Come il suo protagonista, sarà chiamata a reinventare se stessa, a esplorare nuove strade per assicurarsi un futuro. Trovare uno scopo diverso dalla vendetta. Magari con indosso un giubbotto speciale e una filastrocca nel cuore, per ricordarci che l'angelo della morte è sempre a un tiro di schioppo.
One Batch, Two Batch, Penny And Dime