# #
Dalla sua misteriosa gestazione al suo assurdo finale, The OA è una Serie che in brevissimo tempo ha fatto parlare di sé con un'incontenibile passione. I commenti, le considerazioni e le speculazioni che ha generato hanno diviso nettamente il pubblico fra chi l'acclama come capolavoro, vero pezzo d'arte, un prodotto raffinatissimo, e chi non può far altro che aggrottare le sopracciglia e grattarsi il capo alla luce dell'ambiguità del finale e di tutto ciò che è stato suggerito, ma mai pienamente espresso.

# #
L'episodio finale scopre carte che sembrano provenire da mazzi diversi: quello che ci leggiamo ha spesso condizionato il parere sulla Serie nella sua interezza. E da qualunque prospettiva la si guardi, The OA apre possibilità che sono sempre accompagnate dalla loro negazione.
Cercare di capire quale conclusione effettiva volesse comunicarci il finale è un po' come osservare la famosa trottola di Inception. Le menti creatrici di questa Serie, Brit Marling e Zal Batmanglij, hanno confermato di avercela messa tutta per lasciarci nel dubbio, puntualizzando, però, che la Serie è disseminata di indizi per coloro che sanno trovarli.
Provateci, se volete. Noi dopo aver visto diverse persone impazzire per rintracciare corrispondenze numeriche, suoni, e combinazioni di colori abbiamo deciso di soffermarci su quello che non abbiamo capito. E questo perché, all'infuori degli ultimi momenti di The OA, ci sono almeno dieci cose che ancora ci lasciano perplessi, dieci questioni che sono state toccate solo marginalmente e che non vengono affrontate chiaramente.
# #
Fra trame lasciate sfilacciate, misteri, incongruenze, e qualche semplice nonsense, ecco qui 10 cose che proprio non siamo riusciti a capire di The OA.
(Ovviamente diversi di questi punti partono dal presupposto che, benché non si possa essere certi che tutta questa faccenda non sia un'invenzione o un'allucinazione di Prairie, la sua invenzione/allucinazione abbia quel minimo di coerenza da essere degna di costituire una trama organica)
1. Che ne è stato di Asheville e dei genitori di Steve?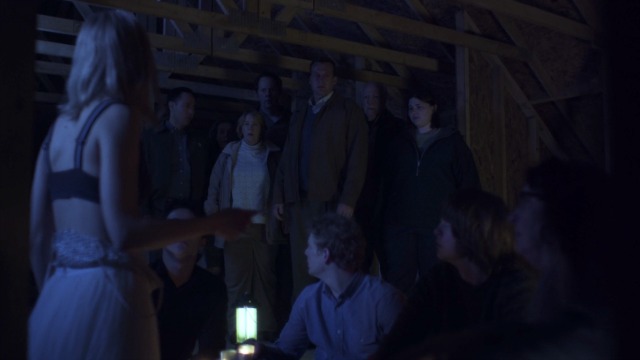 Nel settimo episodio, "The empire of light" (L'impero della luce) vediamo che l'eredità ricevuta da BBA si rivela provvidenziale, consentendo alla triste insegnante dal cuore intrepido di impedire che Steve venga portato nell'inferno del riformatorio/scuola militare di Asheville.

Tuttavia, sappiamo quanto siano determinati i genitori di Steve a mandarlo in questo riformatorio. Se n'è parlato, riparlato, è stato fatto di tutto per evitare che ciò accadesse. Ma i genitori di Steve proprio non hanno intenzione di dargli un'altra occasione.
Steve viene preso con l'inganno, parla dell'esperienza come di un "rapimento", le sue urla e le sue proteste scivolano sulla delusione dei genitori, pronti a pagare profumatamente pur di non dover più gestire la rabbia del figlio, per cruenti e disumani che siano i mezzi.
Immediatamente dopo il salvataggio, vediamo che il gruppo si riunisce un'ultima volta prima che la storia di Prairie raggiunga la sua oscura conclusione.
Gli eventi precipitano, il gruppo vien scoperto da queste ombre di adulti che non sono ancora capaci di lasciare la porta della loro mente aperta al nuovo, al mistero, alla bellezza del racconto. I genitori di Steve sono lì, vediamo il padre trattenere la madre…e basta.
Quando rivediamo Steve, è a scuola. Non viene fatta nessuna menzione di questa brutta faccenda. Non viene detto niente di specifico a BBA (per quanto si veda che viene licenziata) e niente. Steve è lì che quasi sembra sereno, prima delle battute finali.
Dopo aver visto la sua situazione familiare, ci saremmo aspettati di vederne la risoluzione, ma anche su questo finale The OA non ci offre risposte.