Tre settimane fa i fan di The OA si sono ritrovati a fare i conti con la decisione di Netflix di dare un taglio alla serie. Una scelta che ha colpito diversi appassionati in tutto il mondo, molto più di quanto ci si aspettasse. E ognuno ha reagito a suo modo. C'è chi ha mandato dei disegni a Brit Marling e Zal Batmanglij. Chi ha fatto lo sciopero della fame davanti al quartier generale di Netflix a Los Angeles. E chi, in piena fase di negazione, ha elaborato il lutto convincendosi che la cancellazione di The OA non fosse altro che una manovra pubblicitaria (ne abbiamo parlato qui). Ma dopo giorni di speculazioni e speranze, il rifugio della teoria cospiratoria è stato definitivamente smontato dalla stessa Marling.
L'autrice – nonché protagonista – di The OA ha infatti indirizzato ai fan della serie un nuovo post sul suo profilo Instagram sabato scorso.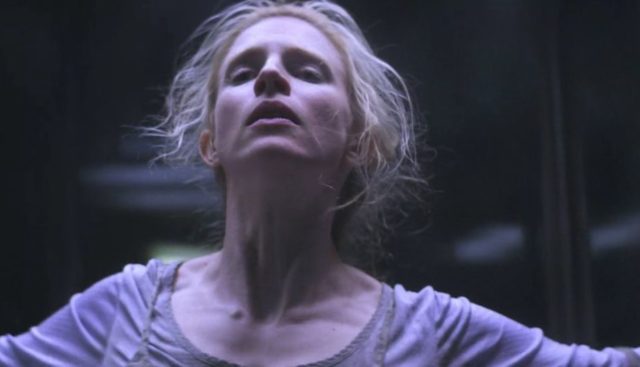 Col garbo e il contegno che la contraddistinguono la donna ha praticamente invitato i fan a mettersi l'anima in pace, confermando la definitiva cancellazione di The OA per volere di Netflix. Nessuna manovra pubblicitaria dunque, nessuna manipolazione. La piattaforma americana non produrrà né una terza stagione né un film per concludere quanto avviato tre anni fa. Nel post pubblicato dall'autrice possiamo leggere parole di ringraziamento piene di gratitudine per tutti i fan che hanno espresso il loro supporto.
Siamo onorati, anzi per essere onesti sbalorditi, dal supporto espresso dai fan per The OA. Abbiamo visto delle bellissime opere d'arte di elogio dal Giappone, dalla Francia, dal Brasile. Abbiamo letto saggi e lettere commoventi. E abbiamo guardato dozzine e dozzine di video di persone da tutto il mondo praticare i cinque movimenti con quello che possiamo definire semplicemente il perfetto spirito.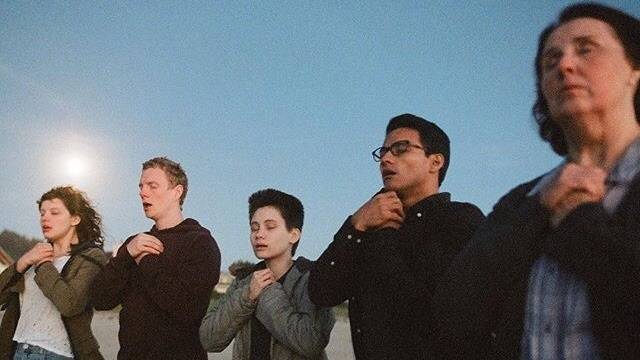 Nello stesso post Brit Marling si è anche dilungata parlando del futuro dello storytelling, del ruolo coperto dal protagonista e la loro connessione col mondo attuale. Per l'attrice il protagonista di una storia a volte riflette il desiderio collettivo di avere un qualche salvatore nel mondo reale. Un mondo caratterizzato da forti pressioni politiche. Ma per Marling questo è assurdo poiché dovremmo agire in prima persona: salvarci l'un l'altro senza aspettare un Messia.
Ecco perché la donna ha invitato i fan di The OA a sfruttare il comune legame con la serie per creare una reciproca connessione attraverso il racconto delle rispettive storie.
Avete spezzato la semplice forma dello storytelling. Avete costruito qualcosa di ben più incredibile di ciò che abbiamo fatto noi perché si tratta di qualcosa di reale, nella vita reale, con persone reali.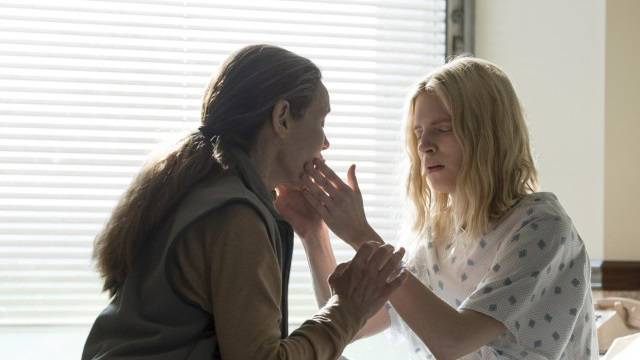 Ha scritto l'autrice. Anche sulla base di quest'idea pare che Marling e Batmanglij abbiano fatto visita alla donna in sciopero della fame davanti alla sede californiana di Netflix per portarle cibo e acqua. Al momento di andar via, racconta la Marling, la scioperante avrebbe detto loro che ciò contro cui sta protestando davvero sarebbe il moderno capitalismo. "Gli algoritmi non sono intelligenti quanto noi. Non possono sostituire l'amore" avrebbe detto la donna alla fine dell'incontro. Una frase che la Marling ammette non dimenticherà mai.
Il riferimento della donna era chiaramente agli algoritmi notoriamente utilizzati da Netflix per individuare, analizzare e modificare snodi di trama e linee narrative. Una pratica di cui lo stesso Cary Fukunaga ha parlato apertamente durante la promozione di Maniac, come riportato da Vanity Fair qualche giorno fa.
Insomma, che si tratti di una scelta di mercato come tante o del risultato dell'odierno capitalismo, che sacrifica la creatività sull'altare del denaro, c'è ben poco da fare ormai.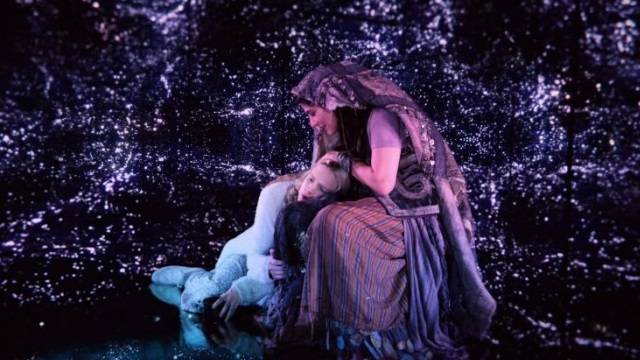 The OA è stata definitivamente cancellata e noi non possiamo che condividere lo sconforto dei tanti fan che hanno espresso rammarico per questo. Ma vorremmo spendere una parola in favore di questa serie che ha tanto diviso i fan tra chi l'ha adorata e chi l'ha trovata persino imbarazzante.
Che The OA piacesse o meno è più che lecito. D'altronde de gustibus non disputandum est. Ma vorrei riportare la definizione data da un caro amico che racchiude, a mio avviso perfettamente, il senso di questa serie tv: "The OA è una celebrazione dello storytelling, della sua potenza, e tutto doveva e deve ridursi alla soggettività di chi ne fruisce. Sta a lui crederci o meno". Il fascino poetico, unico, di questa serie risiede in quel costante equilibrio tra follia e paranormale in cui a trionfare è la narrazione in sé. I dettagli tecnici svaniscono per far spazio al puro e semplice "racconto di una storia". Una storia che può avere risvolti teneri, imbarazzanti, allegri, ridicoli o fantasmagorici a seconda di come li si percepisca.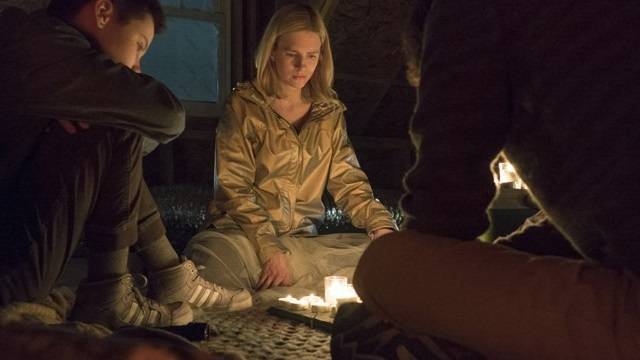 L'inaspettato è la caratteristica comune a tutti gli snodi di trama di questa serie. Perché inaspettato alla visione esterna è tutto ciò che la fantasia suggerisce a chi racconta. In un'era di soggetti ispirati a storie vere, Brit Marling ha fatto sì che il risultato fosse negli occhi di chi guarda.
Una verità che apre mille orizzonti al fruitore, lasciandogli libera scelta sia nell'interpretazione sia in quanto prendere come vero o meno. In questo articolo avevamo parlato ad esempio di un'interpretazione data che vedrebbe la serie come una metafora della moderna prigione dell'Io. E in quei cinque movimenti un messaggio che suggerisce un ritorno alle connessioni sensibili tra le persone, in un mondo in cui miliardi di persone sbattono l'una contro l'altra senza davvero toccarsi.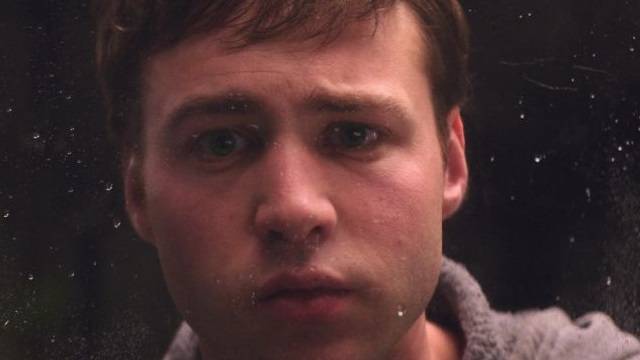 La dolcezza con cui The OA ha voluto celebrare la poesia del racconto l'ha resa un'opera di potenza emotiva davvero fuori dal comune. Come fuori dal comune sono i controversi personaggi di Prairie/Nina, di Hap, e il loro rapporto, destinato a viaggiare tra le dimensioni in forme uguali e diverse. The OA è un vortice di emozioni, un caleidoscopio di significati e interpretazioni. Ma qualunque sia quella che avete deciso di darle, non dimenticatevi la sua lezione fondamentale: nell'arte, la verità è negli occhi di chi osserva.