Fin dal primo episodio abbiamo capito che The New Pope sarebbe stata diversa da The Young Pope. Abbiamo pensato che a dispetto di quest'ultima – comunque già rivoluzionaria di suo – il sequel avrebbe puntato maggiormente su ritmo e colpi di scena. Ma giunti solo al secondo appuntamento settimanale, dunque al terzo e quarto episodio di The New Pope, sembra chiaro come le cose siano ben più complicate di così. La parabola del misterioso Lenny Belardo rappresentava a suo tempo un azzardo per Paolo Sorrentino. Ma la storia che contorna ciò che accade dopo la venuta di Pio XIII è un'esplosione inaspettata di mine vaganti.
Se con The Young Pope Sorrentino voleva raccontare le istituzioni religiose con un taglio alternativo, con The New Pope il regista si spinge decisamente più in là.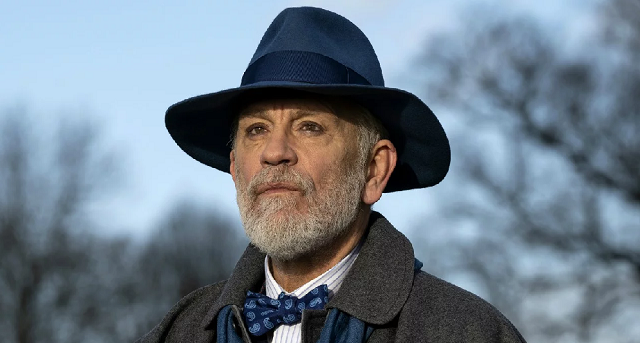 I primi minuti del terzo episodio si riconnettono perlopiù a quanto raccontato nel secondo. Siamo ancora nelle grigie campagne inglesi. E nella tenuta dei Brannox, Voiello continua a tessere la sua rete attorno a Sir John, affinché egli accetti la nomina di papa. Ma questi non è uno sprovveduto, seppur un uomo afflitto da diverse debolezze. Una carenza affettiva non indifferente. Il dolore per l'ostinato odio decennale dei genitori. E il perpetuo attaccamento alla carnalità che sembra appartenere a ogni singolo prelato di questo mondo.
Il contegno di un elegante lord inglese si umanizza così nell'arco di poco, con micce che innescano inaspettate reazioni. Uno sfogo rabbioso nei confronti degli anziani genitori. Con una verità indiscussa sbattuta in faccia a dispetto della loro condizione: suo fratello Adam è morto, mentre lui è ancora in vita. E da vivo subisce dunque le conseguenze del loro disprezzo. Un disprezzo che la vita ha voluto sorprendere regalandogli il futuro che essi credevano sarebbe stato del gemello morto. The New Pope è solo al suo terzo episodio e John Malkovich ci ha già regalato una performance strepitosa. Intensa e struggente come la storia di Sir John.
Sembra che Sorrentino sapesse a cosa andava incontro scegliendolo come protagonista. Non è un caso che la sceneggiatura stessa lo omaggi dall'interno citandolo come attore preferito di Sofia Dubois. Una donna che in questa stagione incarna una buona metà della più selvaggia trasgressione sessuale messa in scena dal regista senza censura. La sintonia che sembra crearsi con Sir John assume presto i tratti di un'ambiguità che ricorda un po' il rapporto tra Lenny ed Esther. Ma stavolta con un maggior coinvolgimento da parte del nuovo Papa.
La sensazione che si ha infatti da questi primi confronti tra le due figure è di una fondamentale differenza dei due nel rapporto tra prime impressioni e reale essenza.
Pio XIII era un uomo che si mostrava incredibilmente terreno nel suo materialismo, con un approccio che rasentava il più bieco cinismo. Tutto per poi rivelarsi un uomo dalla sensibilità tanto profonda quanto unica. Caratterizzato dunque da una fede e un carisma che agli occhi di molti lo hanno avvicinato alla Santità. Giovanni Paolo III invece, ossia Sir John Brannox, è un uomo che sembra illuminato da un'aura di incrollabile fiducia nel ristoro che la fede e la Chiesa possono donare. Eppure la sua fragilità, come uomo e come ministro di Dio, è parte della sua anima più di quanto non voglia mostrare.
Perciò il suo insediamento in Vaticano, a differenza dei due precedessori, non provoca severe preoccupazioni. Voiello anzi sembra approvare ogni sua parola. I suoi discorsi, in pubblico o nell'intimità della Cappella Sistina, sono accompagnati dai sorrisi e dagli sguardi compiaciuti di Gutierrez, Aguirre e degli altri cardinali fedeli a Voiello. Ora convinti di aver trovato un fermo difensore dell'establishment clericale. Per di più capace di parole d'amore misurate e piene di quella tenerezza che persino loro necessitano.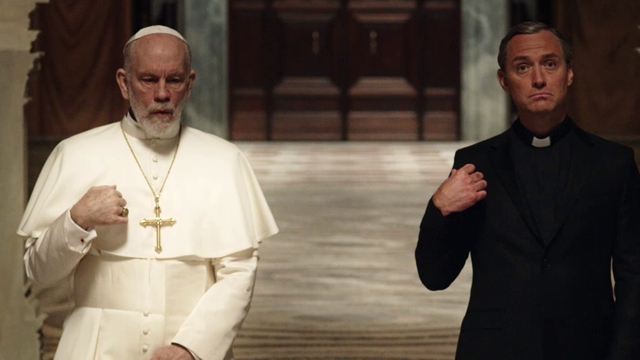 Le parole sembrano essere infatti la forza del neoeletto Giovanni Paolo III. Un uomo colto, misurato, che sa come descrivere fenomeni e conseguenze trovando in essi il giusto collocamento della Chiesa. Tutto per trovare quella retorica che riesca a restituire alla stessa il potere sociale di una volta.
È così che nasce il concetto di fragilità degli esseri umani e di collocamento della Chiesa in quella stessa intercapedine. Di amore e di come la sua percezione sia all'origine di tutti i mali del mondo. Ossia di come gli stessi siano conseguenza di una nostra distorsione del concetto che abbiamo di amore. Spunti di riflessione e concetti piuttosto sopra le righe quelli suggeriti da The New Pope con gli incantevoli monologhi di John Malkovich.
Ma sintomatici di quella che la serie suggerisce anche essere la millenaria incoerenza della Chiesa, che predica la povertà dagli attici di Roma. Che si vota alla castità per poi nascondere i peggiori misfatti. Quella riflessione sulle implicazioni di un amore vissuto in modo distorto sembra quasi essere la sottile giustificazione sulla quale si appoggiano le innumerevoli porcherie che vediamo fare a cardinali e altri uomini (per così dire) di fede. La distorsione dell'amore che si traduce dunque in distorsione della realtà moltissime volte.
Con l'ignobile ricatto operato su Esther ad esempio. Una donna in balia di una malizia che ancora non riesce a fare da contrappeso alla sua ingenuità. O con la giustificazione che accompagna tanto l'immaginazione dello stesso Papa quanto i piaceri del cardinale Gutierrez. Fino a giungere alla posizione di Giovanni Paolo III in merito alla diffusa pedofilia all'interno delle istituzioni religiose.
È tutto frutto di una nostra distorsione dell'amore. Suggerisce la serie. Continuando a disseminare in modo inaspettatamente frequente peccati di lussuria in ogni intramezzo dei due episodi.
Risulta chiara la volontà di Sorrentino di porre un accento importante sulla correlazione tra questa imprescindibile presenza nel mondo clericale e l'abilità della Chiesa di celare i propri misfatti con la retorica. Quella retorica in grado di ingannare per millenni seguaci adoranti. Troppo lontani dall'avere la più pallida idea di cosa accada oltre le mura di uno stato costruito su intrighi, ricatti, insabbiamenti e vecchi accordi con la politica.
Elementi che fanno parte del Vaticano come fossero le colonne di San Pietro. Un sistema immutato e immutabile da più tempo di quanto si possa pensare. Come non tarda a ricordare il nuovo segretario particolare del Papa, il cardinale Spalletti, che tra una Bentley e una chiacchierata rammenta al Santo Padre la differenza tra benevolenza e ricatto. Due sponde divise da un limite estremamente labile in vaticano.
E benché egli ignori l'esistenza dell'8×1000 non ignora certo l'importanza di tenersi stretti i nemici, più che gli amici, in un posto in cui si predica amore e fratellanza per restare ricchi alle spalle dei fedeli. Così mentre sorgono i primi dubbi sulla morte di Francesco II, il nuovo Papa cerca di capire il grado di pericolo che lo circonda. E al tempo stesso come far uscire quella retorica al di fuori di quelle mura perché tutti la vedano.
Assistiamo così a una sequenza molto simbolica di The New Pope. Quella che vede il primo importante cameo di questa serie seguito da una considerazione fondamentale in merito alla sua presenza.
Vediamo dunque Marilyn Manson nei panni di se stesso a colloquio con Giovanni Paolo III. La rockstar (ultima di una lunga lista di cameo prestigiosi dal mondo musicale), impagabile nella sua interpretazione, pare sia una delle preferite del nuovo Papa, e si ritrova al suo cospetto tra la sorpresa e lo stupore. Tutto per chiedergli candidamente se il Santo Padre avesse già fatto visita al suo predecessore, in lotta tra la vita e la morte.
È singolare vedere come Sorrentino abbia affidato a una figura tanto particolare come Marilyn Manson il compito di rappresentare un concetto semplice e complesso al tempo stesso: il buon senso. Quello che prescinde la fede cristiana, vera o millantata che sia. Che fa di una persona la sua statura morale forse più di quanto non faccia la morale socialmente intesa. Il buon senso di far visita a un uomo di cui ora si ricopre la carica. Un uomo in coma.
Ed è singolare vedere come un semplice atto di buon senso diventi poi un'operazione pubblicitaria ben studiata nel momento in cui entra in gioco il comando della Chiesa. Troviamo dunque a confronto nella magia di Venezia la Santità percepita e la Santità ostentata. Lenny Belardo, che mai come in questa realtà rappresenta l'amore, il punto più alto della spiritualità, e Sir John Brannox, in tutta la sua razionale presenza al mondo.
Interessante da parte di Sorrentino porre una lente di ingrandimento su questo confronto. Come coraggioso è il carico di sessualità che pervade la serie, assieme al dibattito moderno sulla parità delle opportunità.
In una trama che abbraccia già diversi input il regista trova mondo e tempo di inserire persino l'elemento femminista all'interno del Vaticano. Una scelta decisamente intrigante. Specie se si accostano alle richieste di Suor Lisetta immagini che mescolano grottesco e blasfemo. Dalla suora con un tatuaggio che richiama i più ferventi movimenti di resistenza femminista (la donna che alza il pugno chiuso) alla novizia che intrattiene una relazione sessuale con Faisal, uno degli immigrati accolti da Viglietti durante il suo breve papato.
Una provocazione ai dibattiti contemporanei che abbraccia ben più di un tema sociale. E sicuramente alla base di una delle evoluzioni che più di tutte fremiamo di vedere. Non solo per la suora nana con cui sembra che Sorrentino omaggi una delle migliori satire alla sua poetica, ma per lo scontro tra titani che ci attende. Perché se nel mondo reale la lotta femminista si scontra con un patriarcato radicato da troppo tempo, in The New Pope le sorelle di Santa Teresa si scontrano con Sua Eminenza Angelo Voiello.
Un uomo che conosce fin troppo bene la relazione tra potere e peccato mortale.
E che per questo sa come manovrare entrambi. Con delicatezza, senza timore, senza scinderli. Consapevole della loro indissolubilità. Ecco perché Voiello è radicato in Vaticano come e forse più del patriarcato contro cui le sorelle stanno alzando la testa. Non a caso, è lui l'uomo che non passa mai di moda. Come la barretta Kinder.