Grazie a Sky Atlantic abbiamo potuto assistere in anteprima agli episodi 1, 2 e 7 di The New Pope, nuovo capitolo della serie di Paolo Sorrentino. Ecco le nostre impressioni a caldo: tutto, ovviamente, SENZA SPOILER!
Nessun dubbio: The Young Pope ci aveva conquistato. Lo aveva fatto con grazia, profondità di visione e quella maestria registica che solo Paolo Sorrentino sa conferire alle sue opere. Inaspettatamente (e felicemente) abbiamo accolto, qualche tempo fa, la notizia di una seconda stagione dal titolo The New Pope. Protagonisti ancora Jude Law e, nei panni del nuovo papa, un magnetico John Malkovich.
La storia riprende le fila da dove l'avevamo lasciata.
Lenny non è morto, ma in coma, come sappiamo dal trailer già uscito. Ma c'è bisogno di un nuovo papa, una figura che tramite il compromesso sappia riconnettere le anime del cattolicesimo, quelle più intransigenti come quelle progressiste. I primi episodi si focalizzano, perciò, su questa scelta, molto politica e del tutto umana.
In questo contesto il racconto si fa iperbolico, sarcastico. La voluta esasperazione delle situazioni, spesso al limite, fa sorridere e inorridire nello stesso tempo. Ci mette di fronte a una realtà grottesca in cui il lirismo è assente e la Chiesa trionfa nel suo materialismo. Fuori dai giochi Lenny Belardo, la Curia torna a essere luogo di affari e trattative, intrighi di potere e scontri tra fazioni.
Non c'è, però, mai realismo in questa rappresentazione. Non c'è volutamente. Sorrentino non mette in scena la consueta, thrilleristica immagine dell'anima oscura della Chiesa, trita e ritrita in film carichi di pressappochismo e sensazionalismo. No: anzi, il regista sembra qui farne il verso.
Scandalizza con la mera intenzione di restituire un quadro del tutto irreale.
Le situazioni, il clownesco andirivieni degli ecclesiastici, i loro infantili timori non costituiscono elemento trattatistico, storicamente esatto. Ma esprimono, per eccesso, la paradossale "laicità" della Chiesa, etimologicamente "assemblea", "comunità" di uomini. Uomini che, separati dal mondo e padroni di un universo a parte, vivono nell'infantilismo, nell'immaturità e nella materialità delle azioni. E che pure, però, hanno dentro di loro ancora quella inesausta spinta spirituale sepolta sotto tanto chiacchiericcio.
Non bisogna apprestarsi alla visione di The New Pope con la convinzione di trovarsi di fronte a un quadro realistico della Chiesa. Non lo è e non vuole esserlo. The New Pope non è storia documentaristica nonostante l'incredibile ricostruzione degli ambienti e l'accuratezza dei costumi. The New Pope è, al contrario, "spirito": idea sfumata, sensazione, racconto umano. E per questo non necessariamente verosimile, anzi.
Non dubitiamo che, soprattutto per le scene iniziali e la prima metà della stagione, molti finiranno per criticare il registro adottato. Altri, in modo altrettanto errato, attribuiranno a Sorrentino un "coraggio" anticlericale che il regista non ha e non vuole avere. Niente di più sbagliato in entrambi i casi: Paolo Sorrentino racconta storie di uomini. Non fa politica. Non l'ha fatta neppure in film come Il Divo e Loro, dove è sempre l'interesse curioso per l'interiorità (e l'esteriorità) del protagonista a farla da padrone.
E allora dalla prima parte di The New Pope non dobbiamo ricavare anticlericalismo, supposta blasfemia, reale rappresentazione del mondo all'interno del Vaticano. Ma una sensazione: quella di trovarci di fronte a un'umanità con i suoi dubbi, incertezze, peccati e arrivismi. Un'umanità resa ancora più particolare dall'inconsueto (per noi e per Sorrentino) stile di vita.
E così la Chiesa diventa sfondo necessario al macchiettistico succedersi di uomini comuni seppur privilegiati.
Anime da bambini che al candore alternano cattiverie e ripicche. La critica (bonaria), se proprio vogliamo, è tutta qui: in questo sguardo curioso e divertito alle vite di uomini fuori dal mondo, messi in scena in un teatro dell'assurdo che ricorda la gioiosa blasfemia (priva di critica sociale) del Satyricon petroniano.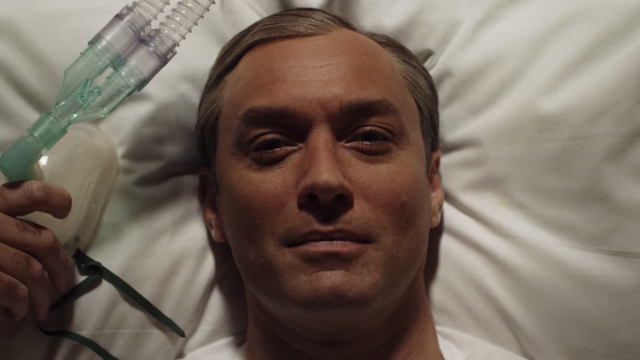 Ma The New Pope all'anima materialistica della Curia affianca anche lo spiritualismo contraddittorio di alcune, eccezionali figure. Spicca così John Malkovich nel ruolo di Giovanni Paolo III. Benestante, nobile lord inglese che vive i dubbi tutti umani della sua fede. "Porcellana delicata", come viene definito dal suo maggiordomo, tanto raffinata quanto fragile.
Di questa fragilità esistenziale la serie saprà dare lustro affiancandola al ritorno in scena di Lenny Belardo. Abbandonata la parodia, il racconto torna a quel lirismo che tanto avevamo amato in The Young Pope. È qui, in particolare, che emerge il miglior Sorrentino: nei silenzi pesanti, nelle attente, poetiche sospesioni del racconto, nelle riflessioni misurate.
Torna il silenzio di Dio.
Il pesante fardello di chi sente su di sé la solitudine esistenziale del dubbio di fede. Di chi, scisso tra fondamentalismo e spiritualismo, parla, invoca, maledice, come un Giona biblico, Dio. L'assenza diventa anche memoria dolorosa, sospensione nel tempo del ricordo, nel passato di due uomini, prima che papi, che hanno perso e mai più ritrovato.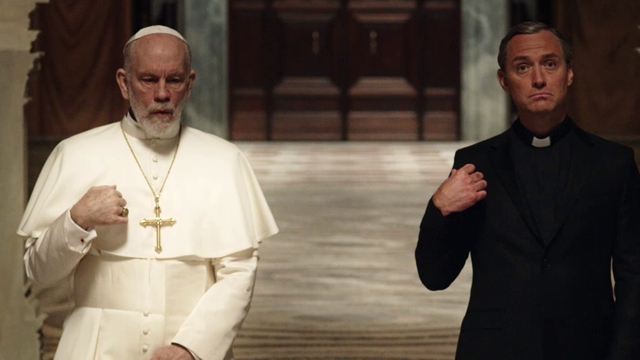 Se amate racconti maliziosi di intrighi vaticani statene alla larga, troverete di meglio (e di più accurato) altrove. The New Pope, con buona pace di molti, è "solo" un racconto umano, tanto esteriore quanto interiore. L'immagine ora grottesca, ora lirica delle diverse anime di uomini comuni ed eccezionali e del loro personalissimo percorso esistenziale.
The New Pope lo trovate dal 10 gennaio su Sky Atlantic (anche, e ve lo consigliamo per la bellezza delle ambientazioni, in 4K HDR).