The Marvelous Mrs Maisel è un turbinio di emozioni, un mix di risate e lacrime che ti travolge e assuefà fin dai primissimi minuti. Credetemi, nell'esatto istante in cui deciderete di iniziarne la visione, questa serie vi entrerà nel cuore senza più uscirne. Almeno, questo è quello che è capitato a me. Non so come spiegarlo, ma quando è partito il pilot semplicemente è scattato qualcosa. Come una scintilla. E mi sono sentita legata indissolubilmente a questa serie tv, anche se non sapevo cosa sarebbe successo dopo. C'era qualcosa in quella stramba ragazza in abito da sposa che raccontava la sua vita fino al giorno del suo matrimonio che mi ha rapito.
Forse non avete la minima idea di cosa io stia parlando. O, forse, anche voi avete avuto la mia stessa identica sensazione.
Da quella prima puntata, la storia non ha fatto che appassionarmi sempre più. Ma in fondo c'era da aspettarselo. Amy Sherman-Palladino: un nome, una garanzia. Già creatrice di Gilmore Girls, Amy è tornata con una collaborazione con Amazon Prime Video che, un po' come il suo precedente prodotto, si pone su una linea che oscilla tra la comedy e il drama. Ti ritrovi a piangere e non sai se sono lacrime di gioia, di dolore o se è perché stai ridendo a crepapelle. E questo è il suo punto di forza: riuscire a trattare temi importanti, a lanciare un messaggio senza sottolinearlo e sempre con il sorriso sulle labbra.
Il tema dell'emancipazione è solo la punta dell'iceberg. La politica lavorativa degli anni '50, il mondo dello spettacolo e ciò che nasconde, la libertà di espressione e la ricerca di un ideale da inseguire, l'amore e la famiglia, il riuscire a distinguersi, a farsi largo in una massa indistinta… sono solo alcuni dei contenuti significativi che ritroviamo. Vengono buttati lì, tra una battuta e un'altra, e crescono sempre più portandoci a riflettere e vedere le medesime cose da tante prospettive quante sono quelle dei personaggi.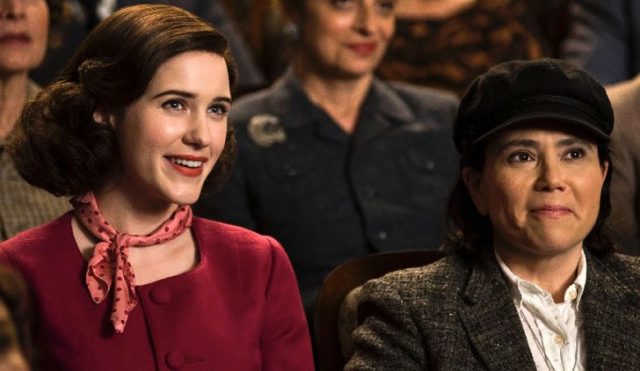 L'ottimismo che pervade la protagonista e che si riflette sulla storia e sui colori delle inquadrature è coinvolgente. Le scene sono brillanti, risaltano esattamente come Midge, che con i suoi look colorati spicca tra la folla. Abiti che riflettono la sua personalità frizzante e decisa, tanto incomprensibile per la mentalità dell'alta borghesia di quegli anni quanto entusiasmante.
Midge Maisel è una donna sopra le righe, perfettamente integrata nella società bene e al contempo con il desiderio di volere di più dalla vita che essere una moglie casalinga. E quando viene lasciata dal marito Joel, le si presenta l'inaspettata possibilità di aver quel di più. Le porte del mondo – non senza sforzo – iniziano a spalancarsi e la ragazza si affaccia su realtà diverse, nuove e affascinanti. Il palcoscenico – che fino alla separazione aveva visto come un qualcosa di altro e che non le apparteneva – diventa il suo spazio, il luogo dove potersi esprimere ed essere sé stessa. La sé stessa elegante e raffinata, affiancata dalla Midge sboccata e provocante.
Una dicotomia che lì, sotto i riflettori e con un microfono ad amplificare le sue battute, risulta semplicemente perfetta.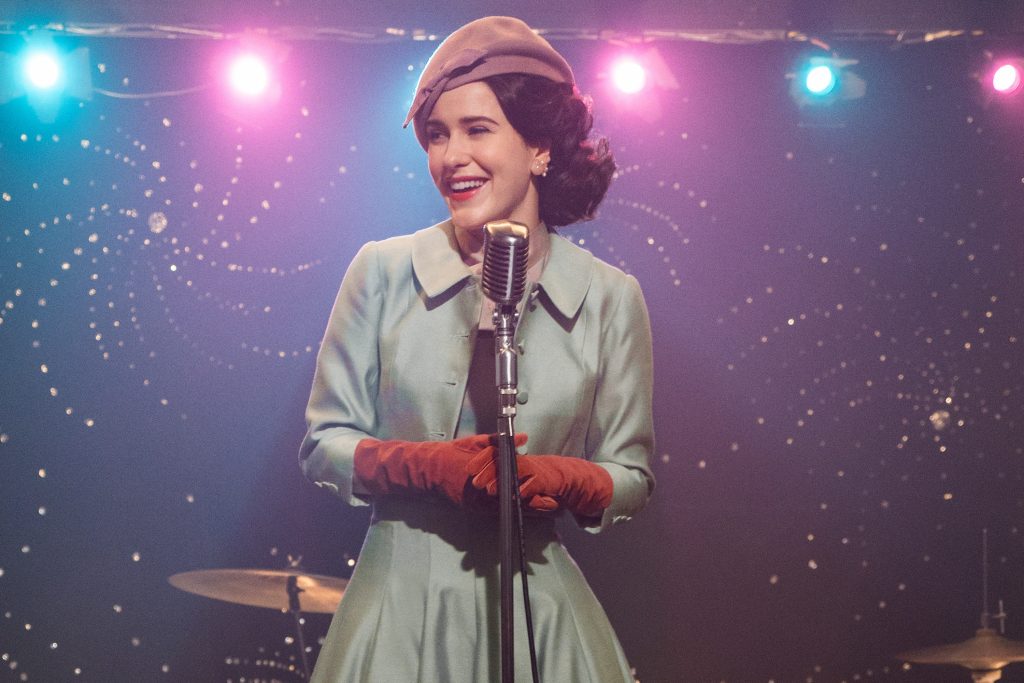 Noi restiamo incantati dalla sua forza e dalla sua risolutezza. Dal coraggio di afferrare la vita a due mani e di stringerla forte per non farsela sfuggire. Perché è sua, solo sua, e non può permettere che nessuno prenda più decisioni per lei. Ma non è tutto rose e fiori. I momenti di sconforto, le difficoltà e le delusioni arrivano di continuo e tentano di ostacolarla.
Ed è proprio a quel punto che ci accorgiamo della sua tenacia. All'inizio della prima stagione Midge Maisel è una donna che ha tutto: una casa nell'Upper East Side, dei genitori pronti ad aiutarla, un marito premuroso e divertente e dei bambini. Poi, la sua realtà si infrange e all'improvviso. E in una sola notte, Midge Maisel è una donna che non ha più niente.
Tranne una cosa: sé stessa. Ed è da lì che parte per rimettersi in piedi, costruendo un'esistenza su misura per sé e i suoi sogni. E, grazie all'aiuto indispensabile dell'amica e agente Susie Myerson (qui i suoi 5 gesti più toccanti), la carriera da attrice comica di Miriam riuscirà a spiccare il volo pur con il vento contrario.
The Marvelous Mrs Maisel è in grado di ispirare e far riflettere continuando a scherzare. Ognuno dei protagonisti si fa portavoce di un messaggio, di una diversa realtà e posizione sociale. Portavoce di una mentalità ormai "superata" eppure ancora molto attuale. Divertente, arguta e profonda, non c'è che dire: la fantastica Signora Maisel è davvero fantastica.