Vi è mai capitato di essere stati lasciati e scoprire che il vostro marito/fidanzato avesse come amante la sua segretaria? Sembra la trama di un film visto e rivisto, giusto? E invece è l'inizio di una delle serie più irriverenti e ben scritte degli ultimi anni. Stiamo parlando di The Marvelous Mrs Maisel, concepita dalla mente geniale di Amy Sherman Palladino, alla quale dobbiamo l'eterna lotta #teamJess e #teamLogan.
Questa volta da Stars Hollow, la città fittizia di Una Mamma per Amica, ci spostiamo nella New York degli anni '50, gli iconici anni in cui il boom economico ha preso il sopravvento e il sogno americano sembrava davvero essere alla portata di tutti. Prodotta da Amazon e già vincitrice di 8 Emmy Awards tra cui "Miglior serie tv comedy", The Marvelous Mrs Maisel tratta gli anni '50 come non li abbiamo mai visti. E lo fa nel più comico dei modi.
E lo farà dando vita al suo famoso sketch che la renderà famosa con il nome di stage Mrs Maisel.
Pur non avendoli mai vissuti, Rachel Brosnahan offre una meravigliosa interpretazione di Midge Maisel, donna ebrea benestante, sposata con due figli. Sembra la descrizione di un'altra serie sulle casalinghe perfette, ma Midge è decisamente una figura anacronistica rispetto al ruolo che la donna rivestiva quegli anni. Da una realtà perfetta si ritrova ben presto da sola, senza un marito o una prospettiva sul futuro. Quindi decide di affrontare le cose da "persona matura", ubriacandosi a più riprese. Ed ecco che si ritrova su un palco, in un improbabile pub, a raccontare a degli sconosciuti il fallimento della sua vita matrimoniale.
Inizia come tutti gli altri, facendo gavetta in pub puzzolenti, ma nessuno le offre una concreta possibilità in quel settore. Lei, tuttavia, non si accontenta dei 10 minuti offerti a tarda notte, e pian piano inizia ad avere maggiore visibilità, anche grazie all'incontro con una comedian, interpretata da Jane Lynch. E come abbiamo imparato dal pilot, Mrs Maisel non gliele manda a dire e sembra bruciare ogni possibilità di una futura carriera, sopratutto quando suo marito Joel scopre il suo segreto.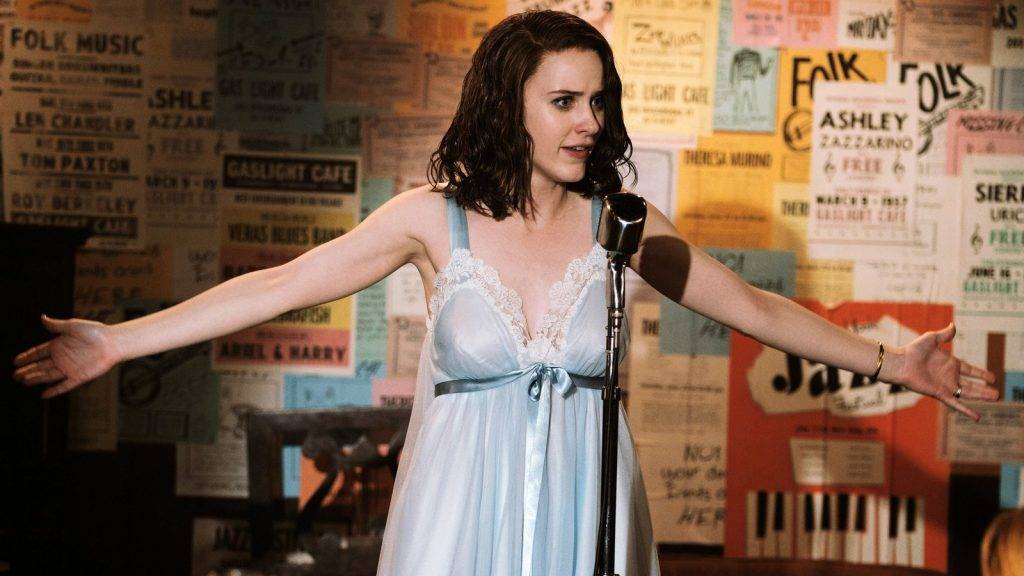 Midge tuttavia si scopre una comica senza rivali e, se inizialmente ha paura che questa sua doppia vita venga scoperta (soprattutto dal marito, che non riuscirebbe ad accettarlo), dall'altro lato si trova davanti una serie di possibilità che potrebbero far decollare la sua carriera. La sua vita, seppur distrutta, è comunque una bella vita. Con l'aiuto della sua fidata manager, interpretata da un'esilarante Alex Borstein, Midge si scontra con la dura realtà della comicità tutta al maschile.
Il rapporto con Joel é in bilico già dal pilot e, nella seconda stagione, Midge avrà un altro interesse amoroso, interpretato dal bellissimo Zachary Levi. E quando si troverà davanti alla scelta tra la sua carriera e iniziare una nuova vita grazie a un nuovo matrimonio, cosa sceglie? Il male peggiore. Tornare con il suo ex, anche solo per una notte, come se nulla fosse successo.
Ed è forse questa l'unica cosa che questo show non doveva mostrarci.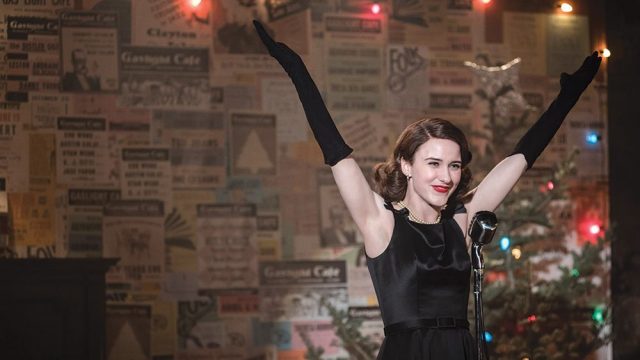 L'errore di aggrapparsi al passato, buttandosi tra le braccia di un uomo che ci ha ferito. Ma The Marvelous Mrs Maisel é anche questo. Una serie che ci mostra per la prima volta i patinati anni '50 nella loro imperfezione. La scena in cui Midge va a letto truccata e si alza non appena Joel dorme, per poi ritruccarsi prima che lui si svegli, può farci sorridere all'inizio, ma mostra una bugia a cui le donne erano costrette a ricorrere per rendere perfetto il proprio matrimonio.
Ma Midge ci mette davanti agli occhi anche l'altro lato della storia: rappresenta le donne che vogliono trovare la propria voce nel mondo, e lo fa ancora prima di tutti i movimenti che da lì a qualche decennio porteranno a riconoscere i diritti della donna. Lo fa nella propria quotidianità e senza mai scendere a compromessi. E chi ha detto che attraverso la comicità non si può fare una rivoluzione?
Leggi anche – The Marvelous Mrs Maisel é stata rinnovata