La nuova e attesissima terza stagione di The Marvelous Mrs. Maisel arriverà il 6 dicembre 2019 esclusivamente su Amazon Prime Video.
Noi di Hall of Series abbiamo avuto l'occasione di poter vedere in anteprima assoluta, grazie ad Amazon Prime Video, le prime cinque puntate della nuova stagione, ancora inedite in Italia e nel mondo.
Il primo assaggio di questa terza stagione non può che confermare, ancora una volta, ciò che abbiamo sempre pensato de La fantastica signora Maisel: una serie davvero unica della quale il pubblico italiano farebbe bene ad accorgersi al più presto.
Creata da Amy Sherman-Palladino, già autrice di Una mamma per amica, The Marvelous Mrs. Maisel fa incetta di Emmy e Golden Globe nel 2018 sbalordendo la concorrenza con la sua straordinaria singolarità.
Stregati dalla primissima stagione, colpiti profondamente dalla seconda, con l'arrivo di questa terza non possiamo che aspettarci il meglio, e diciamolo, questa anteprima ha di certo soddisfatto molte delle nostre aspettative.
Ecco un assaggio no spoiler di quelle che sono sicuramente le previsioni più rosee di quello che potrà offrirci – basandoci sulla nostra visione in anteprima dei primi episodi – la terza stagione di The Marvelous Mrs. Maisel.
Alla fine della seconda stagione abbiamo lasciato Midge decisa ad intraprendere un tour mondiale come apri palco del famoso cantante Shy Baldwin, il quale dopo aver visto una sua esibizione non ha potuto far altrimenti se non invitarla a seguirlo in questa nuova avventura. Un trampolino di lancio per la carriera da stand up comedian che Midge non ha alcuna intenzione di farsi scappare.
Pronta ad evadere dalla sua quotidianità che in passato ha tarpato le ali alla sua ambizione di fare di questo suo sogno una professione, Midge è decisa a sfidare tutti ma soprattutto sé stessa in questo tour che si rivelerà meno accogliente di quanto aveva immaginato.
In compagnia della sua fidata manager Susie, ogni insuccesso e ogni delusione fa meno male, ma qualcosa sembra insinuarsi sempre più nel loro rapporto.
La ragione di questo imbarazzo è sicuramente dettata dai sensi di colpa che Susie prova nei confronti di Midge, poiché come ricorderete, alla fine della seconda stagione Sophie Lennon sbalordì Susie con un'offerta di lavoro assolutamente generosa di cui Miriam non sospetta niente. Combattuta tra il profondo desiderio di far emergere Mrs. Maisel nel mondo delle stand up comedy e la sicurezza di un guadagno facile offerto da Sophie, Susie dovrà compiere una scelta non affatto facile.
Mentre Midge e Susie inseguono i loro sogni, ABE e Rose e lo stesso Joel cercano di fare lo stesso, forse ispirati dalla sua grande dimostrazione di coraggio.
Joel, ormai diventato uno dei più grandi sostenitori della carriera da comedian di Miriam, sogna di aprire un club dove far esibire ogni notte comici tanto talentuosi quanto lei. La ricerca non sarà affatto facile ma la determinazione di certo non manca.
Abe, invece, ancora scosso dall'outing di sua figlia, che nella scorsa stagione dopo mesi di bugie e di 'stasera mi fermo a dormire dalla mia amica Susie' ammette quella che è la sua più grande passione e fonte di felicità- ovvero la stand up comedy – fa qualcosa che non ci saremmo mai immaginati potesse accadere.
Il signor Weissman è un accademico, uno di quelli che finché non vede non crede, ed è in uno di questi suoi moti di determinatezza, decide di andare a vedere uno spettacolo di stand up, non di sua figlia, come rovinosamente accadde in passato, ma di colui che l'ha ispirata: Lenny Bruce.
Gli esiti più che ironici che conseguono a questo strano incontro hanno molto a che vedere con un sopito fervore reazionario che lo spirito di Lenny Bruce riesce a risvegliare nel ligio Abe. Può andare meglio di così? Molto probabilmente sì.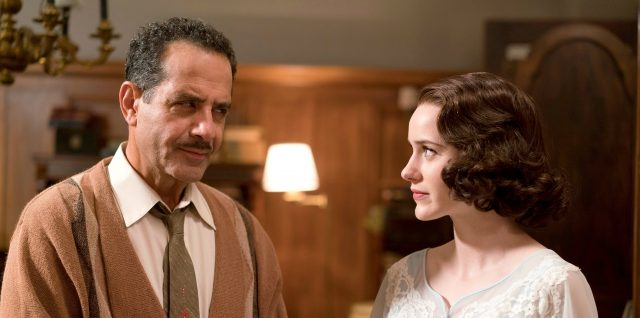 Questo terzo capitolo ha tutte le carte in regola per regalarci un grande finale di stagione. Ognuno dei personaggi principali è posto di fronte a una scelta dalla quale potrà cambiare propria stessa esistenza, un conflitto che ha una sede profonda nella felicità e nell'accettazione e valorizzazione dei propri sogni.
Con Midge che fa da apri fila in questa stagione che ha molto da dimostrare sul piano della sceneggiatura e delle imprevedibili svolte che prenderanno i suoi protagonisti, The Marvelous Mrs. Maisel avanza gloriosamente verso l'affermazione, e non potrebbe essere altrimenti.
The Marvelous Mrs. Maisel ci aspetta con le sue otto puntate il 6 dicembre 2019 su Amazon Prime Video, pronta a guidarvi dentro e fuori dal palco della più amata comica seriale.