*ATTENZIONE! Questo articolo contiene spoiler sulla prima stagione di The Haunting of Hill House.
Quest'anno Natale è arrivato in anticipo per gli appassionati del genere horror: dal 12 ottobre The Haunting of Hill House è disponibile su Netflix per chiunque voglia passare notti insonni. La serie, tratta dal libro di Shirley Jackson, ha riscosso un grande successo anche tra i non amanti del genere. La maggior parte degli spettatori si dice entusiasta del prodotto. Peccato ci siano poi dei disadattati come me pronti a rovinare la festa, che la pensano diversamente. Questo perché vorremmo sapere come sia possibile che The Haunting of Hill House si trasformi in un dramma familiare degno di un film di Muccino nell'arco di una sola puntata: il finale. Facciamo quindi un passo indietro per scoprirlo.

L'allegra famiglia Crain – genitori premurosi e cinque bellissimi figli – si trasferisce in una villa ottocentesca acquistata da Mr. Crain per essere restaurata e rivenduta. Tuttavia, i malcapitati non sanno di trovarsi in quella che sarà successivamente conosciuta come la casa più infestata del paese. Il primogenito Steve ne trarrà poi un libro, chiamato appunto The Haunting of Hill House.
Il plot mette molta carne al fuoco: flashback sugli eventi drammatici accaduti nella villa si alternano alle vicende (non più di tanto allegre) del presente. La trama è avvincente e la struttura dell'episodio focalizzato sui drammi di ogni protagonista è originale. Poi…il disastro.
La fagocitante attesa di scoprire qual è il segreto di Hill House che ha dato origine alle turbe mentali di ogni personaggio si riduce a una mancata seduta di gruppo da uno psicoterapeuta.
Il finale mira a far intendere che i suicidi di Olivia e Nell fossero stati influenzati dagli spiriti irrequieti che infestano Hill House.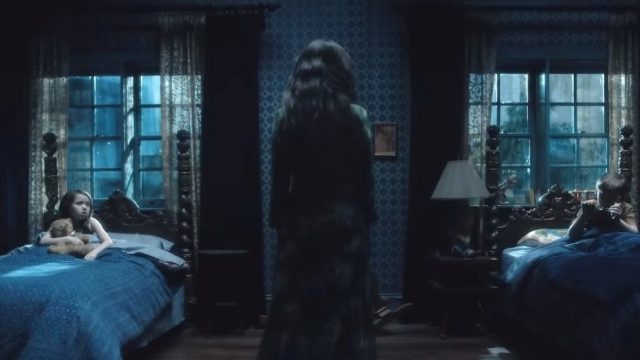 Ma l'unica presenza chiara in quella casa è molto probabilmente una schizofrenia genetica che si trasmette di madre in figlio.
The Haunting of Hill House è narrata lungo la sottile linea che separa scetticismo e negazione della realtà. Oscilliamo tra paranoie reali e suggestione. Il tutto condito da muri e paletti posti nel mezzo dai familiari stessi. Sembra il plot di Mine Vaganti. Abbiamo 'sto padre che insiste nel suffragare i propri silenzi con la necessità di "proteggere i propri figli" per tutta la stagione. Dunque ci si chiede "Ma cosa sarà accaduto la notte del suicidio di Olivia? Qual è la verità che Hugh non può raccontare?" Dev'essere qualcosa di terrificante se pur di tenerla nascosta preferisce guadagnarsi l'odio dei figli che – giustamente – avrebbero gradito delucidazioni su quanto accaduto alla madre. Nove accattivanti puntate, poi finalmente il finale tanto atteso.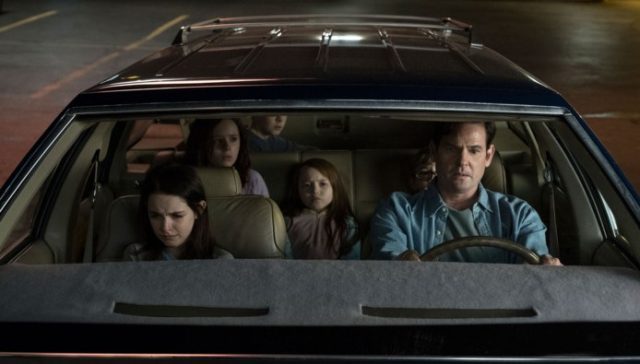 E scopri di non aver seguito altro che le vicende di una famiglia di sciroccati, le cui vite sono semplicemente il risultato delle traumatiche esperienze del passato.
Steve è l'unico sano di mente ad aver compreso la natura dei disturbi mentali che affliggono la sua famiglia. La madre, schizofrenica, è giunta al suicidio a causa di costanti allucinazioni visive. I fratelli minori sono emotivamente vittime della sua prematura morte e del successivo allontanamento del padre. La sua professione di scrittore di gialli ispirati a fatti reali non è altro che un'elaborazione razionale dei (fantomatici) episodi paranormali che avrebbero influenzato la sua infanzia. Shirley è una donna con un grosso bastone in un posto impronunciabile, che ha cercato di colmare i vuoti affettivi costruendosi un'equilibrata vita familiare. È una donna spaventata dalla morte che esorcizza la propria paura trascorrendo le giornate a osservarla attraverso cadaveri da truccare per lavoro. Theodora, introversa e solitaria fin da bambina, asserisce di "sentire cose".
Certo se tua madre – una fusione tra Giucas Casella e Paolo Fox – ti dice a otto anni che hai il dono dell'"ipersensenzia" – e tu sei già un po' disadattata di tuo – passi la vita a pensare che sia vero.
Dono riconosciuto per aver scoperto una bottiglia di vino pregiato in quella che è CHIARAMENTE una scatola per la conservazione di vini. Sfido chiunque a non comprenderne il contenuto al tatto. La scoperta di una cantina sotto la cucina? Beh, se tuo fratello che ci si è fatto un giro ti dice che a dieci piedi di distanza c'è una scala, tu bimba intelligente due conti te li riesci a fare anche se non sei il Divino Otelma. Guarda caso cosa fa da grande? Psicologa infantile. Proiezione del suo trascorso di piccola incompresa, passa l'età adulta cercando di sbloccare tanti "piccoli lei".

I gemelli sono forse coloro che ci hanno trasmesso maggiore inquietudine in The Haunting of Hill House. Ma la vera tragedia di Luke e Nell è aver ereditato la schizofrenia della madre. Niente di straordinario.
È risaputo quanto la malattia possa essere "ereditaria". In più Nell soffre di paralisi nel sonno. Anche qui nulla di paranormale. Come le spiega il suo stesso futuro marito – Arthur – ne soffrono molte persone che asseriscono – come lei – di vedere cose orribili in quei secondi di veglia. Le sue paranoie spariscono quando arrivano amore e matrimonio. Gli incubi sulla "donna dal collo spezzato" tornano più feroci dopo la morte di suo marito cui lei ha assistito impotente. Siamo tutti d'accordo che un simile evento traumatizzerebbe chiunque?
Considerando che Nell è già vittima di un'immensa lacuna emotiva sin dall'infanzia, una mezza depressione ci sta tutta.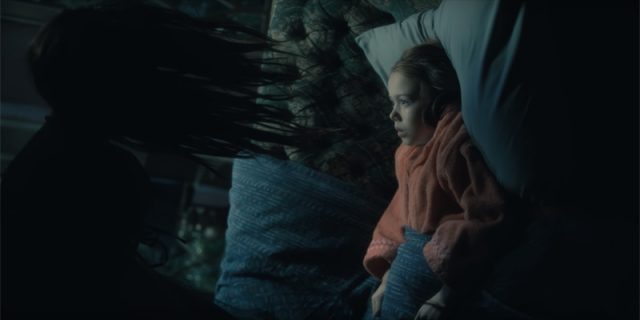 Il suo psicoterapeuta, colti i disturbi, le prescrive dei farmaci che lei decide "saggiamente" di non prendere. Si suicida impiccandosi come la donna dal collo spezzato che l'aveva perseguitata per anni. Che sorpresa. La storia lascia intendere che la donna dal collo spezzato dei suoi incubi fosse da sempre lei stessa. Ora – considerato tutto il trascorso – è più probabile un mega persistente dèjà-vu o un suicidio influenzato dalle sue visioni?
Il suo gemello, Luke, è più incasinato di lei. La madre si suicida, il padre sparisce, lui ha solo sei anni. La sua schizofrenia si traduce in perenni visioni di una sorta di gigante. Il giovane quindi si dà alla droga. Wow, inimmaginabile il perchè. Piccolo dettaglio "a sostegno del paranormale": la droga amplifica gli effetti della schizofrenia. È un cane che si morde la coda in cui causa ed effetto si mescolano.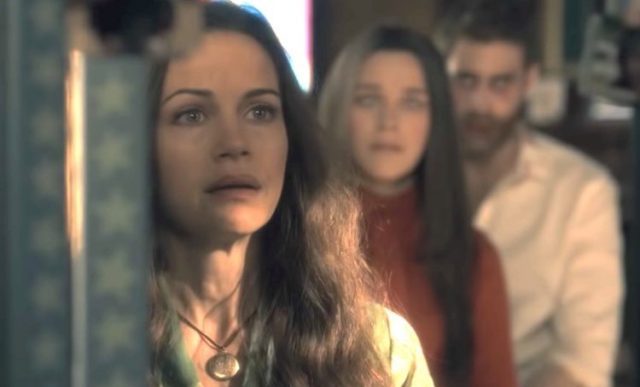 All'origine di tutto ciò, una madre che trascorre ore a parlare con cose che non esistono.
Discorsi più melensi di un libro di Nicholas Sparks. Un padre che si rifiuta di vedere gli evidenti disturbi della moglie. Si sveglia nel sonno con lei che gli punta un cacciavite alla giugulare e lui giustamente le consiglia tre giorni di vacanza dalla sorella. Un genio. La cosa che fa rabbia è che tutte queste vicende lasciavano intendere una misteriosa connessione con i fatti di Hill House. C'era da aspettarsi un finale col botto. Un segreto inimmaginabile che desse una chiave di lettura originale a tutte queste paranoie.
E invece qual è il succo di The Haunting of Hill House?
Olivia – la madre – in un episodio paranoide, tenta di avvelenare i gemelli e Abigail: quella che si scopre essere…la figlia dei vicini. Non l'amica immaginaria di Luke, ma una bambina in carne e ossa. Il marito, per pura buona sorte, riesce a fermarla prima che accada l'irreparabile, ma per Abigail è già troppo tardi. Strattona la moglie e porta i figli fuori da quella gabbia di matti. Scopriamo qui che l'inquietante presenza che inseguiva Hugh mentre portava Steve in braccio fuori dalla casa non è altri che la madre zoppicante. La donna, capito il disastro in un momento di lucidità, si suicida. Hugh, tornato a Hill House per raccattare la moglie e farle (si spera) un TSO, la trova stecchita. Accorrono i vicini, i Dudley, che scoprendo il corpo esanime della figlia al posto di chiamare la polizia implorano Hugh di non bruciare la casa perché lo spirito della bambina ormai vi alberga. Scopriamo che 'sta creatura era praticamente segregata in casa, educata lì per "paura del mondo esterno" al punto che nessuno sapeva della sua esistenza. Magari quel TSO si poteva fare comunque, ma a loro.
Insomma l'impronunciabile verità taciuta ai figli per proteggerli da chissà cosa, non è altro che la pazzia omicida della madre. E l'occultamento di cadavere dei vicini misantropi.
Buchi di trama a raffica. Come funzionava la porta rossa? Chi sono i Gritten cui accenna uno dei fantasmi? Chi bussava insistentemente alla porta di Shirley la sera di Halloween? Cos'ha sentito Theo quando ha toccato il cadavere di Nell? Tutte domande senza una risposta, cui gli sceneggiatori hanno preferito una carrellata di happy ending familiari senza senso.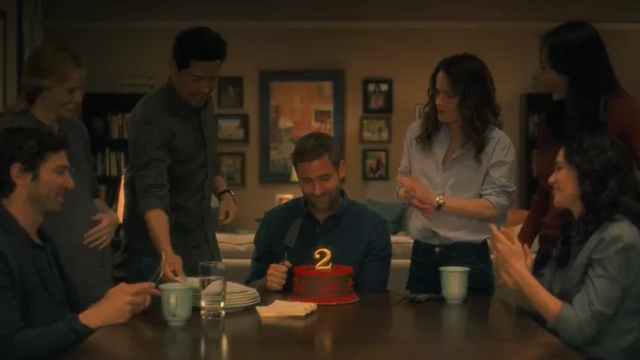 Steve si riconcilia con la moglie con un discorsetto che cancella una vasectomia taciuta per anni. E resta incinta per opera dello Spirito Santo. Shirley la perfettina decide – per ragioni inspiegabili – di confessare al marito un tradimento avvenuto sei anni prima. Ma a lui non sembra importare. Theo da fredda sciupafemmine passa alla convivenza con una sconosciuta che manco le piaceva più di tanto. Luke, dopo dieci anni di dipendenza da eroina (non patatine fritte), festeggia due anni di sobrietà. Wow. Che semplice la vita.
In tutto questo, quel poveraccio di Hugh dopo aver affrontato una moglie squilibrata, vicini trogloditi, i sospetti della polizia, l'ingratitudine dei figli e disagi economici si suicida a Hill House e cade nel dimenticatoio. Va nella stanza rossa, versione poraccia della Loggia Nera  di Twin Peaks. Lì si riunisce a moglie e figlia presumibilmente per un pranzo di Natale nell'aldilà, visto il discorso dello spirito di Nell ai fratelli, degno di un Thanksgiving Day.
E così The Haunting of Hill House finisce come una qualunque puntata dei Cesaroni.
OK.