La decima puntata di The Handmaid's Tale potrebbe essere definita quasi unica nel suo genere. Raramente la serie di punta di Hulu è riuscita a combinare elementi narrativi tanto distanti tra loro lasciandoci perfino con un sorriso. Una di queste occasioni è rappresentata proprio da Testimonianza. Un episodio che rispolvera i disturbanti pilastri della prima stagione proponendo al tempo stesso ottimistiche soluzioni. Soluzioni che hanno il profumo di nuove speranze.
Lo stesso ci fornisce inoltre nuove informazioni. E ulteriori conferme. Sappiamo ora che sono passati 5 anni da quando i Figli di Giacobbe hanno preso pieno potere. Conosciamo meglio la posizione del regime in merito ai farmaci: fuorilegge anche per mogli e comandanti. Tuttavia un rinnovato ottimismo ci pervade in quest'ultimo finale nonostante 40 minuti di immensa tristezza. La caratteristica sensazione claustrofobica cui The Handmaid's Tale ci ha abituati nel corso della sua storia si estende infatti a nuove figure.
Scopriamo che a Gilead ognuno ha una tragedia da affrontare. Non solo Ancelle e Marte, ma anche chi è più in alto può ritrovarsi impotente nel subire le conseguenze di una cieca oppressione.
Non che ciò rappresenti qualcosa di totalmente nuovo. Le mutilazioni inflitte al Comandante Putnam e a Serena nelle scorse stagioni hanno ampiamente dimostrato come la legge del terrore non risparmi nessuno. Tuttavia il caso dei Lawrence rappresenta un anfratto della storia ancora inesplorato. Finora avevamo su di loro poche notizie. Insieme da sempre, innamorati fin da giovani. Eleanor voleva figli nonostante lavorasse, Joseph no. Il non averne mai avuti ha inciso sulla sua stabilità emotiva per poi lasciare che l'avvento di Gilead le desse il colpo di grazia.
Joseph dal canto suo è un uomo pratico, intelligente. Cinico quanto basta da comprendere la necessità di combattere la minaccia d'estinzione dell'uomo andando oltre i desideri di paternità. Favorisce il sistema Gilead architettandone l'economia e inventando le Colonie. Una verità che ha spezzato Eleonor, moglie "umana" nel mondo di mostri creato anche da suo marito. Una donna incapace di accettare gli orrori di una società di cui l'uomo che ama è co-artefice.
In questa puntata The Handmaid's Tale chiarisce la figura di entrambi. Ci mostra come un elemento raro nel sistema Gilead possa fungere da chiave di volta per indebolire il sistema: l'amore.
Scopriamo che l'attaccamento di Joseph alla moglie non è frutto di cieca possessività ma della più pura volontà di tenerla accanto, in salute e in malattia. Questo amore incondizionato è il suo "punto debole". Non potrebbe essere altrimenti in una simile realtà. La ama nonostante i crolli nervosi e la depressione. Nonostante sua moglie lo veda come un mostro. Allo stesso modo come lei continua ad amare lui nonostante i suoi innominabili crimini. Questo amore è la gabbia di Eleanor: un conflitto interiore tra il disgusto, il senso di colpa e il sentimento incondizionato.
Ed è la macchia sulla figura del comandante Lawrence, obiettivo abbastanza da riconoscere la verità intrinseca della cerimonia rifiutandosi di prestarsene. Joseph voleva dare il suo contributo per salvare il mondo e la specie umana. Dei figli e del ritorno alla tradizione domestica non gli importava. Ed è stato tanto ingenuo quanto presuntuoso da credere che Gilead avrebbe fatto un'eccezione per lui.
Ma The Handmaid's Tale ci ha insegnato fin troppo bene che Gilead non è un governo qualunque. Di certo non uno di quelli che contempla eccezioni.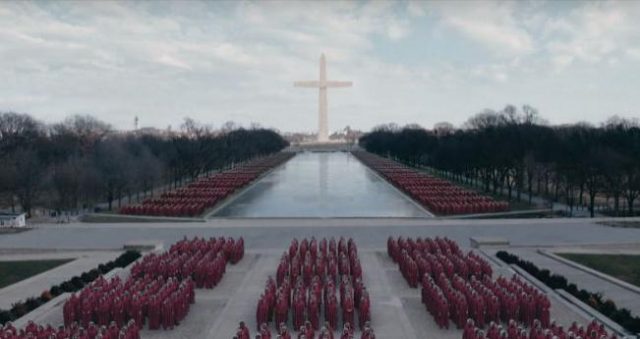 Testimonianza mostra il rovescio della medaglia: le conseguenze della repressione che finiscono per colpire anche chi ne ha favorito il dilagarsi. Vede il ritorno di Fred Waterford in un ruolo chiave per questo episodio e forse per gli eventi futuri. La sua ossessione per June, travestita da infima gentilezza, lo porta a voler colpire Lawrence con un piano che mostra tutta la sua ipocrisia. Riviviamo le disturbanti sensazioni della cerimonia, un bel nome dato a quello che resta sempre uno stupro. Le viviamo all'ennesima potenza poiché stavolta percepiamo il dramma di ognuno dei tre partecipanti.
L'improvvisa invasione dei Waterford accompagnati da Winslow, Zia Lydia e un medico che accerti la "virilità" di Joseph, nonché l'aderenza della famiglia alla cerimonia, rappresenta un nuovo macabro risvolto. Scopriamo che era una pratica comune all'alba del regime. Appare quindi chiaro come la cerimonia possa aggradare perlopiù i perversi appetiti di finti timorati di Dio che il reale desiderio di paternità tanto ostentato.
L'inusuale cerimonia di Joseph, Eleanor e Dijoseph è una scena terrificante. Tanto potente da rendere quella camera da letto una gabbia finanche per noi che osserviamo da uno schermo.
Non sembra esserci via d'uscita da essa, ognuno deve fare i conti col proprio dramma. Eleanor con il senso di colpa. June con un'ulteriore violenza. E Joseph con la consapevolezza di aver contribuito a tutto ciò. La razionalità di Dijoseph – non priva di sofferenza – è monumentale. Elisabeth Moss magistrale (forse per questo ha ragione a essere infastidita da certi commenti). Laddove un uomo si trova ad affrontare sulla propria pelle l'esperienza dell'atto sessuale forzato emerge la verità: la sofferenza, come la morte, è un concetto astratto quando non interessa il proprio corpo. Ma The Handmaid's Tale non risparmia nessuno: arriva per tutti il momento di toccare con mano il dolore. Era la miccia che aspettavamo dall'inizio di questa stagione, quella che ha acceso il fuoco della disobbedienza di Joseph Lawrence.
E poiché l'odio è come un boomerang, la serie non risparmia neanche lo stesso Fred. Deluso, dopo una spocchiosa ostentazione di falsa vicinanza e superiorità. Incapace di muovere ulteriori accuse. Ferito nell'orgoglio dal misurato disgusto di June. Va via con niente più di un buon bicchiere di scotch. E con lui va via Serena, l'occhio razionale della coppia. Di gran lunga più capace del marito nel cogliere la realtà di quanto accaduto.
Dalle scorse puntate di The Handmaid's Tale avevamo capito che Nichole rappresentava per Gilead molto più di una bambina da riprendersi.
Nichole rappresenta una leva, un pretesto politico. Ma è un terreno di gioco che Serena non può accettare. In questo episodio viene posto un accento non indifferente sull'acutezza di Serena nel carpire cose che suo marito è troppo cieco per notare. Il viscido atteggiamento dell'"integerrimo" Winslow, contrario alle vanità superflue di una benda per ancella ma non a sguardi invasivi alla bella moglie di un collega che non conta quanto lui. Le disumane condizioni di Eleanor. E l'intera faccenda: Serena è consapevole di quanto potente sia Lawrence, ma comprende la realtà di quanto accaduto per mano di Fred.
A Gilead la devozione al paese non conta sul serio. Contano il potere, i giusti amici e la posizione nella gerarchia. Neanche i bambini contano più di ciò.
È tempo quindi per Serena di imporsi e scegliere da che parte stare. Poco importa quanto egoistiche o cariche di umano buon senso siano le sue ragioni. L'idea che Serena non abbia cancellato il suo percorso evolutivo non può non renderci felici e speranzosi. Lo stesso vale per Joseph, ormai sulla strada di un'azione decisa. Con una dignità che non può essere ignorata. Joseph è un uomo troppo intelligente per non sentire sul cuore il peso della sofferenza inflitta alle vittime di Gilead. The Handmaid's Tale ci mostra finalmente il suo ruolo nella Resistenza: il mostro che si fa eroe. Con suo stesso disappunto. Merita davvero tale titolo quello che resta pur sempre un criminale di guerra? Che la risposta sia affermativa o meno ciò che conta è la pratica.
La sua azione potrebbe trasformare in realtà la promessa di ribellione di June fatta al capezzale di Dimatthew nella scorsa puntata. Portare via da Gilead quanti più bambini possibile.
Mancano solo tre episodi al finale di stagione. Sappiamo da pochi giorni che The Handmaid's Tale è stata rinnovata per una quarta stagione (qui potete leggere i dettagli). Risulta chiaro pertanto che le cose non si risolveranno solo con quintali di muffin. Ma di certo speriamo che quei cesti indichino un dinamico risvolto in vista. A fronte di una terza stagione movimentata più dalle musiche che dagli avvenimenti.