Da parecchi mesi conosciamo tutti Shaun Murphy, il geniale dottore della serie The Good Doctor che ha debuttato questa estate sulla Rai (qui parliamo del suo successo straordinario). In questo periodo sta andando in onda, negli USA, la seconda stagione e noi tutti non vediamo l'ora di riprendere la storia da dove eravamo rimasti.
Shaun, non fa male ricordarlo, è affetto dalla Sindrome del Savant e ha parecchi comportamenti che lo includono da qualche parte nello spettro dell'autismo. Ricordiamo la sua genialità, l'ottima memoria visiva, la conoscenza eccezionale di determinati argomenti (come l'anatomia e la medicina in generale) e il rapidissimo problem solving, quando si trova sul luogo di lavoro. Sì, perché Shaun ha anche dei problemi, causati proprio dalla sua malattia. Non è empatico, quando si rapporta alle altre persone non ha filtri e non sempre riesce a essere adeguato in tutte le situazioni (ricordate l'episodio di The Good Doctor dove avviene la sparatoria?).
"Non è colpa di Shaun se non sa comportarsi", "Non dipende da lui". Certo, è vero. Queste caratteristiche negative del chirurgo non dipendono da lui.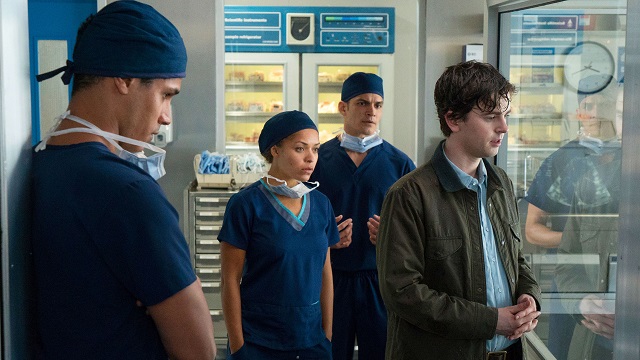 Per una volta, però, proviamo a fare un passo indietro e a essere empatici non solo verso di lui, che di certo ne ha bisogno perché è molto difficile capire come veda il mondo, ma anche verso le persone che gli sono intorno ogni giorno. Shaun è un medico e si rapporta a persone che di certo non sono in ospedale per adempiere a un compito. I pazienti, o i loro familiari sono in una condizione di sofferenza fisica o morale, e trovarsi di fronte un medico brutalmente schietto e, a  volte, maleducato non aiuta a star meglio.
Se la mamma di un bambino ricoverato pensasse "che stronzo" dopo un'uscita infelice del dottor Murphy, ciò potrebbe essere dettato dalla non conoscenza della condizione di quest'ultimo. Quindi, pensare al dottore come persona maleducata potrebbe anche essere sensato.
Chiaramente il medico non deve essere un intrattenitore o un simpaticone. Tuttavia, si tratta pur sempre di un ruolo che richiede molta umanità e sensibilità. Fare il medico è una missione. Dedicare la propria vita ad aiutare gli altri, alleviare le loro sofferenze e quelle delle persone che le amano. Shaun ha avuto un motivo un po' più personale per avvicinarsi alla professione (avrebbe voluto essere in grado di salvare il fratello da una caduta fatale), quindi forse è comprensibile che questo spirito da Madre Teresa di Calcutta non sia così evidente nel personaggio. Anche se abbiamo percepito che non tutto è perduto per il protagonista di The Good Doctor, in fatto di sensibilità.
Quelli che necessitano maggiormente della nostra simpatia sono poi i colleghi di Shaun. In The Good Doctor sono tutti un po' succubi del chirurgo specializzando.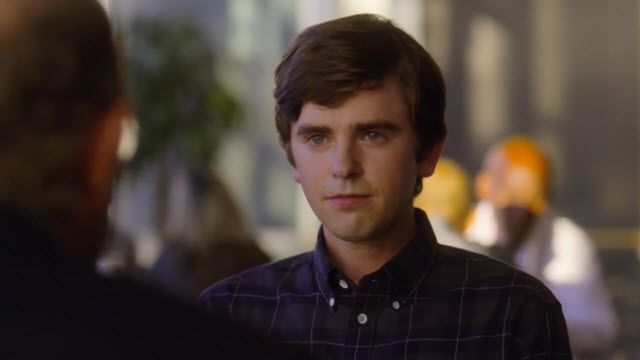 Non siete mai grati a un collega che dalla vostra espressione capisce che avete bisogno di aiuto o di conforto? Il mondo del lavoro, che sia un ospedale o un ufficio, diventa quasi una seconda casa. Perché allora non cercare nei colleghi degli amici? In The Good Doctor abbiamo visto che Shaun pian piano riesce a creare dei legami, soprattutto perché i colleghi sono molto comprensivi e gli vanno incontro per qualsiasi cosa. Non se la prendono per i suoi comportamenti (come giusto che sia data la conoscenza del caso) sanno che lui non può capirli come vorrebbero e che il loro rapporto ha dei limiti obbligati. E anche noi spettatori, quando guardiamo le loro interazioni, lo sappiamo.
Ecco perché quando a volte Shaun, e personaggi come lui (ci viene in mente Sheldon Cooper di The Big Bang Theory), fa gesti pregni di sensibilità, che per altri sarebbero banali ma per lui significano molto, ci liberiamo tutti in un sentito "owwwww". Se nelle prime stagioni della comedy sopracitata Leonard faceva una gentilezza per Penny, o la abbracciava, nessuno si sarebbe stupido. Quando arriva l'episodio in cui lo fa Sheldon è un grande giorno per i fan del fisico perché il gesto rappresenta un passo avanti nella caratterizzazione del personaggio.
Lo stesso vale, ovviamente, per Shaun. Quando alla fine della prima stagione osserviamo la reazione dello specializzando alla malattia del suo mentore, la nostra commozione è triplicata. Vediamo Shaun che accantona il dispiacere, che cerca di essere cerebrale e trovare subito una soluzione (in parte riuscendoci), che piange perché non può perdere il suo migliore amico. Queste sono reazioni umane, banali, ma provate da lui, esternate da lui, valgono tre volte tanto.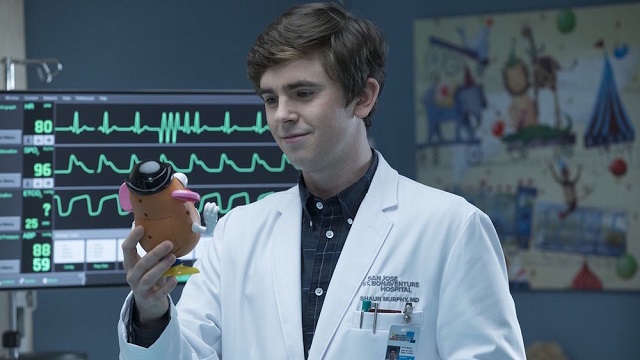 Si dice che quando si è con persone che hanno dei problemi, o delle disabilità, bisogna trattarle normalmente per non fargli pesare la loro condizione. Questo dipende chiaramente dalle circostanze, tant'è che quando si ha a che fare con gli altri, ognuno di noi – talvolta – si adegua al suo interlocutore per rendere più semplice la comunicazione. È normale cercare di facilitare la vita a chi ci è amico e a chi vogliamo bene. Allo stesso modo è dura sapere che certe persone non potranno mai ricambiare la gentilezza.
Il lato oscuro di Shaun Murphy non dipende assolutamente da lui, ma indirettamente può influenzare la vita di chi lo circonda.
E lui, però, sta iniziando a capirlo. Vuole imparare come si fa a essere empatici. Si fa aiutare dai nuovi amici: vuole riuscire a leggere i volti delle persone, a capirle prima che aprano bocca. Studia il linguaggio del corpo (anche se non capisce ancora quando sia opportuno tacere!), e gioca anche a fare il cupido.
Possiamo aspettarci tanto da questo personaggio che, un po' come il centro di un campo magnetico, modifica l'ambiente che lo circonda solo con il suo essere se stesso. La cosa importante è non negare la realtà: averci a che fare è difficile. Ma non impossibile, e, soprattutto, a volte dannatamente gratificante (quando si ricevono in cambio piccoli gesti inaspettati).